HEWI MAG / NEWS
Accessible bathroom ideas 2021:
Top 3 solutions for modern sanitary rooms
The bathroom continues to gain in importance as an individual retreat. Thanks to innovative product ranges and modern technology, there are many new possibilities for design. You can't go past these three accessible bathroom ideas in 2021.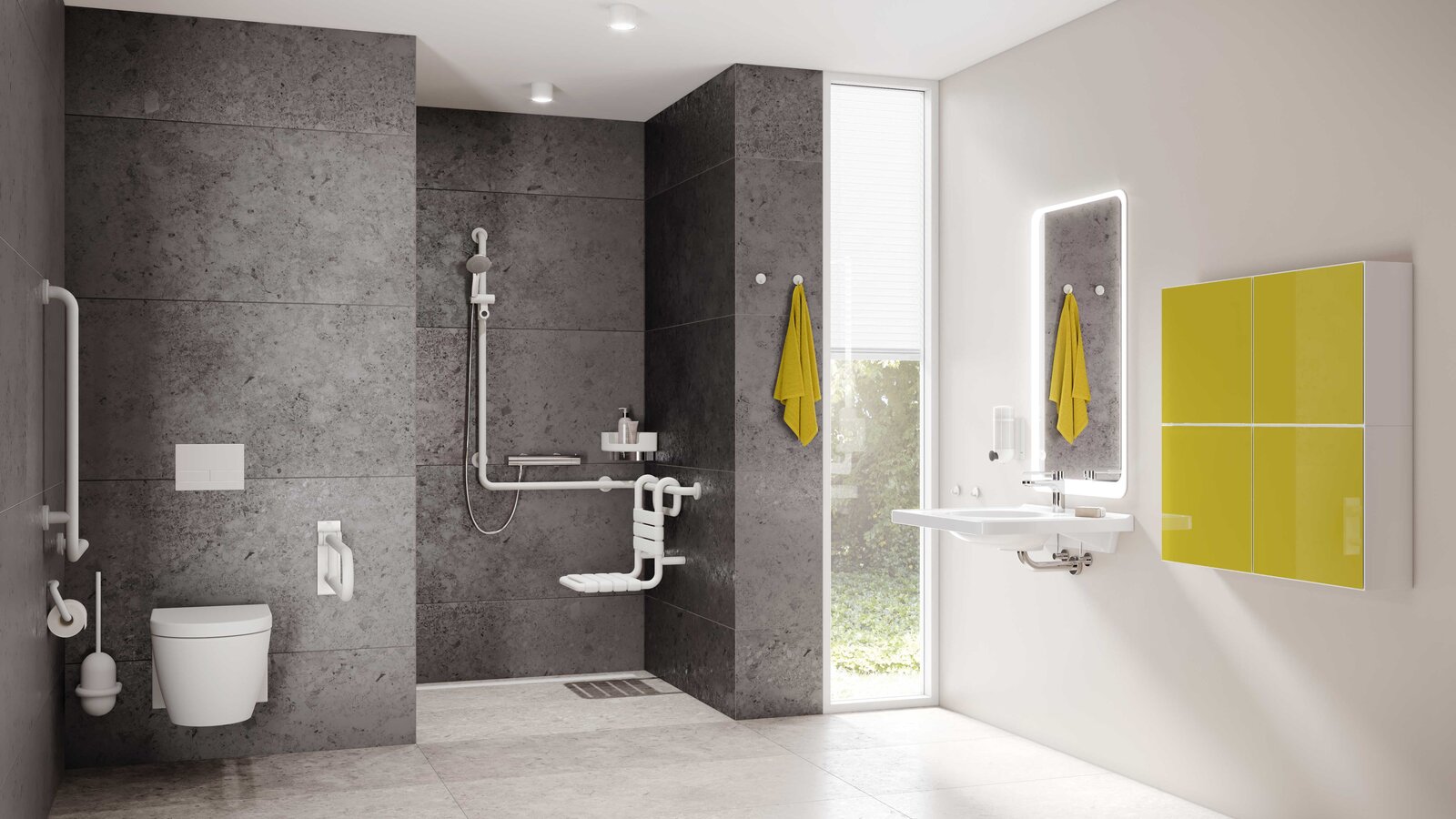 1. Variety of surfaces opens up design options - Range 477/801
Matt surfaces have been an eye-catcher for some time and are also in fashion again in modern sanitary rooms in 2021. With the range 477/801 from HEWI in the matt edition, you can bring this trend into your rooms. With its wide range of products, this comprehensive barrier-free system solution offers maximum flexibility and can therefore be adapted to individual requirements and structural conditions. The sanitary series is characterised by a pleasant feel. This is demonstrated by the optimal fit of the round tube design to the hand and the matt surface, which feels pleasantly warm. In terms of design, the accessible classic can be integrated into any room concept, thanks to its various shades of white and grey.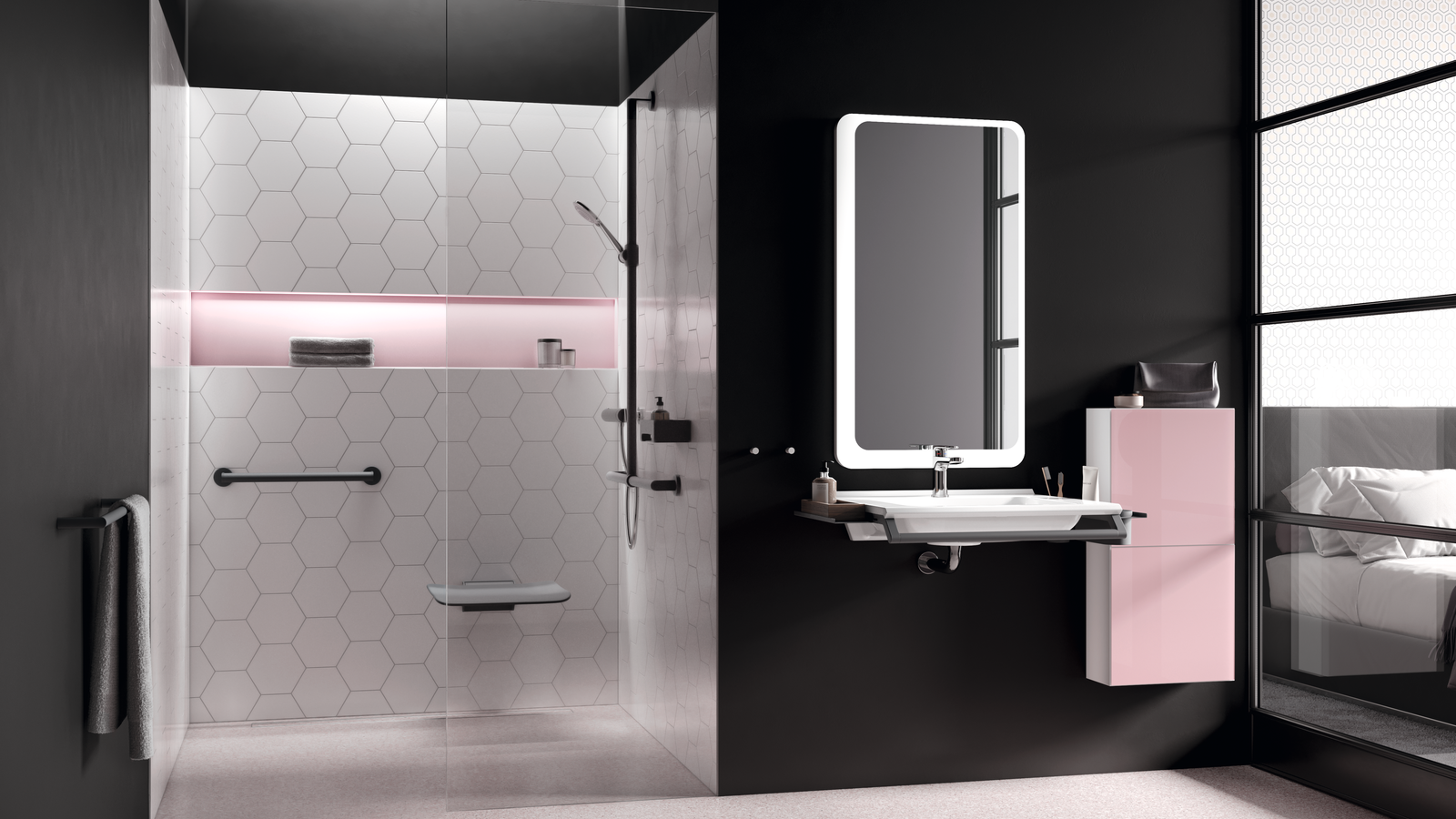 2. Unique range depth for accessible bathrooms and sanitary rooms - System 900
System 900 from HEWI is also the answer to the versatile, complex requirements of accessible bathrooms in 2021. It offers sophisticated design combined with high functionality. Thanks to its unique depth of range, it meets the requirements of a wide variety of building types and user groups - whether in hospitals or retirement homes, public buildings, hotels or even at home. The System 900 sanitary series is designed to support people with limited mobility.In terms of colour, the high-quality sanitary series offers surfaces made of stainless steel, chrome and powder coating in black, white and grey tones. System 900 is complemented by accessories, such as the towel rail and the toilet brush set, which complete the bathroom.
3. Individual solutions - modular washbasin concept and side trolley
HEWI offers a wide range of accessible washbasins, which are suitable both for the care sector and for the home. The mineral cast washbasins have a purist design, an easy-care high-gloss surface and a functional design. This enables suitable barrier-free bathroom ideas for every user. This means that the modular washbasin concept can be extended to include a grab rail or individually adjustable shelves as required. Soap dispensers, cups and hooks can also be placed appropriately in this way.
The modular washbasin concept can be complemented in terms of design and function with the HEWI side trolley. It can be conveniently pushed to where it is needed and offers flexible storage space. The fixable wheels ensure a safe and firm stand. The trolley is available with powder-coated surfaces in high-gloss white or matt black with elegant chrome elements.
ACCESSIBLE BATHROOM IDEAS 2021
All in all, modern, barrier-free bathrooms 2021 impress with modular systems that adapt optimally to the individual needs of the user. In this way, elements can be extended as required or assortments can be used in a variety of ways. In terms of colour, a matt finish prevails, which sets accents in white and grey tones.
Stay up to date and receive the latest information on innovative trends for accessible bathroom ideas and subscribe to our newsletter