HEWI MAG / know
Accessible shower: 6 Innovative sanitary solutions
These days, showers level with the floor are standard in accessible bathrooms. There's hardly any new building where they are not installed. But is it sufficient support for the user? We present sanitary solutions that make your customers' showers truly accessible.
The challenge of a barrier-free shower
Floor-level showers are currently all the rage, and not just in accessible sanitary rooms. The reason is their elegant appearance and easy accessibility for every user. It's accessible and, with the right floor space, also enables wheelchair users to shower independently. However, it's not just the level shower that makes the shower accessible. Shower seats, grab rails and many other products make a very significant contribution to creating accessibility in a shower. HEWI offers a wide range of accessible products that meet the individual needs of users and make the shower experience as comfortable as possible. Here we present 6 innovative accessible solutions for showers.
HEWI shower seats
HEWI stools
HEWI grab rails
HEWI shower holder system
HEWI shower curtains
HEWI shower trays
1. HEWI shower seats - comfort and safety in the accessible shower
High-quality shower seats offer versatile seating and storage options in accessible sanitary rooms. Naturally that means they provide not only increased comfort but also greater safety for users. HEWI shower seats can support loads of up to 150 kg. They are characterised by an easy to clean, hygienic surface. As well as that, the seat surface is designed to prevent slipping when wet and this in turn also provides reliable support. HEWI offers matching shower seats for different sanitary rooms. Different sizes and shapes guarantee HEWI shower seats really can fit into any shower. As alternatives to the fixed shower seat, a height-adjustable shower seat, a suspended seat and a mobile shower seat are also available.
Fixed shower are foldable. When it's not needed, more space can be created in the shower with a flick of the wrist. This means the shower can be adapted to the individual needs of the user and can be used accessibly by everyone. If required, permanently installed shower seats can also be fitted with a backrest, which of course can further increase comfort.
In existing bathrooms, the HEWI hook-in seat is ideal for easily adding a seat to a shower. As the name implies, it is simply hooked into permanently installed HEWI shower handrails.
or grab rails and thus secured. Optionally, HEWI hook-in seats are also available with a backrest, armrest and a folding device.
Need to design accessible shower equipment more flexibly? Then take a look at the HEWI shower seat, mobile solution. It snaps into a permanently installed mounting plate and secured with a fixing screw. This means, the shower seat can be removed from the wall and refitted at any time without tools. When the mobile solution is no longer needed, the mounting plate is hidden behind a discreet cover.
The height-adjustable shower seat from the HEWI LifeSystem is especially suitable for accessible showers used by different people. Its height can be adjusted in four stages without any effort and thus optimally adapts to the user's body dimensions. Comfort is naturally supported by the ergonomic design of the shower seat itself. And the integrated hygiene opening helps facilitate individual personal hygiene.
2. HEWI stool - mobile seating for the bathroom
HEWI stools encourage and support safe sitting in the bathroom and shower. As a mobile product, they're flexible of course, which means they can be used wherever they're needed. Whether in the shower, at the washbasin or as a storage surface, the stool is an accessible sanitary solution that offers maximum versatility. It's also available with integrated recessed grips and grab bars to make sitting down and standing up easier.
HEWI has also developed accessible sanitary solutions especially for obese patients. They enhance the mobility and independence of patients and provide safe support. One of these products is the HEWI shower bench. Able to support loads of up to 300 kg it offers safe seating in the shower. The grab handles on the side provide additional support.
3. HEWI grab rails - safety and support in the accessible shower
Grab rails can be fitted in various places in the bathroom - be it at the wash basin, at the WC, or in the shower. Wherever they are fitted they provide safe and stable support in the bathroom. Grip surfaces and cross-sections adapted to the shape of the hand, enable dynamic grip and effective transmission of force. HEWI grab rails for the bathroom and shower allow simple, comfortable and above all flexible use. Filigree supports and extremely flat rosettes emphasise the reduced design. A wide range of materials offers a multitude of design options.
Often wall unevenness at the joints means fixing rosettes for grab rails often don't or can't be fitted completely flat with the wall. The HEWI sealing element solves this problem and provides a quick and reliable seal. The fixing rosettes for the grab rails and push bar systems of the System 900 can be equipped with it. These sealing elements have been designed to ensure water doesn't collect on the surfaces and can more easily drain off. This allows for their individual installation in the accessible shower without having to take wall unevenness into account.
Grab rails that can also be used as shower rails are also incredibly practical, as we'll see in the next section.
4. The HEWI shower holder system - individual design
The HEWI system design enables for consistent design right from the door to the sanitary room. High-quality HEWI shower support rails are available in various designs and materials to match all sanitary systems. There is a choice of matt polished stainless steel, high-gloss chrome surfaces or colourful polyamide.
The HEWI WARM TOUCH shower rails combine the visual properties of high-gloss chrome surfaces with the tactile properties of polyamide. They feel pleasantly warm to the touch which helps contribute to a greater sense of well-being. Due to this WARM TOUCH property, these products are particularly suitable for patients with increased sensitivity to cold, such as those with rheumatic diseases, for example.
Particularly innovative are accessible systems where the shower bar can be used as a hold and support bar at the same time. This is why the HEWI shower rail can be extended with HEWI shower grab bars which offers users more stability and grab options in the shower. With System 900, the handrail and the grab rail are connected by the innovative plug-in snap-in connection. Instead of the usual four fixing points, just three rosettes are required with this innovative sanitary solution. This significantly reduces installation times and also creates surfaces that are particularly easy to clean.
The HEWI shower holder is integrated in the HEWI shower holder system for series and systems 477/801, 802, 950 and 900 can be tilted as required and adjusted in height with one hand. This means it is easier for the user to make individual adjustments of shower head and is particularly suitable for accessible showers.
5. HEWI shower curtains - space for unrestricted movement
Level showers not only contribute to accessibility they also offer more freedom of movement in the sanitary room. This space for unrestricted movement can be supported by fold-away shower partitions or by other innovative accessible solutions such as the HEWI shower curtains. They can be pulled to the side when the shower is not in use and offer more room for movement, especially in small bathrooms.
HEWI shower curtains are available in various designs. Some are treated against mould and mildew stains, are washable or flame-retardant in accordance with DIN 4102/B1. They are available in many standard sizes but can be made to measure, according to your specifications.
6. HEWI shower shelves - Individual placement
Shelves of course, can create space in the bathroom. A wide range of shelves is available to match the HEWI sanitary systems and ranges. Different sizes enable shelves to be fitted at any height in the shower and flexibly adapt to the needs of the user. Using shelves creatively can make storage space where things can be more easily reached and conveniently stored. For better cleaning, the inserts of the shelves are removable.
Attachable storage boxes from HEWI are another innovative accessibility solution. They are compatible with the HEWI bar system and avoid drilling further holes thanks to their clip-on device. The HEWI active+ storage box is ideal for public buildings. With its antimicrobial and antibacterial treatment, it ensures greater hygiene in accessible showers.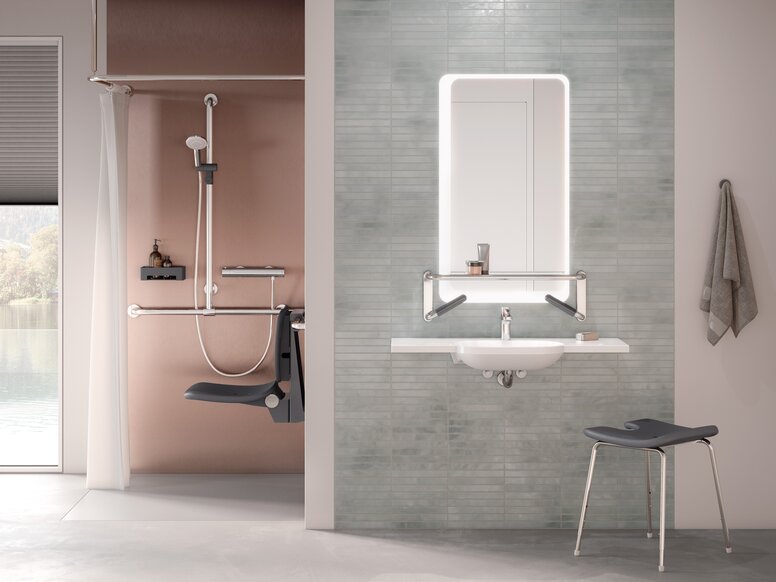 HEWI solutions for the shower - Innovative accessibility
Innovative accessible solutions for showers are used every day. Its why HEWI attaches such great importance to functionality and universal design. With HEWI shower seats, stools and grab rails, as well as the HEWI shower holder system, shower curtains and shower shelves, you can equip accessible showers and make the showering experience even more comfortable. If you are currently planning a new or renovated sanitary room - KfW is currently once more promoting barrier-free renovation measures.
We regularly present innovative accessible solutions for sanitary rooms. Stay up to date and subscribe to our newsletter.