HEWI MAG / NEWS
Ideas for the accessible bathroom in 2023: 4 Equipment examples
In 2023, accessibility will continue to be a key component for sanitary equipment when it comes to planning or refurbishing bathrooms. For the design, innovative product solutions open up new possibilities that address the needs of your customers while being a real eye-catcher in the furnishing concept. But what are the current design options and ideas? You won't be able to avoid these accessible bathroom ideas when planning for your customers' bathrooms in 2023:
1. COLORS THAT SET ACCENTS
In 2023, things will be colorful in the accessible bathroom. Colors have a vitalizing effect, offer orientation and lift the mood of the users. They have a proven influence on the health of people.
HEWI offers you an extended range of designs for two well-known accessible sanitary systems at the same time:
BORDERLESS COLOR DIVERSITY OF SYSTEM 900
With over 4,500 possible colors, the accessible HEWI System 900 offers individuality in color design. Whether in current trend colors or in the personal favorite color - the solutions of System 900 are available to fit any interior design concept. In this way, unique color concepts are created that create a personal recognition value and set accents. True to the motto: Make Your Own Choice - Choose Your Own Color.
System 900 is the answer to the complex requirements of accessible bathrooms. The products are well thought out down to the smallest detail and convince with their functionality, quality, assembly technology as well as their hygienic design. They provide safety to users, increase independence and comfort in case of limited strength and mobility.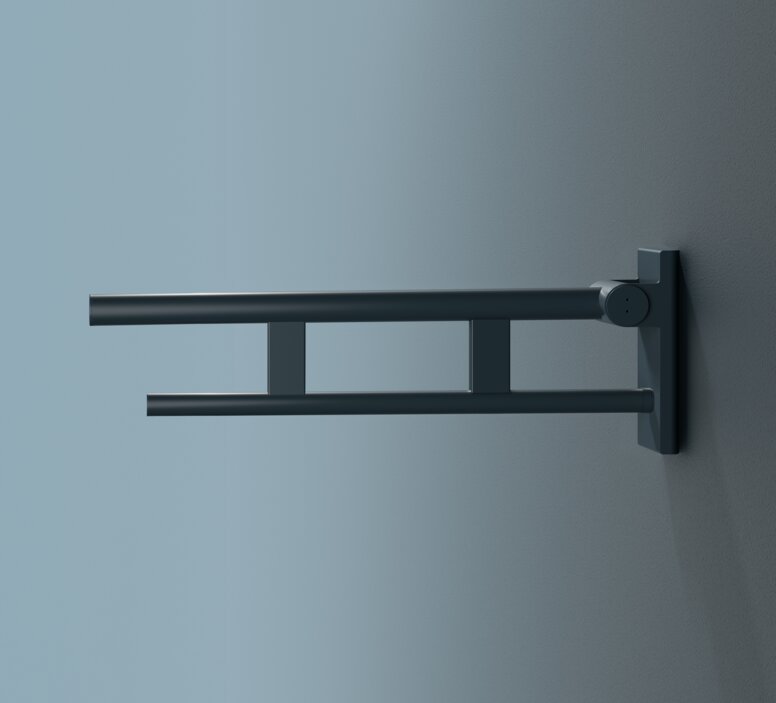 Design classic range 477/801 in a new look
The new color combination of the iconic HEWI range 477/801 in coral, aqua blue and pure white creates a design option that appeals to the senses. The ICONIC version is based on current color trends and expands the design scope for architecture. At the same time, color has a signaling effect. Color highlighting of individual elements signals intuitive use to users. Particularly in the case of impaired vision, colors are useful to facilitate orientation.
The HEWI range 477/801 meets all conditions in the accessible bathroom and is the classic when it comes to accessibility. The products are particularly characterized by their flexibility and stability, which allows them to respond to the individual needs of your customers and improve their well-being.
2. Products that improve hygiene
The Corona pandemic has brought the issue of hygiene into sharper focus since the spring of 2020. This trend will continue in 2023. While disinfectant dispensers are often available for hand hygiene in doctors' offices or public buildings, this is not absolutely necessary at home. It is more important to wash your hands thoroughly.
The sanitary accessories from HEWI offer the right solution for the most diverse room concepts. With soap dispensers, soap dishes and waste bins, you create an opportunity at the sink in your customers' accessible sanitary rooms to wash their hands and thus improve hygiene.
A special eye-catcher represents System 162 in the finish white matt. The accessories captivate with their puristic design and straight lines. The white matt surface makes the products look noble and timeless. In this way, the sanitary accessories fit into existing room concepts and set fashionable accents.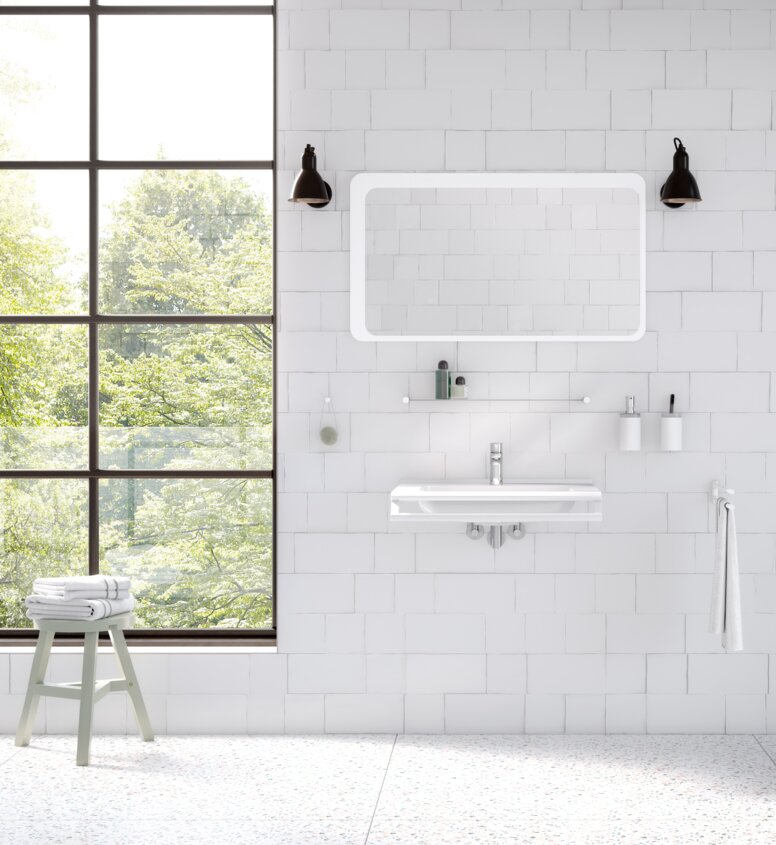 3. Trendy solutions that impress with black matt look
Sanitary objects in black matt look are also a trend that can be observed in many bathrooms in 2023 - because black is minimalistic, timeless and noble. From accessories to faucets and storage solutions to comfort products and accessible solutions, finishes in matt black are a particular eye-catcher. Whether as an accent or for the entire room design - black matt sanitary products in the accessible bathroom outlast short-lived trends.
HEWI offers numerous products in matt black finish, with which you can realize a continuous and stylish interior design from the door to the bathroom.
4. Individual helpers who support the users
Whether a sink that adapts to the needs of the user or mobile storage space in the bathroom that allows one to always have the bathroom utensils within reach - individuality and mobility play a major role in accessible bathrooms in 2023.
The modular sink concept from HEWI can be expanded as required to include various adaptations such as grab bars or individually relocatable shelves. Soap dispensers, tumblers and hooks can also be placed appropriately in this way. Thus, the sink adapts to the needs of the user. If the supports are no longer needed, the sink can be quickly and easily dismantled.
A design and functional addition to the modular sink is the mobile side trolley. It can be conveniently pushed to where it is needed at that moment. The trolley offers flexible storage space. The fixable wheels ensure a firm stand and thus increase safety. The side trolley is available with powder-coated surfaces in high-gloss white or matt black with elegant chrome accents - in this way it harmonizes with different furnishing concepts.
The needs of users in focus
Naturally, in addition to current trends, user-friendliness is not to be neglected in the accessible bathroom. Therefore, products that optimally adapt to the individual needs of users and support them in their everyday lives continue to be important. The following product solutions are a must in any accessible bathroom: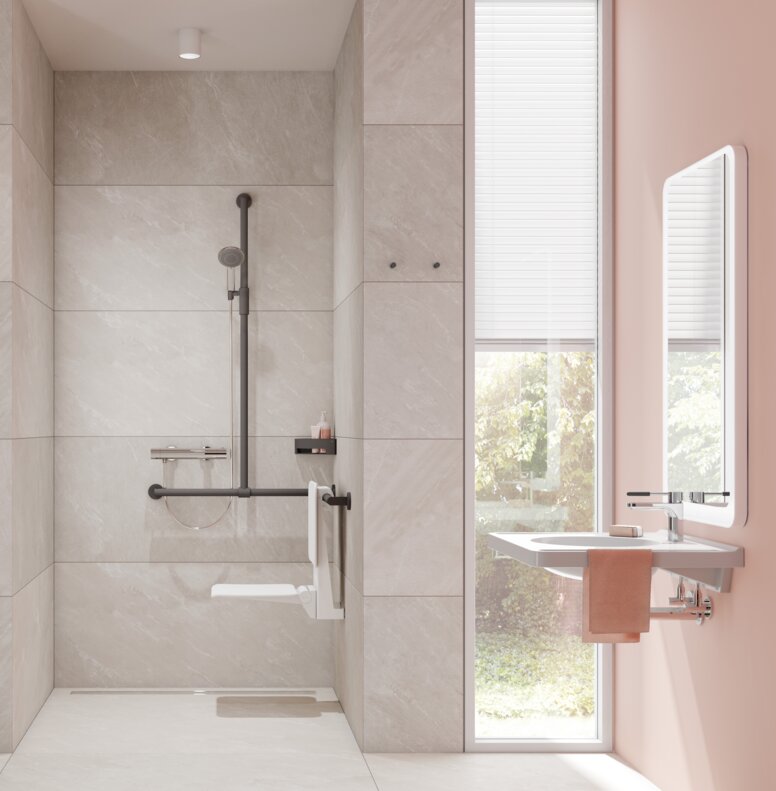 Accessible bathrooms fashionable design
Whether it's color-highlighted products, hygienic solutions, fashionable finishes in matt black, or mobile and individual everyday helpers - there's a wealth of different ideas to help you design your customers' bathrooms according to current trends from 2023. After all, making a bathroom accessible doesn't mean you have to forgo trendy designs.
Don't want to miss out on any more innovations in the field of sanitary and hardware? Then subscribe to our free newsletter now and always stay informed.