HEWI MAG / NEWS
Door handle design: discover the power of the surface
Have you ever noticed that we get an impression of a room even before we enter it? This is where the visual and haptic qualities of the door handle play a crucial role - what we see and what we feel. Follow us on a haptic journey at the door.
The role of door handle design in the first impression of a room
One of the smallest design elements is one of the essential components of the entire architecture, because design attitude is also expressed in the smallest details. Door handles are not merely functional elements with which doors are opened or closed.
They come in many shapes, with different surfaces and in different colors. The design of the door handle opens up a wide range of design possibilities that all too often go unused. Whether the door handle is a harmonious part of the whole or is deliberately placed in formal contradiction to the ensemble: It always stands in the design context of the room.
Door handle design: Surfaces with effect
Stainless steel
Polyamide
Matt overlay
Glass
Wood
1. Surface stainless steel
Metal has a noble appeal and timeless elegance that most plastics can't match. The surface can be ground and polished, blasted, buffed or brushed, giving each a different look.
The typical gray color can be changed by painting over or coloring the stainless steel surface. Chemical, machine, and craftsmanship manufacturing steps make each stainless steel door handle an expression of quality and surface finish.
Stainless steel is highly resistant to corrosion, impacts and scratches. At the same time, stainless steel has a pleasant feel that varies depending on how the surface is treated. Usually, stainless steel hardware feels rather cool to the touch. However, with a special surface treatment, it is also possible to change the feel to soft without significantly changing the typical stainless steel appearance.
Stainless steel is available in various quality grades, which have different longevities. The chrome content plays an important role. It is between 17 and 19 percent. Other components of stainless steel are iron, nickel, molybdenum, vanadium or manganese.
For a frequently used operating element such as the door opener, stainless steel is a high-quality option that users will enjoy for a long time. Those who value architectural design will be happy with the 270 Range hardware designed by Hadi Teherani. The design of this door handle range is characterized by clean lines and perfect balance.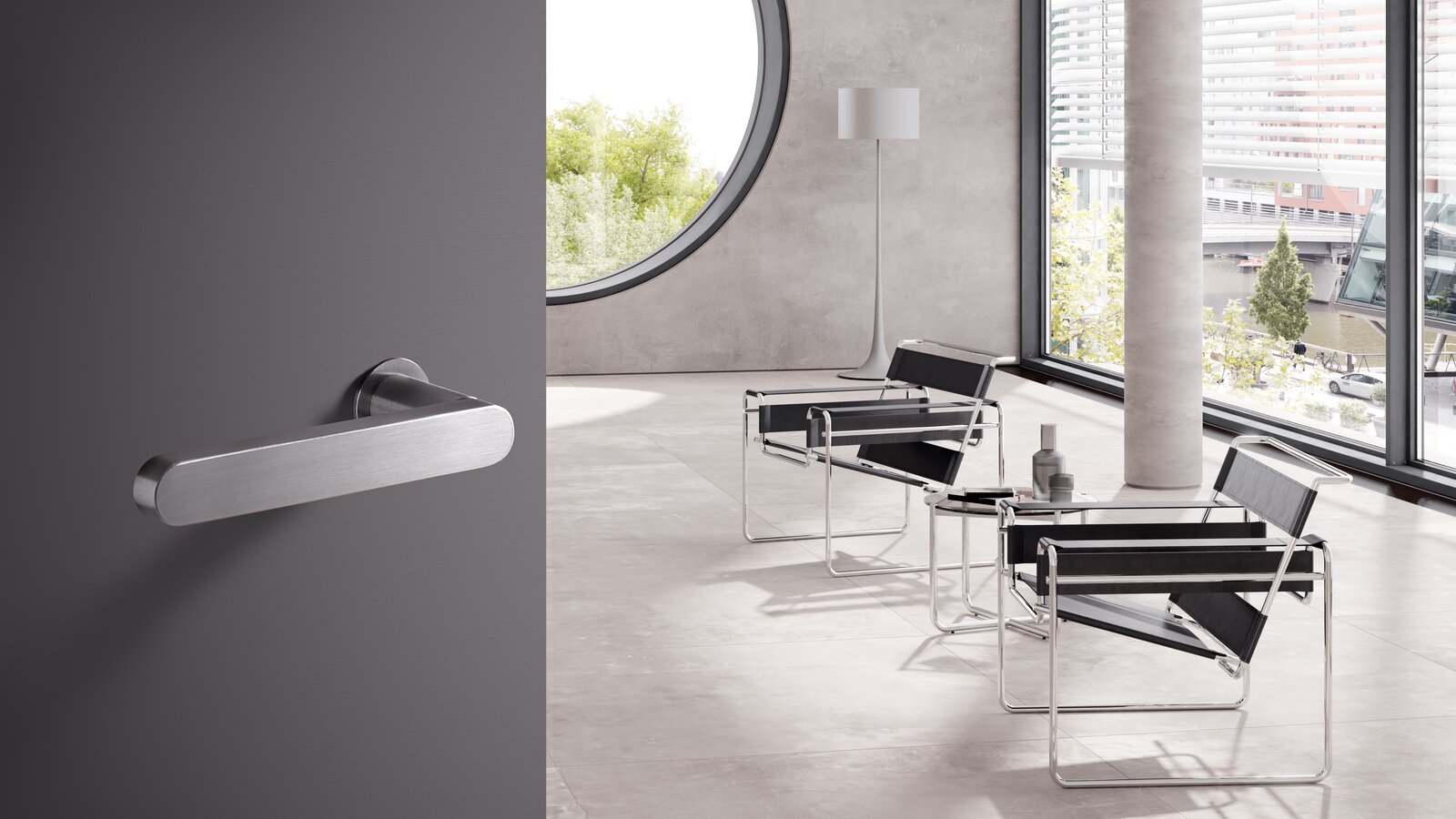 Polyamide has been one of the most important engineering plastics since the 1950s. The granules, from which the products are made with the help of hollow molds, can be colored in all imaginable shades. Polyamide fittings can be produced with matte or even glossy surfaces.
Polyamide is hygienic, easy to clean, abrasion resistant, antistatic and chemically resistant. Compared to metal surfaces, they are somewhat less durable, as they are sensitive to UV light and water vapor. On the other hand, they tend to be less expensive.
Polyamide in combination with deliberately used colors and the clear, reduced-to-the-essentials design language of Bauhaus results in the timeless design of our System 111 door handle.
The plastic polyamide represents the Bauhaus maxim that well-designed, industrially manufactured everyday products should take the place of the artistic one-off. Form and usability without any "frills" are in the foreground.
Polyamide with a matt surface, such as in the HEWI Range 162 , has a particularly elegant effect. The matt surface is characterized by its distinctive look and a special feel.
Door handles with a matt polyamide surface can blend seamlessly into a furnishing style or create a deliberate counterpoint to high-gloss furniture surfaces. Matte polyamide door handles are also available in a wide range of colors.
Discover matte finish design options from the door to the patient bathroom at Clinic Dr. Decker.
Glass is a seldom used material for door handles - all the more exclusive an interior with glass door handles appears. Glass lacquered on the back makes the door handle a real designer piece.
Different lacquer colors give the glass a different shimmer. Door handle design made of glass fits well into rooms with a clear design language, which appear businesslike and rather sober, such as representative office spaces.
The feel depends on the surface structure. Satinized glass, for example, feels velvety soft. Crystalline surfaces, on the other hand, enhance the depth and smoothness of glass. The surface structure also has a visual effect. Decorative satin finishes can be used to create patterns on clear glass or translucent recesses through which light falls without allowing the observer to see through.
Glass and stainless steel make an exciting combination. The door handle Range 180 is made of solid stainless steel. Noble glass gives the design variant of Range 180 a luxurious look.
The glass is applied directly to the stainless steel body, so it seems to float on the door handle. The glass element refracts the light, creating a depth effect. Colored glass allows for design options.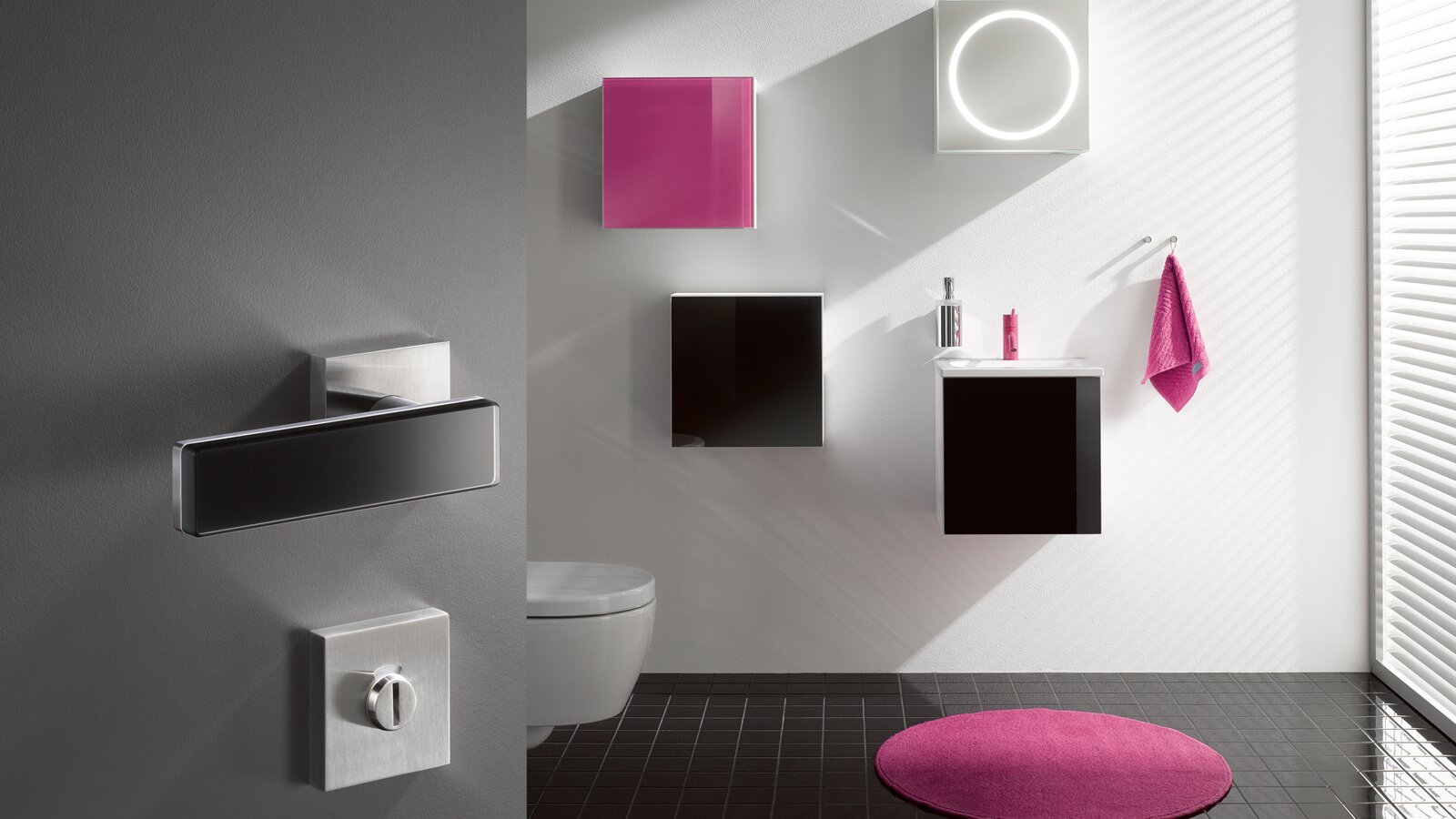 Wood is a natural product. Therefore, door handles made of wood or with wood components require more care than other materials. Especially outdoors, they are exposed to wind and weather. Wooden door handles should therefore be treated with a wood care product from time to time.
Those who choose wooden door handles usually appreciate the natural charm of wood as a material. This comes into its own particularly well when the wood is waxed and oiled. The result is an extremely attractive appearance and very pleasant, warm feel. Door handles made of waxed and oiled wood are ideal for country house style.
Wood can also be coated with varnish in all imaginable colors, which radically changes the appearance and feel of the handle. However, especially in the exterior, the formation of cracks is very likely. Cracks in varnished wood can be difficult to re-treat.
From an environmental point of view, door handles made of tropical woods should not be used. Domestic forests provide enough high-quality material for the production of wooden door handles.
Stay up to date and discover new design options and solutions at the door with our newsletter.