HEWI MAG / Knowledge
Attractive children's bathrooms in daycare centers, kindergartens, schools & Co.
What to consider when planning child-friendly bathrooms
Safe, size-appropriate and colorful: The design of a children's bathroom is a constant challenge for planners, architects and skilled craftsmen. It must not only meet the requirements and needs of children, but also be absolutely safe. How to make a children's bathroom safe and attractive, we explain in this article.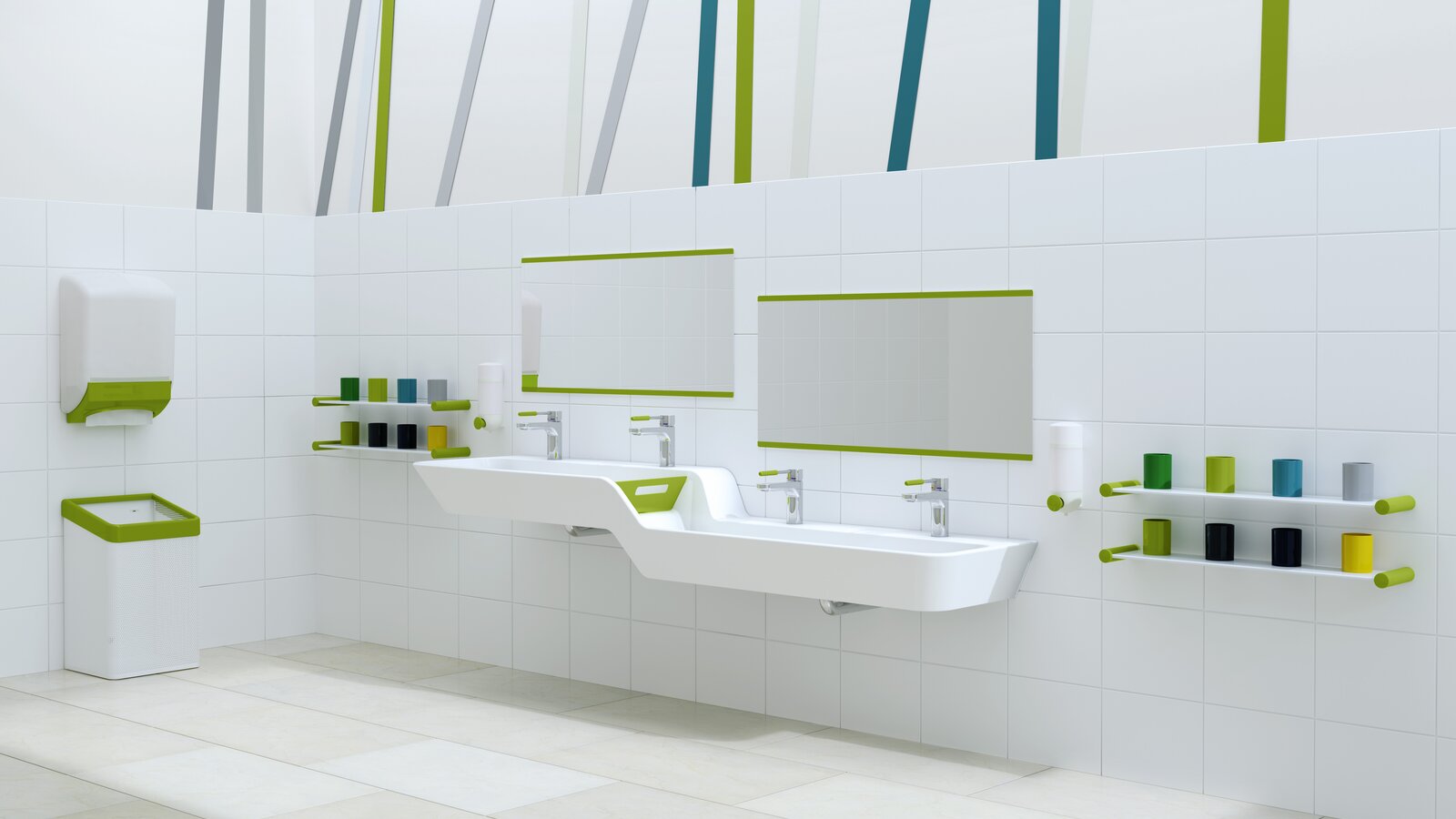 When it comes to building, equipping and operating kindergartens, daycare centers and schools, there are different regulations in the federal states. There are hardly any statements on how the corresponding buildings should be equipped, especially with regard to sanitary facilities. A guideline for this has been developed by the VDI, the Association of German Engineers. The VDI 6000 Blatt 6 describes how the sanitary rooms in daycare centers, kindergartens or schools should be designed. One special feature, for example, is the use of rooms:
In crèches (up to three years), boys and girls share the sanitary rooms.

In kindergartens (three to six years old), it is common for children to use the toilets separately, while sharing the washrooms.

In children's after-school care centers (six to 14 years), washrooms and toilets are used separately.
Consider safety aspects of the children's bathroom
These specifications affect the floor plan, which you must take into account when designing appropriate buildings. In addition, there are numerous other requirements. One important aspect is the issue of safety. Safety hazards such as:
protruding parts,

rough surfaces,

or sharp edges
must be avoided to reduce the risk of injury. In wet areas, for example, slip-resistant surfaces are useful so that there is no risk of slipping.
The right mounting height in the children's bathroom
When planning a sanitary room, the different body sizes of the children must be taken into account. A certain mounting height and special sizes for the sanitary products are necessary. However, these vary depending on the age group and size of the children. If the children are between three and six years old, a WC seat height of 30 to 40 cm is recommended. You should install the washbasin at a height of 55 to 65 cm. Striking, bright colors show children the functions of individual products. If you are designing a children's bathroom, it is equally important to pay attention to a suitable height for the mirrors.
HEWI offers suitable products for daycare centers, kindergartens and schools. The range includes, for example, single and double washbasins, as well as row washbasins, which have a height offset. In addition to classic white, the washbasins are also available as a colored variant - in cheerful apple green or radiant aqua blue. The height and depth gradation is ideal to adapt to the anatomy of children. The pitot wheel invites children to playfully engage with the element of water. The edges of the HEWI washbasins are rounded. This not only reduces the risk of injury, but also ensures that the fittings are easy to reach.
Signal colors in children's bathrooms
Function and design should go hand in hand - especially in children's bathrooms. VDI Guideline 6000 Sheet 6 speaks of "functional, practicable and visually appealing equipment" for daycare centers, schools & co. Blue, red and yellow are suitable signal colors. They also clarify the functions of different products. HEWI offers, for example, the system fittings with an operating lever. This can be colored in 16 HEWI colors - including the signal colors already mentioned.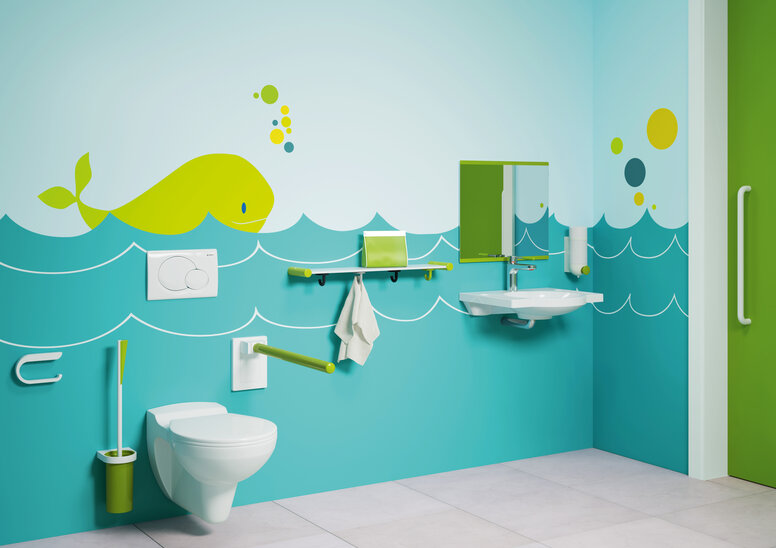 Positive influence on learning
According to Reggio pedagogy, the room acts as a third educator. A consistent color concept also ensures that children feel comfortable in the children's bathroom. Children orient themselves by colors. It has even been proven that architecture enhances children's learning. Premises - especially in daycare centers and schools - must be robustly built and able to withstand high loads. Children need safety and security as an elementary basic need. In kindergartens and schools, these parameters have to be artificially brought about by architects and planners, since it is an extra-familial environment. For example, are wide-open spaces good for children or perhaps more so for caregivers? Children perceive spaces completely differently than adults do. This makes it all the more important to take the children's perspective in order to plan the building and especially the children's bathroom accordingly.
Accessibility is also essential in children's bathrooms
Safety management is particularly important in children's bathrooms. Ideal for safety are barrier-free equipment solutions. Accessibility is not just an issue that affects older people. Barriers hinder all people. An example of this is the step in front of the daycare center, which makes it difficult to access with a stroller. Accessibility in the sanitary room has a particularly high priority. Children want to move freely in the bathroom - and take responsibility for themselves. This also applies to children with physical disabilities. This is only possible if the equipment meets the requirements. In addition to a children's washbasin at the appropriate height, it also needs, for example, height-adjustable toilet modules. HEWI offers one option for the barrier-free children's bathroom with the sanitary series S 50. The modules allow to adjust the toilet or even the washbasin to the required height. HEWI has been a topic leader in the field of accessibility for many years - and therefore knows exactly what is important when equipping a children's bathroom in school, daycare & Co. For an example of how to implement accessibility at school, see this reference.
Hygiene in the children's bathroom
Protection against infection and hygiene are particularly important in schools and kindergartens. The products in the children's bathroom must therefore address not only the needs of children, but also the requirements of hygiene at the same time. When it comes to hygiene, many schools and daycare centers still have some catching up to do. Often, washrooms lack the simplest hygienic products that promote hygiene. HEWI offers with his series 477 the suitable inventory for the child bath. Among them, for example, a bathroom towel holder for children or corresponding soap dispenser. The series is available in cheerful, bright colors, creating a child-friendly ambience. Of course, more muted colors are also available for school children. HEWI products support children in matters of hygiene. Cleaning staff in schools and kindergartens also benefit. Because HEWI solutions are easy to clean and therefore easy to maintain. Accordingly, good hygiene can be ensured.
The federal government provides funding for equipment in daycare centers and schools. You can read more about this in our article.
Do you already know our free planning service for architects and planners? We support you with our service in the planning of your building projects. You can find out more information here.