HEWI MAG / know
Five planning tips for designing barrier-free public buildings
Many people visit public buildings every day. Be it the office for work, the shopping center, the doctor's office or even the town hall in the city. According to the Model Building Code (MBO), these buildings must be barrier-free. After all, all users should be able to enter the building without restriction. But what is there to consider when planning public accessible buildings? The following article has five valuable tips for you.
Demographic change continues to advance. In the course of this, barrier-free planning is becoming increasingly important. Planners and architects must respond to the aging society and its consequences by developing appropriate architectural concepts. But accessibility - in line with the Universal Design principle - is not just an issue that affects older people.
Accessibility today is no longer just about access to public areas for people with physical disabilities. Rather, it is based on the needs or competencies of individuals. As an architect or planner, you need innovative system solutions that address the requirements of every user. Barrier-free access to all public buildings must be possible for all persons.
What are the types of public buildings?
According to Section 50 (2) of the Model Building Code (MBO), buildings open to the public include the following:
Sports and leisure facilities
Office, administrative and court buildings
Cultural and educational facilities
Sales, catering and accommodation facilities
Parking spaces, garages and toilet facilities
However, the MBO only contains recommendations. Concrete requirements regarding the planning of barrier-free public buildings are laid down in the building codes of the federal states. In addition, they are defined by technical construction regulations. In addition, depending on the type of building, there are other legal requirements. Here you will find an overview of the respective building codes of the federal states.
You should consider the following tips when planning barrier-free public buildings.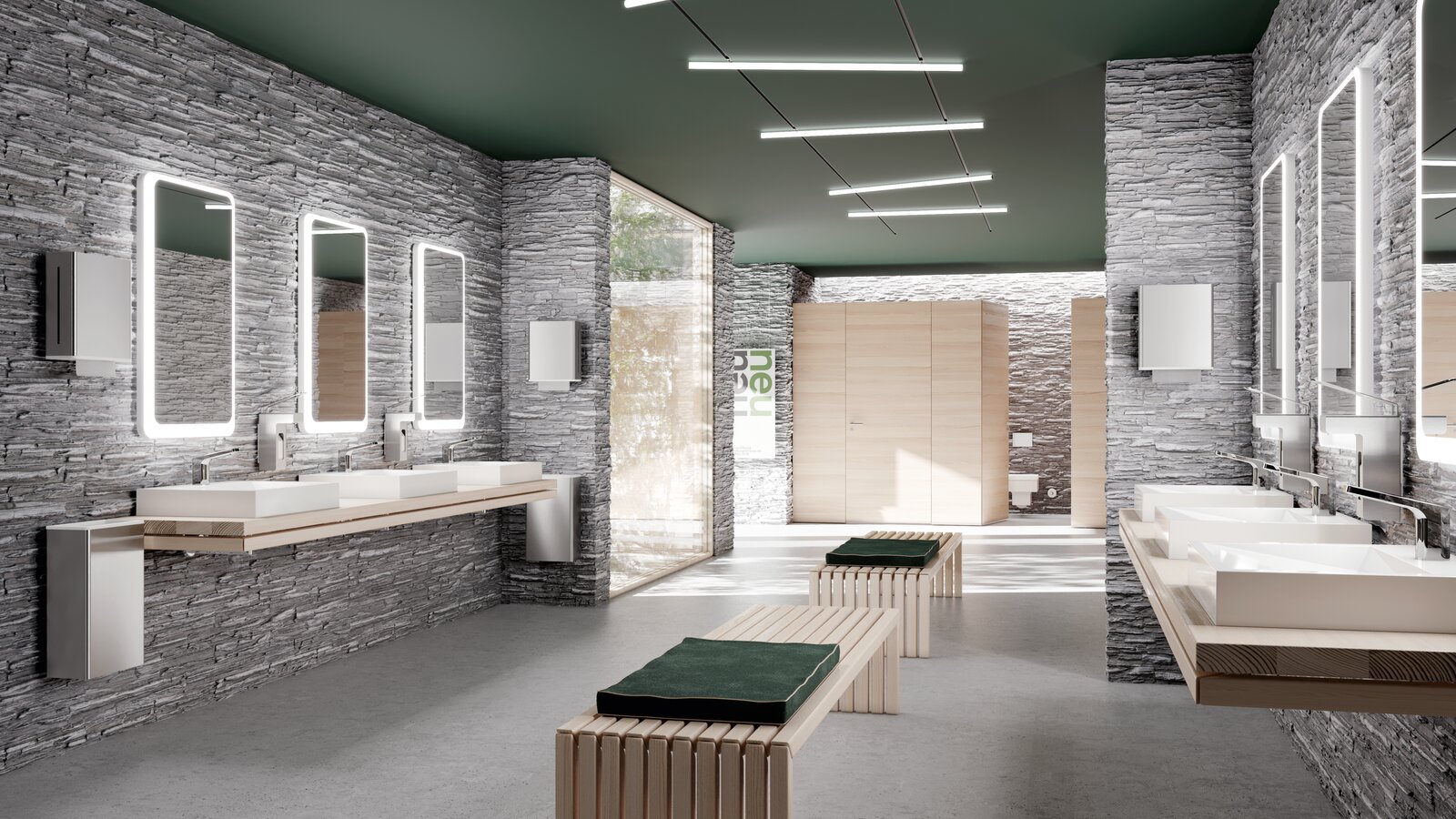 1. Tip: Planning barrier-free public buildings - according to DIN 18040-1
The basic principles for planning public barrier-free buildings can be found in DIN 18040 Section 1. The aim of DIN is to create architecture that is inclusive of all people. It gives equal consideration to both low sensory abilities and motor limitations. Making a public building barrier-free enables all people to access and use it. Without special aggravation and in such a way that the persons entering do not require assistance from third parties. DIN includes not only people with motor impairments - such as those who rely on a wheelchair - but also physical strength, motor skills and coordination abilities.
For which buildings is DIN 18040 mandatory?
DIN 18040 is valid for new buildings, but is equally applicable to the modernization or conversion of public buildings. When planning, take into account that the specific requirements for workplaces are no longer included in the standard for barrier-free building and planning, but in the new rules for workplaces (ASR). In planning, this means for you, for example, that no swing doors should run into the rooms, as this is the only way to avoid blocking doors. Users must also be able to unlock doors from the outside. In addition, it should be possible to reach all controls while sitting down.
Physical impairments often affect people's vision. Guidance on this is provided by DIN 32975. This is about how visual information in public spaces - including public buildings - should be designed for barrier-free use. For obvious for the topic of barrier-free building is to avoid physical barriers, for example for wheelchair users. For sure, when planning, consider aspects such as the width of the door in the barrier-free public building. However, contrasts are also enormously important in the course of accessibility. For example, they help to perceive stairs much better. Standardized edge marking means using visual contrasts and applying matching strips to the stair tread (4-5 cm wide). Equally important are signage and guidance systems, such as handrails.
HEWI offers the right solution for this with the ENTRO handrail systems. The System Color is made of high-quality polyamide and is available in 16 different colors. People perceive bright accents much better at an older age - always in combination with strong contrasts. Another option for people with visual impairments is to provide floor information as tactile information. For example, in Braille or also in profile writing. Older people who become blind in old age often do not learn Braille. In this case, the profile lettering - attached to the handrail, for example - helps people find their way around much better.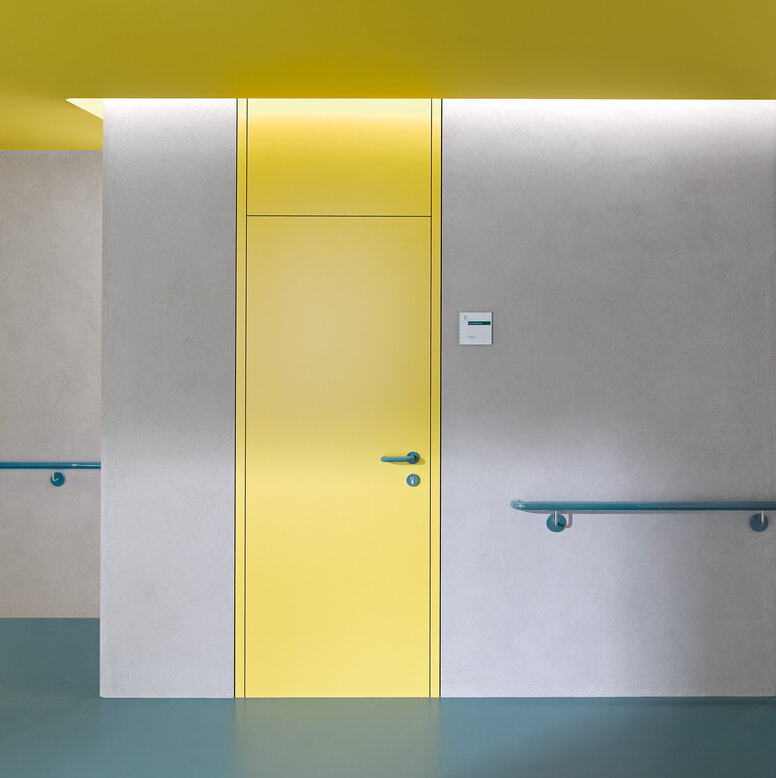 3. Tip: Go for qualitative equipment of the sanitary room in the barrier-free public building
When it comes to planning barrier-free public buildings, barrier-free sanitary rooms and barrier-free WCs pose a particular challenge. The sanitary area must be designed so that all people can use it. Full wheelchair users, over walker users, blind or visually impaired people or those who have cognitive limitations. The legal requirement is that every publicly accessible building must have at least one sanitary room for wheelchair users - this can also be gender-neutral.
You can find out how accessible sanitary rooms must be equipped to meet the standard in our planning tips about shower, washbasin and WC. In general, however, it can be stated that products in the public sanitary room are exposed to exceptional stress. They must not only be protected from vandalism and well protected from theft, but also be of high quality to withstand the high continuous load. Series 805 or also System 162 from HEWI are made for use in public barrier-free bathrooms. Also conceivable is the use of System 900, which is suitable for any bathroom due to its color options in stainless steel and chrome, as well as powder coating in white, shades of gray or black.
4. Tip: Get an expert partner at your side during the planning process
Sometimes it is not so easy to keep an eye on topics such as DIN standards or other legal regulations in addition to the everyday professional challenges. In some cases, it is therefore advisable to rely on a competent partner for support in the planning and implementation of public barrier-free buildings.
In our seminars and training courses for planners and architects, we bring you up to date on the latest DIN standards and other building regulations. With our Barrier-Free Service Center, we offer you the right service for this. In addition to telephone consultation, we provide a free planning service for you as an architect, planner or fabricator. This includes, for example, the preparation of individual and directly realizable equipment plans based on floor plan sketches as well as measurements of the connections. You can find more information about our services here.
5. Tip: Apply for funding for barrier-free public buildings
Under the motto "Barrier-free city", cities and municipalities can apply for funding from KfW to reduce barriers within public buildings. The aim is to make paths to buildings and parking spaces barrier-free, to simplify access to buildings and to vertically access and overcome differences in level. This is possible, for example, by municipalities and communities building ramps, stairs or elevators. For more information, please visit KfW's website at.
You have further questions?
You want more valuable tips for your planning? Our free planning service will be happy to assist you.