Colour your life
Set individual accents
Colour is firmly anchored in HEWI's DNA. Brilliant and unmistakable shades, a contemporary and timeless design as well as a design language reduced to the essentials are characteristic of the products. The redesign of the dispensers from the 477 range is system design in perfection. Coloured frame elements serve as recognition and set accents. In the hotel and public sector, System 900 offers the possibility of individual design.
Available in the chosen favourite colour, the products promise extraordinary compositions. The education sector gains more safety and flexibility with new elastic hooks. Black matt remains on trend and is therefore available in combination with other HEWI products. New, exciting contrasts are also created on the door with the 270 range of bicolour lever handles.
Choose your own colour!
Individual colour worlds
Colour offers individual design options and makes expressive statements. Whether in the trend colours or in your personal favourite colour, hinged support handles, dispensers and many other System 900 products can be made to fit any room. In this way, unique colour concepts are created that create a personal recognition value.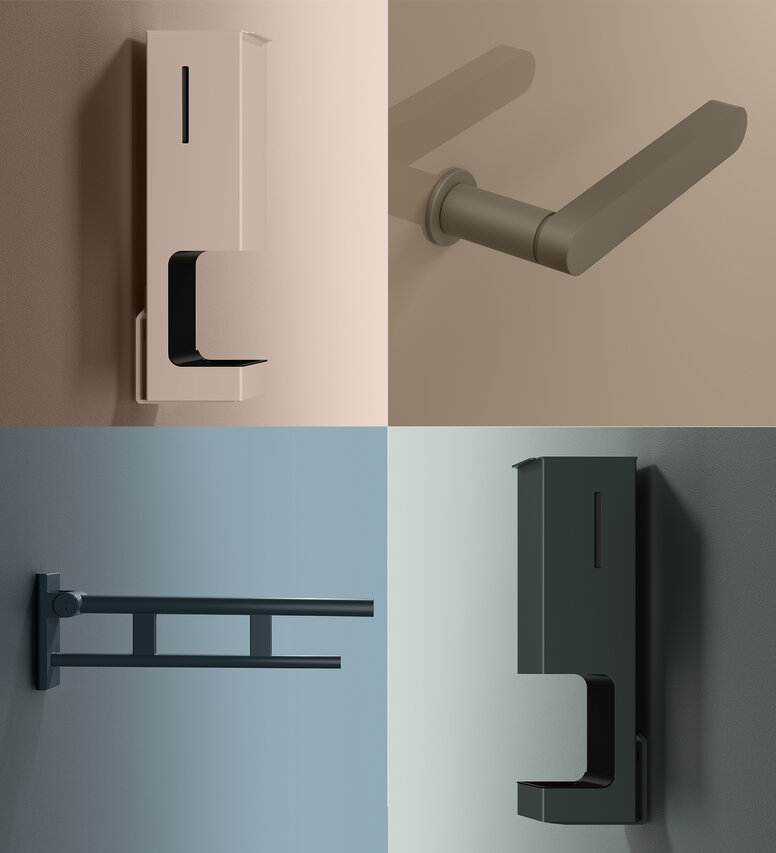 Range 477/801
Colourful children's world
Rounded edges, a soft, yielding feel and a matt surface characterise the further development of the successful 477 hook family from HEWI. The new, elastic hooks from HEWI made of thermoplastic polyurethane (TPU) ensure more safety in nurseries, daycare centres and primary schools. The gently yielding material reduces the risk of impact and therefore injury. With a load limit of 5 kg per hook section, the elastic hook holds everything important in place and makes it easier to hang up and take down clothes thanks to its rotating function.
Range 477/801
Colour accents
HEWI reinterprets the dispenser solutions of the 477/801 range iconic design. Inspired by clear geometries, a wide-ranging dispenser system in a modern design language has been created. The revised products convince with rounded edges and coloured frame elements. There is a choice of different models made of polyamide with a basic body in pure white or signal white. Due to their robustness, the dispensers find their place in public buildings, such as schools or care facilities.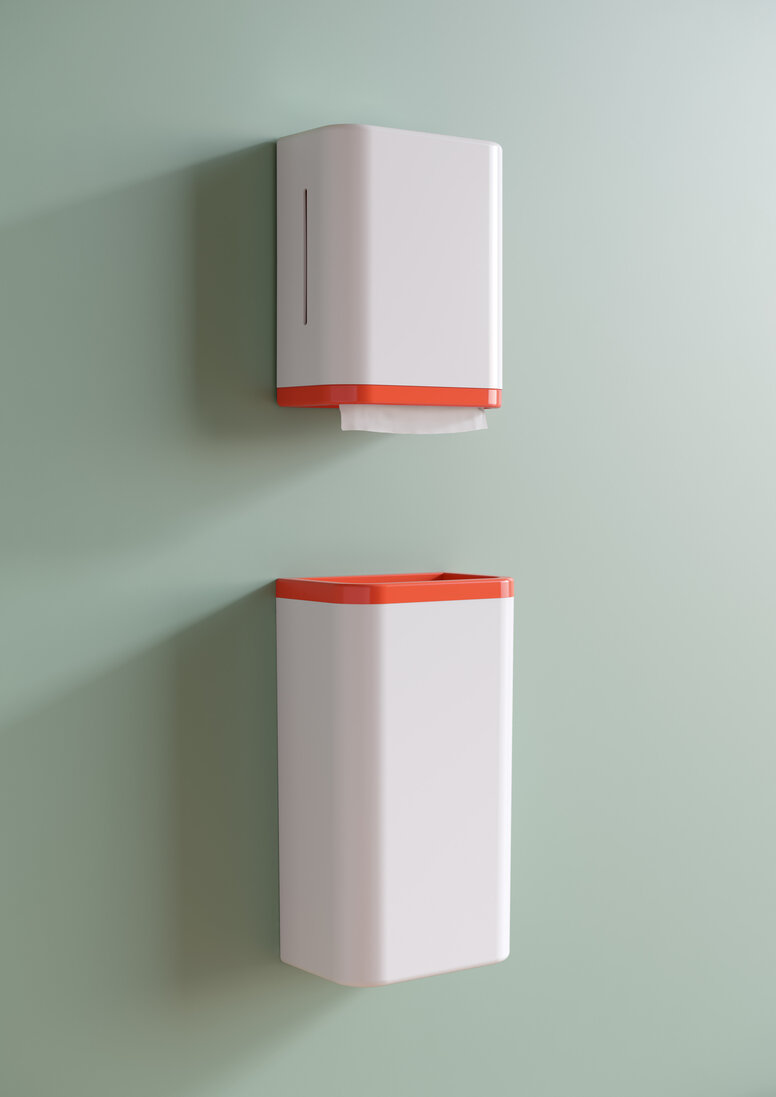 System 270 bicolor
Exciting contrasts
Consisting of two materials, bicolour allows for an unusual mix. Roses made of stainless steel and with metallic finishes in PVD enclose a coloured inlay of polyamide. This creates exciting contrasts with matt surfaces that give the rose a velvety touch. The door handle and the inlay in deep black create elegant accents on the door. The matt-finished nuances in brass, copper or black chrome open up individual design options.
Assortment expansion
Black matt
Black matt surfaces are a real design highlight. They fit perfectly into existing colour concepts or create exclusive accents. With the range extension, HEWI creates new design options and the possibility of a uniform design in matt black from the door to the bathroom.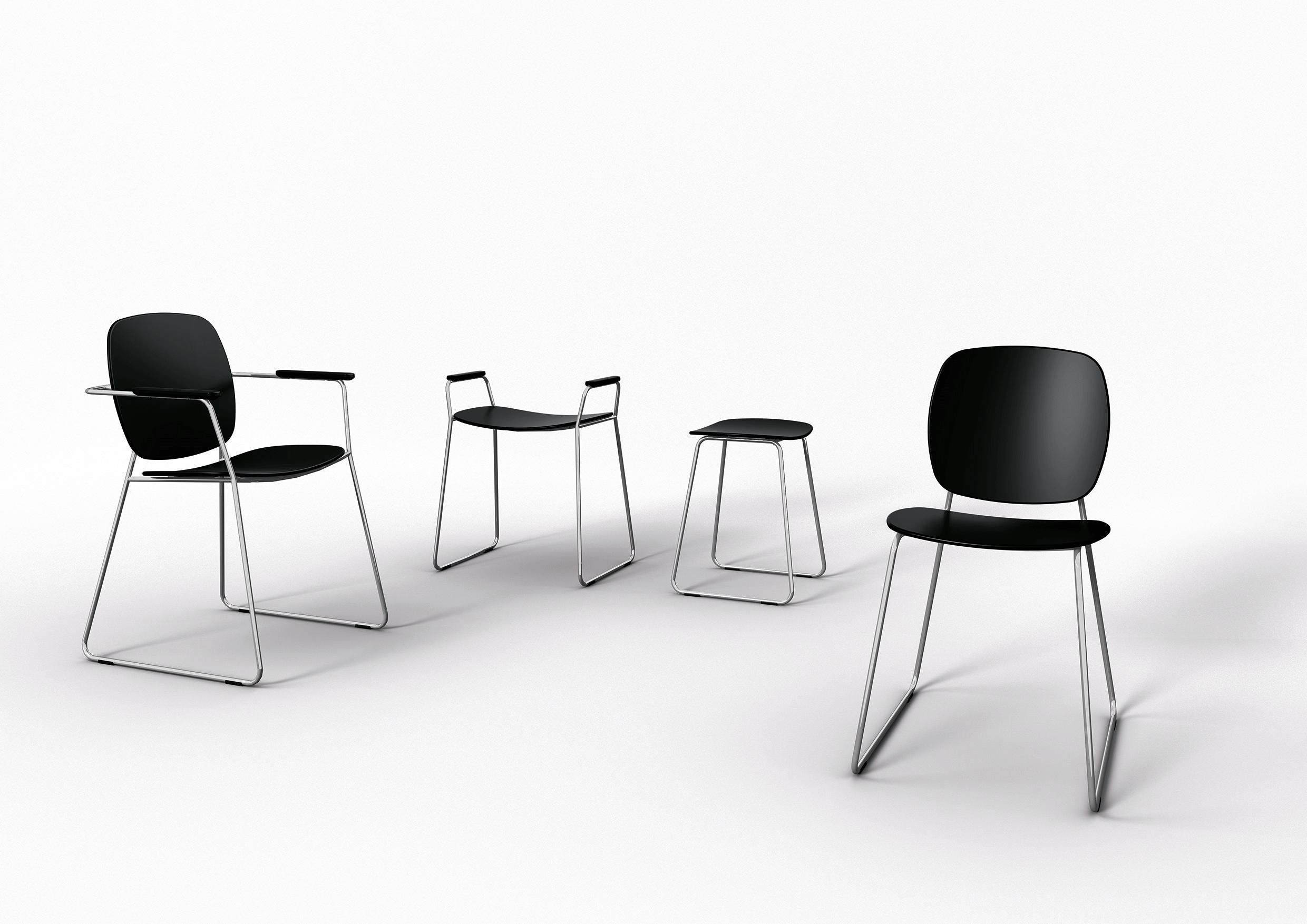 Large model selection
Washbasins
An easy-care high-gloss surface and the functional design demonstrate the versatility of HEWI washbasins made of mineral cast. As the range expands, additional washbasin sizes are available with adaptive overflow and in combination with handrails. Adaptive overflows offer extra hygiene, as they can be easily mounted under the washbasin and replaced when necessary.
Every month we inform you about various topics such as new products, technical changes, brochures as well as current events and news. Sign up for our newsletter and stay up to date!