Kindergartens, daycare centres and primary schools
Colourful accents and easy to use
Products for children have to meet a variety of requirements: they must be safe to use, robust and also literally child's play to use. In addition, they must be easy to clean and hygienic. Products that are used in cots, nurseries, kindergartens or schools must be able to withstand high loads over the long term. HEWI products for children meet all these requirements.
In the washroom
Child friendly solutions
Washing hands and brushing teeth is much more fun when the wash place design is adapted to the needs of the little users. HEWI offers a comprehensive range of products for the washing area which, with its cheerful colours, virtually invites you to wash and splash around.
The product range includes washbasins, mirrors, tumbler racks with hooks and accessories.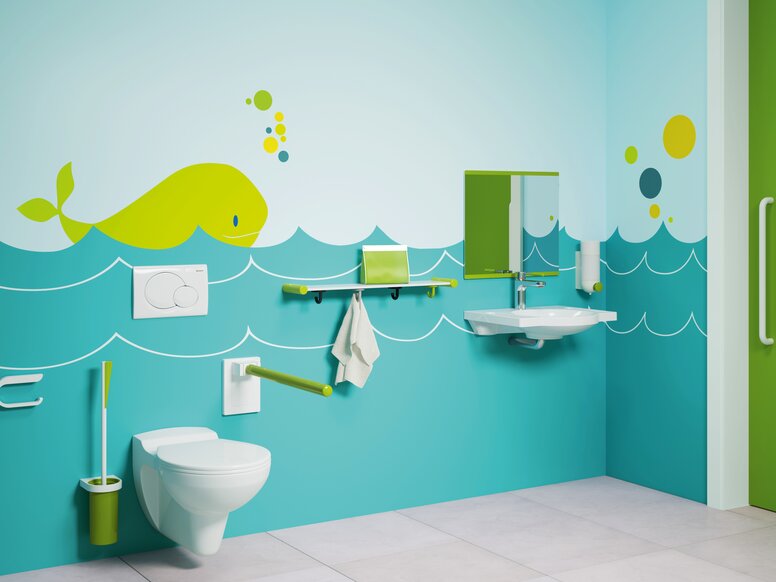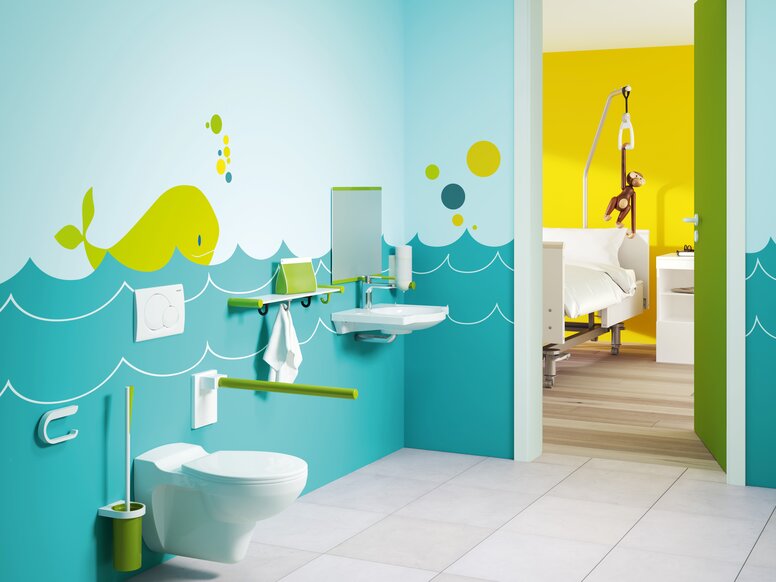 Promoting inclusion
Accessible solutions for children
Many facilities for children, such as kindergartens or daycare centers, already work on an inclusive basis today. In contrast to the term integration, which states that people with disabilities should be included in an existing system, inclusion means that all people must belong as a matter of course and have the same opportunities. This also applies to small children who have a handicap. For HEWI, universal design means developing products which can be used by all people equally - whether large, small, with or without a wheelchair.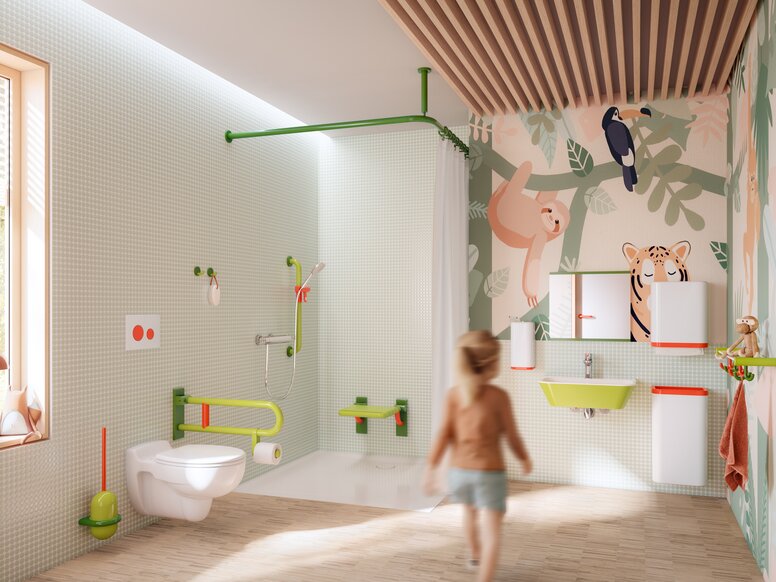 Orientation through colors
Especially with regard to the promotion of children's independence, the child-friendly equipment of sanitary areas in kindergartens and daycare centers plays an important role. A consistent, coordinated color concept not only has a friendly effect and contributes to a sense of well-being, it also makes it easier for the children to find their way around. The colored functional areas on Series 477/801 products, such as the handle of the toilet brush, facilitate intuitive operation.
Solutions
for kindergartens and daycare centers
HEWI is continuously developing its portfolio and is setting standards as the market leader in the care sector. Many years of experience have made us an expert in this field. Discover our system solutions from the entrance area to the corridors and the patient bathroom.
Whether sanitary systems or cross-design and cross-series hardware for doors and windows - HEWI products are as individual as the people who use them. They guarantee high ease of use and unlimited functionality in a multiple award-winning design that meets all requirements and satisfies all needs.
Monthly we inform you about different topics like product news, technical changes, brochures as well as current events and news. Sign up for our newsletter and stay up to date!