LIFESYSTEM
Focus on people
Flexible, adaptable and expandable - that is LifeSystem. LifeSystem puts the human being in the center. The system can be used independently of physical conditions. Flexibly usable products promote the independence of the users. The products can be adapted to the user's body measurements and were developed according to ergonomic and kinaesthetic aspects. Well thought-out product details offer a safe and comfortable use. Functionality, flexibility, easy care and robustness support the nursing staff in their daily work and make LifeSystem the professional system for nursing.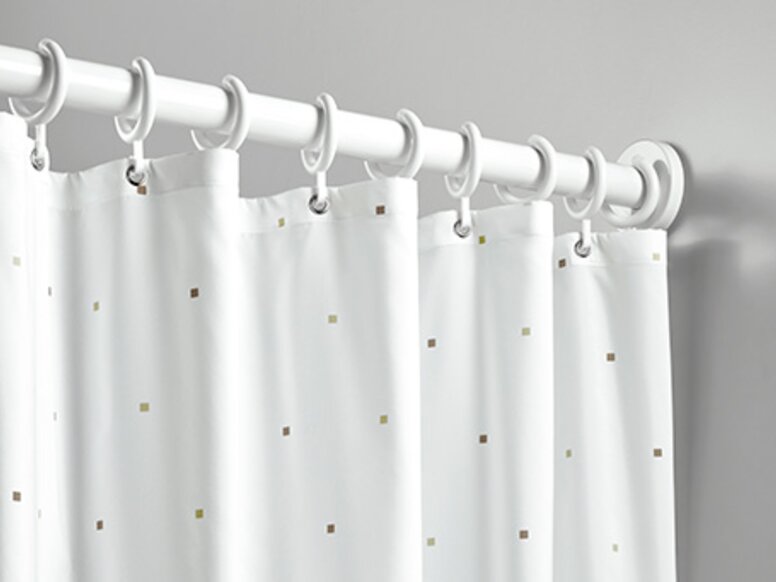 System solutions for care
Shower curtains
Especially in existing bathrooms it is often impossible to achieve an optimal solution with standard products. Custom-made shower curtains fit exactly into the structural conditions and create freedom of design. HEWI shower curtains are available in many standard sizes and can be made to measure in accordance with your specifications on request - and this from quantity one up to series production. This also applies to the curtain rails.
The hinged support rail can be adjusted in the projection, so that it can be individually adjusted to the respective user. The handle length can be adjusted. It can also be supplemented with a toilet roll holder, flush release and back support, for example.
The shower seat can be adjusted in height and is therefore optimally adaptable to the respective user. The surface is made of skin-friendly PUR. The ergonomic design increases the seating comfort. The hygiene opening facilitates personal hygiene.
The colored marking on the handle element of the shower head rail indicates the point of actuation and thus facilitates intuitive use. The height of the shower holder can be adjusted with just one hand.
LifeSystem
The well thought-out product details of LifeSystem offer both comfortable and safe use. Together the products form an intelligent system that supports the user and also the nursing staff.
Material and colour options
Contact surfaces made of high-quality polyamide
load-bearing elements made of high-quality metal
seat and Support surfaces made of PUR
Load-bearing elements
Contact surfaces
Design
NOA Product Design, Aachen
Awards
red dot award: product design 2003

THIS Might BE YOUR INTEREST