HEWI MAG / NEWS
HEWI has been awarded the Universal Design Award 2020
HEWI stands for forward-looking innovations, a high level of functionality and well thought-out design. For this, our sanitary series 477/801 was awarded the Universal Design Award. Find out what makes the accessible classic so special.
Our society is changing and with it the demands on architecture and product solutions. HEWI has accepted this challenge and for decades has been successfully developing products that focus on people and their individual needs - without losing sight of the aesthetic appeal. For this we have been awarded again:
Our range 477/801 in matt has received the Universal Design Award "special mention" . Because HEWI was able to convince both the end-user and expert jury with the accessible classic and our sustained commitment to making universal design more widespread.
The Universal Design Award, which is presented by the Institute for Universal Design, honours only outstanding products that are future-oriented and can be used across generations.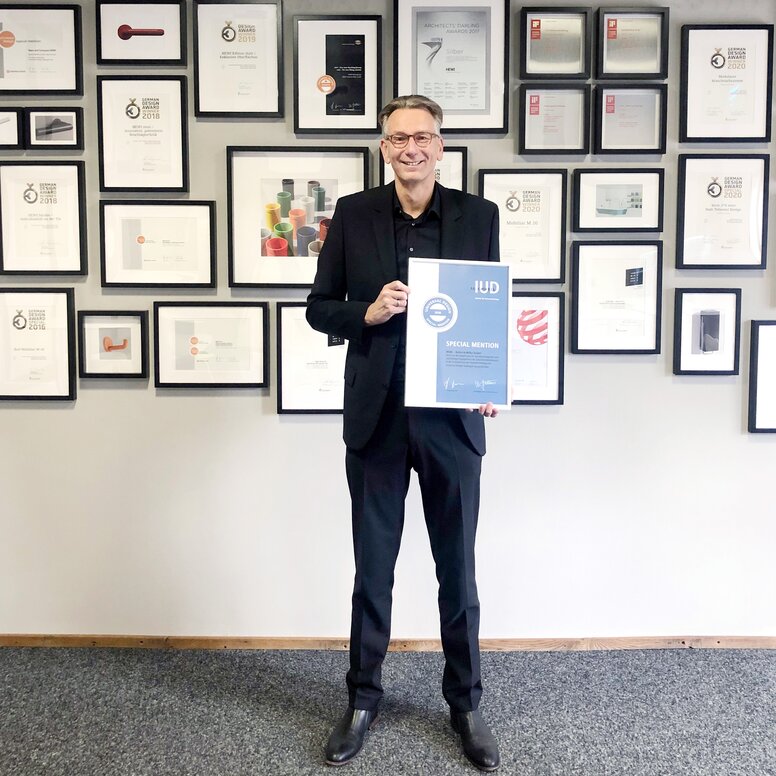 Focus on the individual needs of the user
Mobile folding support handles offer flexible solutions
The purist design of the 477/801 series combines high functionality with a unique depth of range. New in the range: mobile folding support handles. The innovative solutions offer reliable support and can be used flexibly.
If required, the portable folding support handle is simply snapped into the permanently installed mounting plate. If the folding support handle is not required, it can be removed just as easily and the mounting plate covered by a cover cap.
Matt surface offers design options
For HEWI, good design also means offering options. Series 477/801 in the matt edition offers an alternative design. The matt edition adds a homely design alternative to the sanitary room in hospitals, retirement homes or nursing homes.
Stay up to date and receive the latest developments in the field of accessible bathroom equipment. Sign up for our newsletter.