HEWI Mag / References
HEWI makes a strong impression in the Stream Tower Berlin
What else was missing from the coveted business scene of Berlin's popular Friedrichshain/Kreuzberg district? Exactly: A tower! In the midst of the popular office location Mediaspree and in a prominent position between Warschauer Straße and the old Postbahnhof, the Stream Tower folds 24 storeys into the sky like a sculpture. In 2017, the Austrian real estate and retail company Signa acquired this site of the quarter, which is located in the direct vicinity of the Mercedes-Benz Arena.
The executing Berlin architectural firm Gewers Pudewill realized a fascinating building that communicates with its creative and inspiring environment. The office tower, which was completed in 2022, displays a certain clarity because of its deliberate reduction to the materials concrete and glass. This gives it an almost intentional hardness. At the same time, the architecture seems lively and extravagant thanks the strong facade folding.
From a kind of glass base of seven floors, the tower shifts floor by floor alternately offset 97.5 meters to "an interesting, urban sculpture" (as Gewers Pudewill calls it) towards the sky. The dynamic projections and recesses in the facade form large balconies and terraces on all levels. Meandering horizontal bands of exposed concrete structure the building and provide an interesting emphasis. The glass envelope makes the tower appear in a different light from every viewing direction and depending on the position of the sun, thereby emphasizing its lively and multi-layered cubature.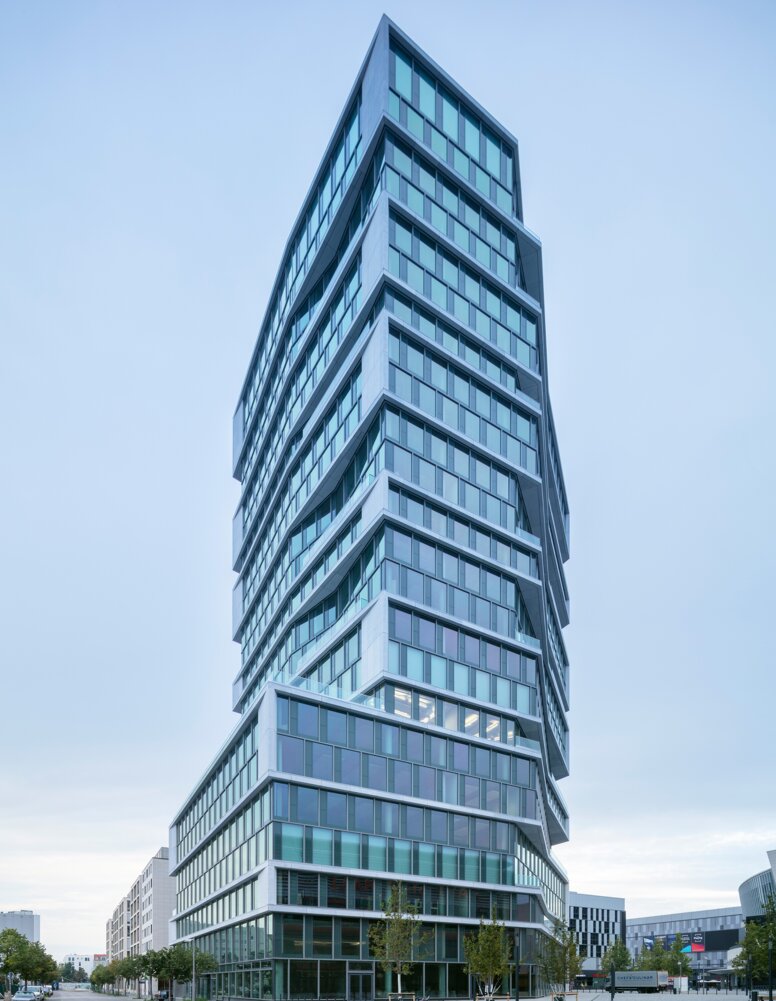 Transparency and light create space for development
The predominantly glass envelope also unfolds its effect inside. With its large floor-to-ceiling windows, it offers a breathtaking view of the entire city and provides plenty of daylight for a friendly and open loft atmosphere. The approximately 2,500 employees in the Stream Tower thus enjoy working conditions that offer plenty of room for inspiration, communication, and innovation. The principles of clarity and material reduction also continue. The core of the building – with access via elevators and stairs – is in exposed concrete. And the exquisite black and white terrazzo floors combine elegance with pronounced robustness.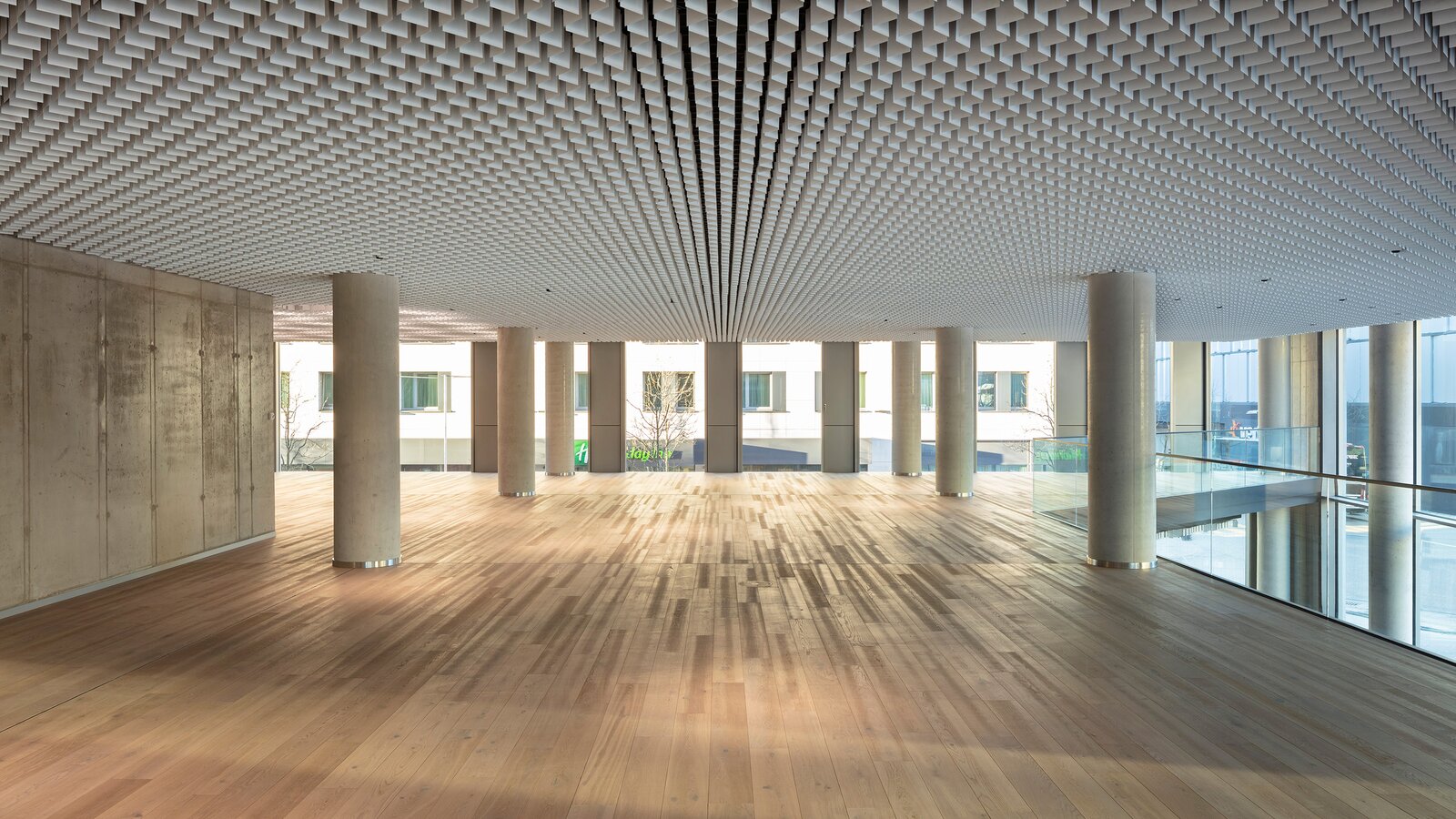 HEWI SOLUTIONS FULFILL HIGH DEMANDS FOR QUALITY AND FUNCTION
In the sanitary areas, great importance was attached to functional use in addition to the high demands on quality and aesthetics. With regard to accessibility, attention was primarily focused on the details.
Germany's first accessible and classic Series 801 from HEWI fits seamlessly into the architectural concept of the Stream Tower with its reduced design in timeless white. Because of their ergonomic properties, the user-optimized tilting mirror with cord re-routing and handle for adjustment as well as the sanitary accessories of the 477 series – including waste bin, hygiene bag dispenser, toilet brush holder, and paper towel basket – supports movement patterns and comfortably compensate for limitations.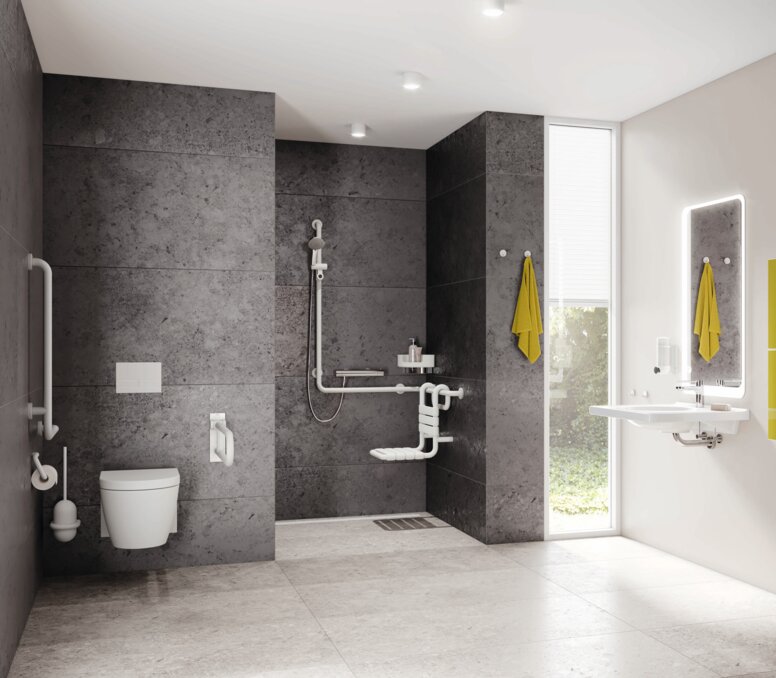 Property type
Stream Tower
Architect
Architectural office Gewers Pudewill
Builder
: SIGNA / Berlin, FH 91 Immobilien GmbH & Co. KG