HEWI MAG / Knowledge
7 tips for planning interior bathrooms
Contrary to preconceptions, a bathroom without windows is not necessarily dark and squat. Even individual features can turn a windowless bathroom into a place of time-out and relaxation. Discover our 7 tips for planning interior bathrooms.
Windowless bathrooms present architects with several challenges. Whether they are dealing with darkness, dampness, odors or compactness: If you take certain aspects into account when planning and designing interior bathrooms, you can conjure up an appealing place to feel good in a windowless room.
1. Tip: Bring light into a windowless bathroom
Without daylight, a windowless bathroom needs other sources of light. Therefore, lamps are mandatory for illuminating the room. A single lamp does not provide sufficient illumination. Recessed lamps in the wall, ceiling or floor provide that extra needed lighting. Spotlights or indirect lighting, for example, in the mirror, create an inviting interior bathroom. Keep light sources soft to avoid harsh lighting. Cold, bright lamps give a room a sterile look. Warm lighting, on the other hand, promotes a sense of well-being. If your customers want daylight in the bathroom, skylights or windows to adjoining rooms may be the solution. In the barrier-free bathroom, it is recommended that a tilting mirror with LED lightingbe provided. The mirror can be tilted by up to 28 degrees with a crank and cable—making it easy to use while standing or sitting.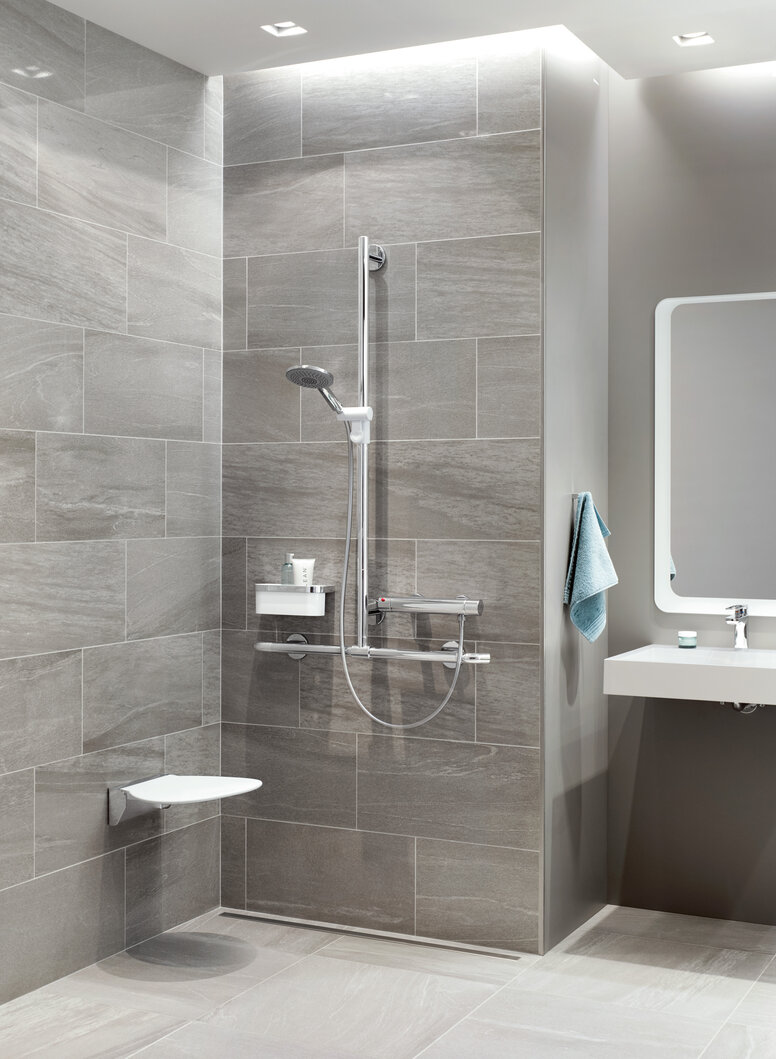 2. Tip: Bright colors brighten up a room
Avoid dark tiles and dark bathroom furniture in windowless bathrooms. These colors swallow brightness. Then the room needs even more light to brighten it up. Bright colors reflect light better and visually brighten up the bathroom. In addition, friendly colors visually enlarge rooms. A great benefit for windowless bathrooms. The HEWI sanitary series System 162 offers an array of very light attractive colors, and the white matt color is a particularly popular design variant. System 162 includes coordinated accessories for washbasin, shower and WC.
3. Tip: Mirrors enhance brightness in windowless bathrooms
Mirrors make interior bathrooms look brighter and larger and spread the artificial light. That is why the motto for windowless bathrooms is: The bigger the mirror, the better. To further compensate for the lack of windows, many mirrors come with their own lighting. Ideally, the mirror illuminates the face evenly and does not create glare. Bathroom mirrors that scatter light well and spread it throughout the bathroom create a pleasant atmosphere. HEWI offers various mirror models with or without self-lighting.
4. Tip: Prevent moisture in the bathroom
One challenge with interior bathrooms is moisture buildup. You should take this into account accordingly when planning. At worst, the moisture can develop into mold. To prevent this, it is important to adequately warm and ventilate the room so the moisture does not get trapped. Central ventilation is ideal for this purpose, providing a constant air exchange. Another ventilation that switches on when needed is also a good idea. This serves to draw off the water vapor and prevent condensation, Which helps prevent problems such as moisture, mold and odor buildup.
5. Tip: Use the right material in the interior bathroom
Moisture spreads more easily in interior bathrooms. Therefore, use materials that are not so sensitive to high humidity. For example, non-porous washbasins are more hygienic and easier to clean. Due to the sealed surface, moisture does not penetrate and water residues can be quickly removed with a cloth. The HEWI range offers a wide selection of different washbasin models.
6. Tip: Use delicate equipment
Provide delicate bathroom furniture and ceramics when decorating an interior bathroom. They make the room appear lighter and are more inviting. At best, you should do without high cabinets or light-sucking shelves when furnishing.
HEWI's modular washbasin concept offers the option of individually extending the washbasin area with adaptive additional options, such as a grab rail.
7. Tip: Integrate a floor-level shower
Floor-level showers visually open up windowless bathrooms and make them look larger. Combined with a glass shower enclosure, the artificially created light illuminates the entire room. This ensures sufficient brightness even when showering.
However, if only one shower curtain is possible, then it is a good idea to choose a light curtain because it will not swallow the light. The shower curtain can be pushed open when not in use. Thus, light enters and the room looks larger. HEWI offers made-to-measure ceiling suspensions as well as custom-sized shower curtains. Thus, the curtain, including fastening, can be adapted to any structural condition.
Designing windowless bathrooms
Although bathrooms with windows are much more popular, bathrooms without windows can also be attractively planned. Careful planning can make even these windowless spaces an oasis of relaxation. Artificial and redirected daylight, bright colors, mirrors, delicate furniture and suitable materials are just some of the keywords that are important when designing interior wet rooms.
Would you like to keep up to date on sanitary equipment and planning? Then subscribe now to our newsletter.