5 equipment ideas for the modern hotel bathroom in 2023
Are you in charge of planning and equipping the bathrooms of a hotel? Wondering what the current trends are in this area? In this article, you will learn which equipment ideas for contemporary hotel bathrooms you should not miss in 2023.
When choosing a hotel, the bathroom is a deciding factor for many guests. If the hotel bathroom is attractively designed, modernly equipped and contemporary in concept, the chance of attracting potential guests to the hotel increases. Of course, in hotel bathrooms - just as in private bathrooms - the focus is on functionality. However, the sanitary equipment helps to increase the well-being and comfort of hotel guests. After all, who wouldn't want to feel at home in a modern bathroom with a characteristic room concept?
Unique rooms that exude a special charm, have a recognition value and give hotel guests a sense of distinctiveness play a significant role in standing out from the competition. With these 5 modern equipment ideas for bathrooms you will inspire hotel guests:
1. Minimalist and functional
Minimalism is a trend that is now reflected not only in the lifestyles of many people, but in interior design concepts. With System 162 from HEWI in the white matt finish, you invite hotel guests to feel really comfortable in the hotel bathroom. The puristic design as well as the straight lines of the sanitary accessories are particularly elegant and timeless. They blend harmoniously into existing color concepts or set characteristic accents. System 162 is also made of robust materials. This makes the accessories for washbasin, toilet and shower ideal for use in frequented hotel bathrooms.
2. Filigree and basic geometric shapes
Filigree sanitary products give lightness to the hotel bathroom and enlarge the space. This is especially an advantage if the bathroom in the hotel has a small floor plan or is indoors. Combined with basic geometric shapes, delicate pieces of furniture get a clear design that particularly appeals to guests.
With the equipment idea System 815 you combine geometric shapes with filigree design in the hotel bathroom. Elements of bent steel emphasize the filigree design of the accessories and give them lightness. At the same time, the system is characterized by its functionality at shower, toilet and washbasin. The accessory line is available in both chrome, high-gloss finishes and black matte finishes - providing design options for the unique hotel bathroom. The inserts, such as those on the soap dispensers or tumblers, are made of satin-finished crystal glass. This gives the products a particularly high-quality appearance.
With the innovative adhesive mounting for System 815, HEWI offer the possibility to install the accessories according to individual ideas and needs - and without drilling. This method of installation also eliminates the need to pay attention to joints. If the accessories need to be moved or removed, they can be removed without leaving any residue with the adhesive mounting - protecting high-quality surfaces from damage.
3. Reduced design language
Sanitary fittings with a reduced design language speak for themselves and are visually unobtrusive. They open the space for colors or deliberately placed accents in the interior and let them work for themselves.
For the implementation of this design System 100 is ideal. It has been designed down to the smallest detail. The sanitary accessories feature a pared-down design language, clever functions, a high level of operating convenience and the use of high-quality materials. All this makes System 100 the perfect solution for the hotel bathroom. The products are available in elegant chrome with satin crystal glass inserts.
System 100 connects the areas of sanitary and fittings with each other. The system competence makes it possible for you to realize a consistent purist room design, which offers high functionality despite minimalist design.
4. STYLE BARRIER FREEDOM
The barrier-free equipment of sanitary areas is becoming increasingly important in today's world. Because barrier-free bathrooms offer many advantages not only for people with restricted mobility, but the comfort of all users is noticeably increased.
With over 4,500 possible colors, the barrier-free HEWI System 900 offers individuality in color design - it thereby combines accessibility and design diversity. Whether in current trend colors or your personal favorite color, System 900's barrier-free solutions are available to match any interior design concept. In this way, unique, limitless color concepts are created that give hotels a personal recognition value and set accents. True to the motto: Make Your Own Choice - Choose Your Own Color.
Fittings in the desired color are also available to match the individually powdered sanitary solutions. With handles from System 270 in combination with System 900 you create unique room concepts from the door to the bathroom.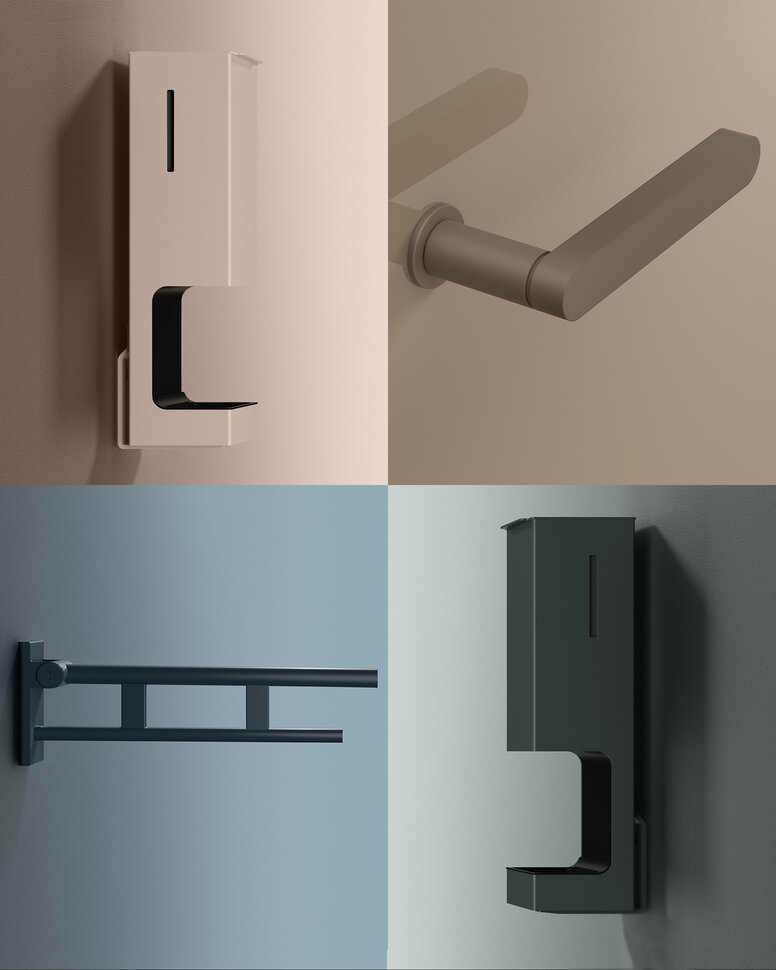 5. Purist design and clean lines
Even though the style of purism originated back in the 20th century, it is still a component in architecture today that many people in charge of the industry rely on. The style is characterized by clean lines and simple geometric shapes. Equipment solutions in this design direction give a hotel bathroom a reduced and at the same time high-quality as well as timeless design.
Accessories from System 800 combine clarity and purism with functionality. The modular design of the system offers a wide range of combination options - so you can design the hotel bathroom freely according to your ideas. System 800 includes accessories for the washbasin, WC and shower, as well as barrier-free products. The barrier-free solutions are tailored to the needs of the users. They are ergonomically designed, provide secure support and assistance in daily routines. With System 800, the hotel bathroom becomes not only particularly elegant, but also even more comfortable.
Complement the HEWI sanitary accessories with useful and functional universal products. These can be combined with all sanitary systems. With practical additions such as hair dryers, hand showers or vanity mirrors, you can offer hotel guests enhanced comfort and provide them with a feeling of "taking it easy."
Equip hotel bathrooms in a contemporary and elegant way
Whether you want to equip a hotel bathroom in current trend colors, timeless white, with minimalist or purist accessories or filigree, reduced design language - with the HEWI sanitary systems you will find the right products for your equipment ideas.
In our free newsletter we regularly inform you about new products and interesting topics in the fields of sanitary and fittings. Don't want to miss anything? Then subscribe now to our free HEWI newsletter.