HEWI MAG / Knowledge
Protection against vandalism – What to consider when planning public sanitary facilities
According to current police figures, in 2021 there were over 550,000 cases of damage to property reported. But how can vandalism in public areas be prevented? This question is particularly central in the planning and implementation of highly frequented sanitary areas in public facilities. Learn more about what measures help to protect against vandalism.
Ideally, publicly accessible sanitary facilities are designed in such a way that vandalism is largely excluded. Even with simple preventive measures during planning, you as planners contribute to protection against vandalism.
Stainless steel is ideal for use in public areas. It has a non-porous and therefore particularly hygienic surface. Minimal maintenance is sufficient to prevent dirt, bacteria or micro-organisms from accumulating on the surface. As a rule, a wipe down from time to time with warm water and commercially available cleaning agents is sufficient. Stainless steel is extremely robust and insensitive to scratches or wilful damage. The material is perfect for the high frequency of use in public areas and contributes to protection against vandalism with its resistant properties. HEWI offers you integrated solutions made of stainless steel from doors to public sanitary facilities.
For use in busy sanitary facilities, employ products that are designed for public areas and can consistently withstand high usage. Products of the HEWI Range 805 are specially designed for use in public sanitary facilities. The solutions made of matt-brushed stainless steel are sturdily constructed and prevent damage and misuse. Well thought-out details such as lockable housings or concealed fixings offer protection against vandalism and theft. The wide spectrum of the Series 805 provides standard-compliant fittings for sanitary facilities in public areas – be it for washbasins, WCs or shower areas.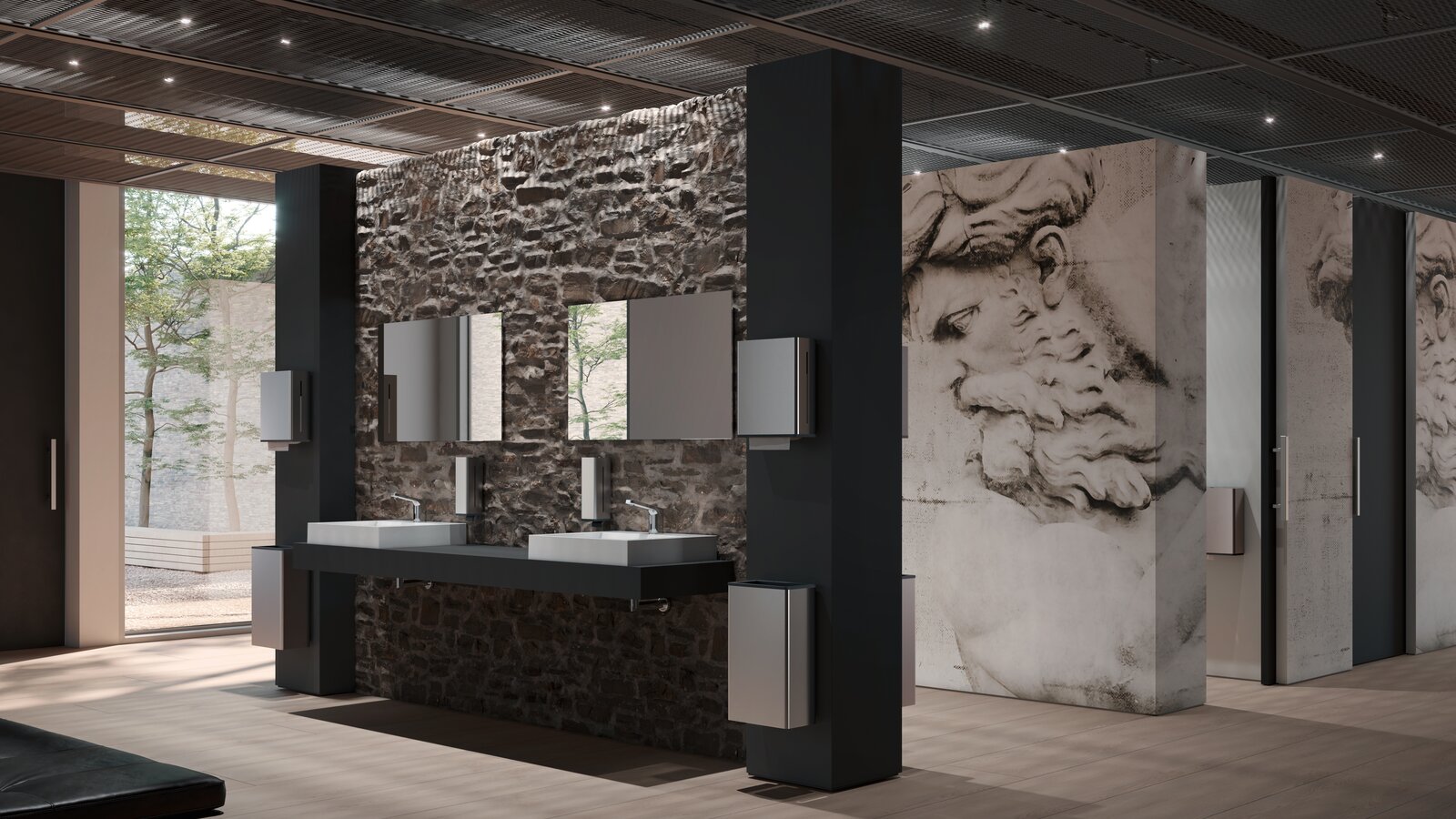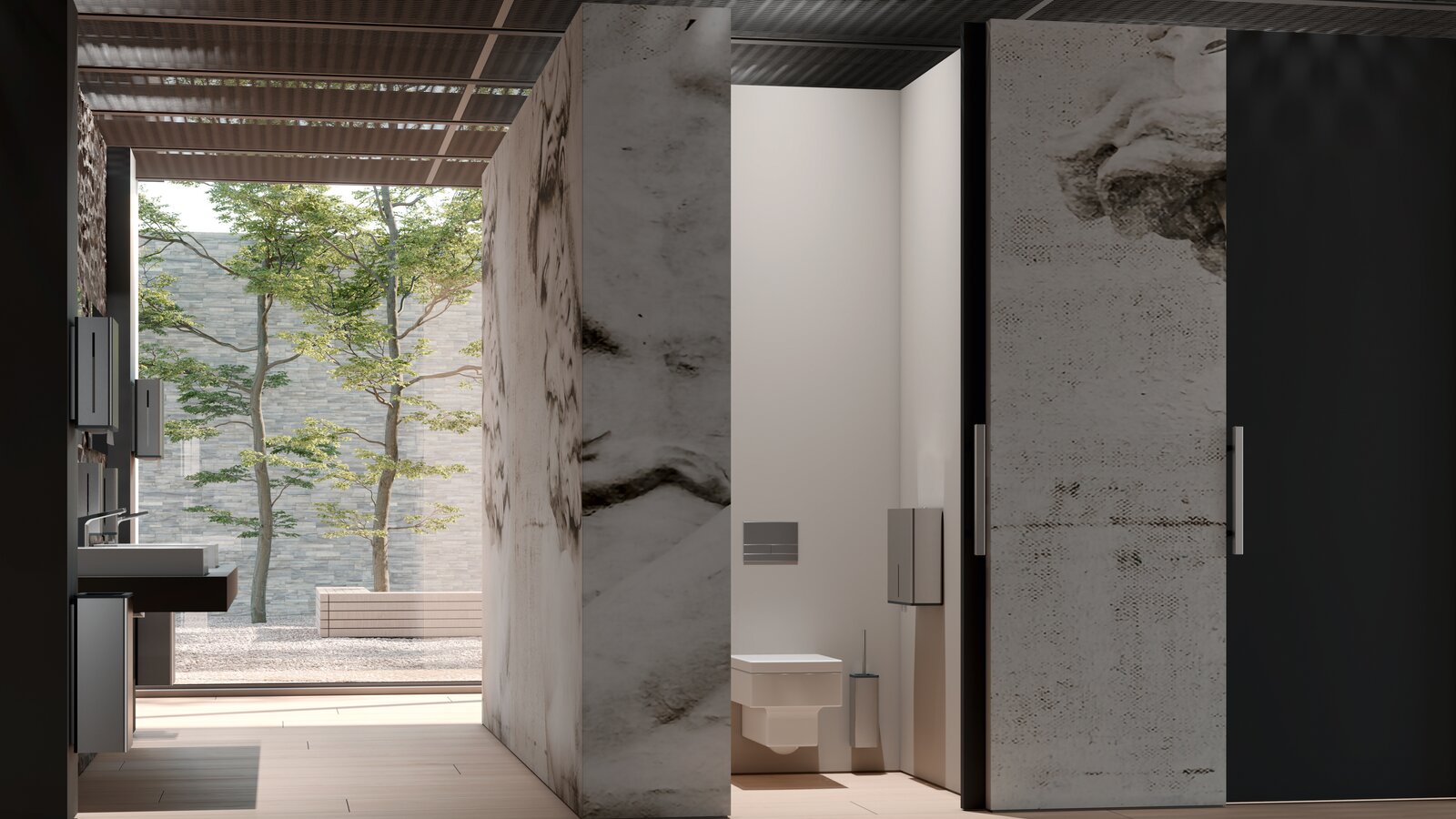 Protection against vandalism at the washbasin
Electronic fittings help to protect against vandalism at the washbasin. Our sensor-controlled fittings have robust properties. With their high-quality finish in a matt-brushed stainless steel look, they are the ideal solution for highly frequented sanitary areas. By dispensing with levers, the sensor-controlled fittings offer less surface area for damage. The electronic fittings are also impervious to tampering with the temperature setting by unauthorised persons, as they can be controlled via the HEWI app.
With the help of the app, temperature settings or hygiene rinses can be conveniently controlled via smart phone. In addition, the app provides you with an overview of the water consumption and frequency of use of all installed HEWI electronic fittings.
Rely on resilient fittings
Door handles in public facilities have to withstand a great deal. Due to their heavy use, it is important that they are durable and robust. The handle from the System 111 from HEWI is a true classic and meets the requirements of DIN 18040. Its usage category 4 classification makes it suitable for very heavy use. With its matt stainless steel finish, System 111 is easy to clean, extremely robust and resistant to scratches and damage.
The R-technology of our lever handles is designed to deal with frequent and also improper operation. It features a robust screw connection with M4 screws. With the highest classification in accordance with usage category 4, the technology is optimal for use in public areas.
Quick repair prevents imitations
In case of destruction by vandals or a broken sanitary object, the affected items should be replaced quickly with new ones. In this way, you raise the inhibition threshold for copycat offenders. Solutions with simple assembly are ideal for the rapid replacement of products. The dispenser products from HEWI are characterised by their uncomplicated assembly.
Visually appealing design inhibits destructiveness
When planning public sanitary areas, you should not neglect the visual design in addition to protection against vandalism. A positive overall impression increases the inhibition threshold to discourage damage of the fittings. Ideally, the sanitary areas will always be clean and well-maintained and have attractive fittings. In addition to cleanliness, good lighting is a factor in the overall impression. It can be used to avoid dark corners that invite destruction of the sanitary facilities. The mirror range from HEWI evenly illuminates the washbasin area of public sanitary rooms and helps reduce the possibility of wilful damage.
Mistakes to avoid when planning public sanitary facilities
Be it inappropriate materials, unsuitable products, poor lighting or a negative overall impression – these mistakes can be avoided when planning and implementing public sanitary facilities. Even just a few measures help to make public sanitary areas robust and offer protection against vandalism.
Subscribe to our free newsletter and you will no longer miss any innovations from the sanitary and fittings sectors.