Active+
The plus for hygiene
Multi-resistant germs are a problem, especially in hospitals and retirement homes. People with a weakened immune system should be protected against this, especially by comprehensive hygiene.Regular cleaning and disinfection considerably reduces the risk of infection. HEWI active+ products offer additional protection. Due to the antimicrobial effect of HEWI active+ products, the number of germs on the product surface between cleaning and disinfection cycles is significantly reduced. This considerably reduces the risk of pathogen transmission and effectively supports hygiene.
Microsilver is used, which has a broad effectiveness against bacteria and fungi. This releases silver ions that inhibit the growth of bacteria and other unwanted germs, thus minimising the risk of infection for humans. Within 24 hours, a continuous reduction of undesirable germs on the surface of the products takes place, so that 99.9% of germs are reduced within this period.
active+
The integrated antimicrobial protection from HEWI active+ effectively supports hygiene. A comprehensive range of lever handles, sanitary accessories and care products is available in the classic round tube design in the colour signal white.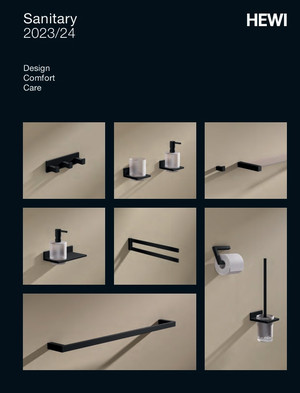 The HEWI catalogue
All product ranges and systems in one assortment
From washbasins and accessories to fittings, hinged support rails and seats
Download PDF
All information about the products
Products, photos, sizes and details
Various design options and colour combinations
Product Catalogue
Design
NOA Product Design, Aachen
Awards
red dot award: product design 2003

THIS Might BE YOUR INTEREST