Range 477/801
Barrierfree classic
Universal Design incorporates the needs of all people. HEWI has been living this ideal for more than 35 years as a sustainable and holistic design philosophy. With Range 801, HEWI launched the first barrierfree range on the German market, has since stood for quality made in Germany and has become the market leader in the segment of barrierfree sanitary fittings.
In combination with the accessories of Range 477, the most comprehensive barrierfree system solution on the market meets all requirements for bathroom furnishings in the professional care sector. Users and nursing staff were equally in focus during development.
COLOURS AND CONTRAST
Freedom of design
The polyamide range is characterised by a pleasant feel. The cross-section of the round tube design is optimally adapted to the hand.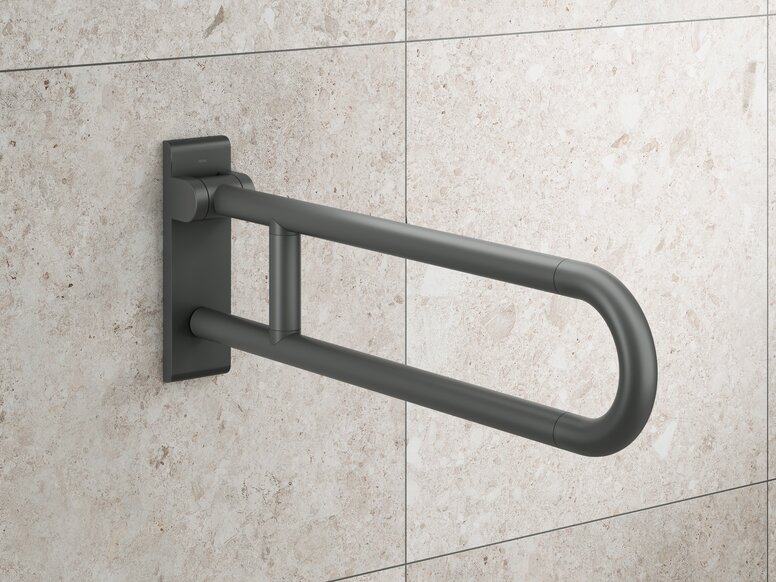 HOME DESIGN ALTERNATIVE
Edition matt
Range 477/801 offers a design alternative in the matt edition. The Edition matt gives the sanitary room in hospitals, retirement or nursing homes a homely design alternative. Outstanding aesthetics and unlimited functionality are not mutually exclusive. Range 477/801 is available in the matt edition in various shades of white and grey. The unique depth of the product range, from sanitary accessories, comfort products and barrierfree elements to lever handles, enables consistent furnishing. The velvety finish of the Edition matt is achieved by a special refinement process. The result is unique design in premium quality made in Germany.
Installation film
New mobile folding support handles
The range of mobile folding support handles has been extended by three further models from the 801, 801 matt and 805 Classic ranges. In the new installation film you can see how easily the portable support folding handle snaps into the permanently installed mounting plate.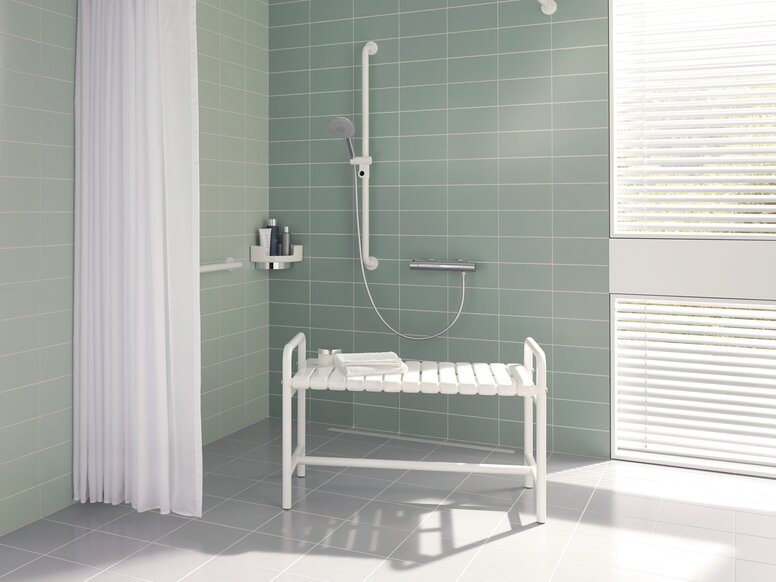 Special solutions
Special requirements
HEWI also offers solutions for special hospital requirements. Range 477/801 is available in the antimicrobial version active+, offers a suicide-inhibiting portfolio and a selection of products for adiposity patients with a support load of up to 300 kg. We also take country-specific features into account and adapt our portfolio to the respective market conditions.
System design
System 111
The fittings from System 111 complement Range 477/801 both in the high-gloss version and the matt edition. Matching tilting mirrors and fittings with matt or high-gloss control element ensure consistent equipment down to the smallest detail.
Range 477/801
With Range 477/801, you are opting for the tried and tested classic when it comes to standard-compliant, barrierfree furnishing of sanitary rooms. The comprehensive range offers solutions for all requirements and provides design options.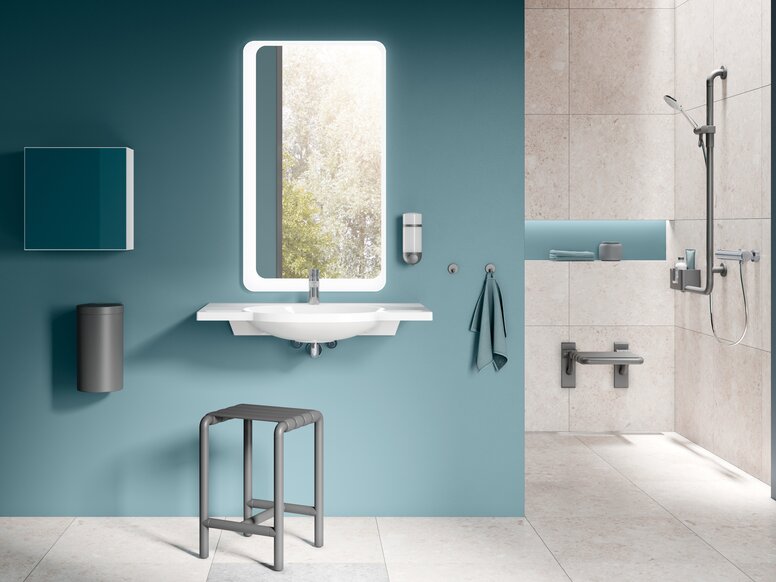 Material and colour options
High-gloss polyamide in 16 HEWI colours
Edition matt in 5 selected HEWI colours
Inserts optionally in glass or polyamide
Selection of high gloss polyamide
Selection matt polyamide
Awards
Iconic Awards 2018 innovative material winner
iF - product design award 1987


You might also be interested in this