Dispenser systems
Disinfection dispensers electric or manual
HEWI dispenser systems are consistent down to the last detail. They not only meet the highest demands in terms of design and functionality, but also blend in perfectly with their surroundings. The dispenser systems are available electronically controlled and touch-free as well as in a manual version. The HEWI range includes:
Disinfectant dispensers electric
Manual disinfectant dispensers
In addition, the dispenser systems are available in a wide variety of materials, which allow for great design options. HEWI offers Disinfectant dispensers and other dispenser systems made of (antimicrobial) polyamide, models in powder coating in black, grey tones, white as well as stainless steel variants.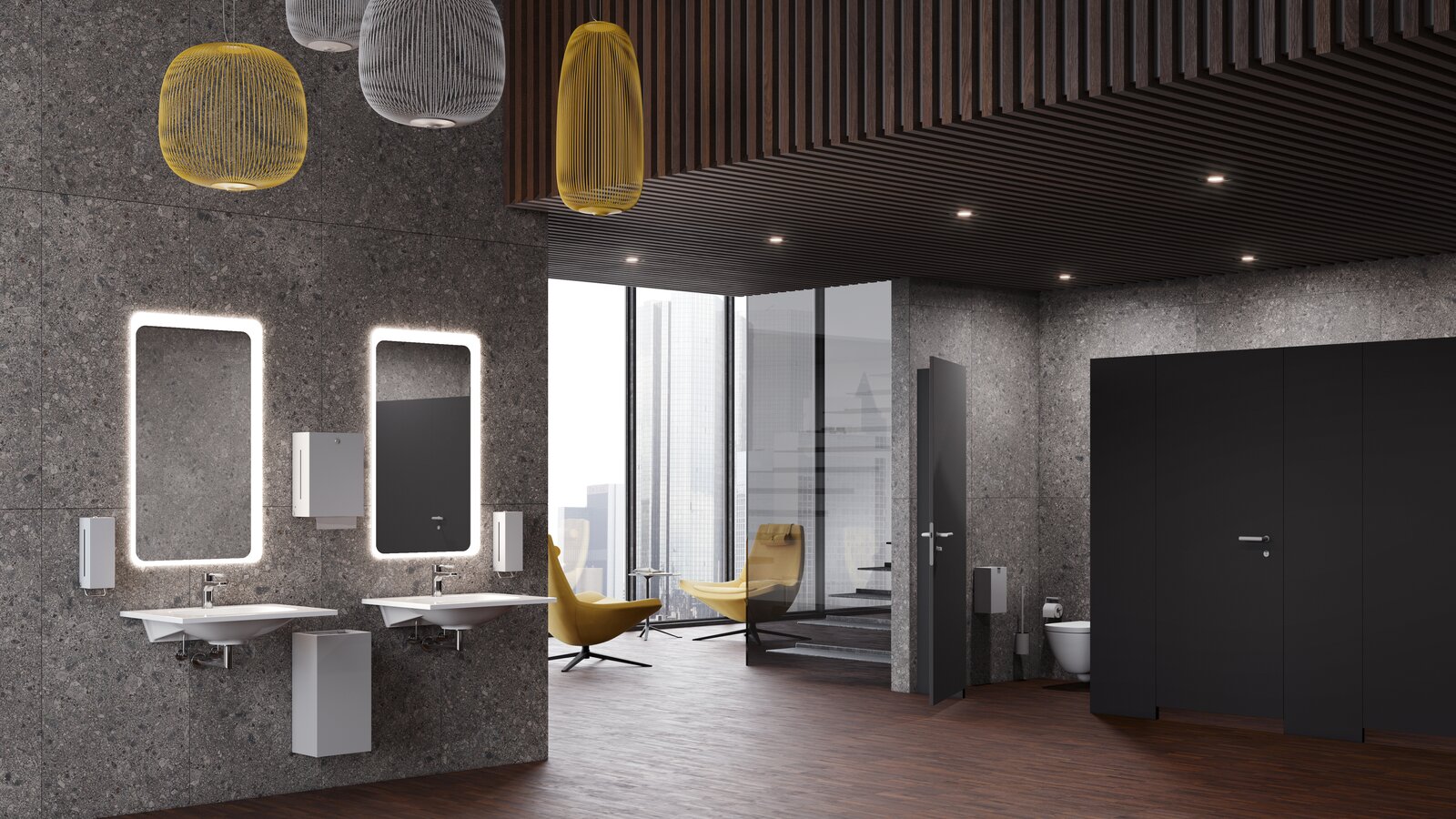 Variable use
Where can you use dispenser systems?
Dispenser systems are no longer only used in the field of Professional care sector. HEWI dispenser systems increase hygiene Hygiene in the public washroom- or also the Hygiene in the hotel. If a dispenser system is installed in the entrance area, visitors can disinfect their hands hygienically. In this way, the risk of infection through the transmission of pathogens can be reduced to a minimum. The reduced design of the dispenser products allows them to be easily integrated into any room. Due to the diversity of materials, there are countless design options for users.
VARIABLE USE
New dispensers from the popular Range 477/801
New dispensers from the popular Range 477/801
For more than 35 years HEWI has been living a sustainable and holistic design philosophy. Range 801 was the first accessibility range on the German market - and has stood for quality Made in Germany since its release. In combination with Range 477 accessories, the sanitary range meets all the requirements of care homes.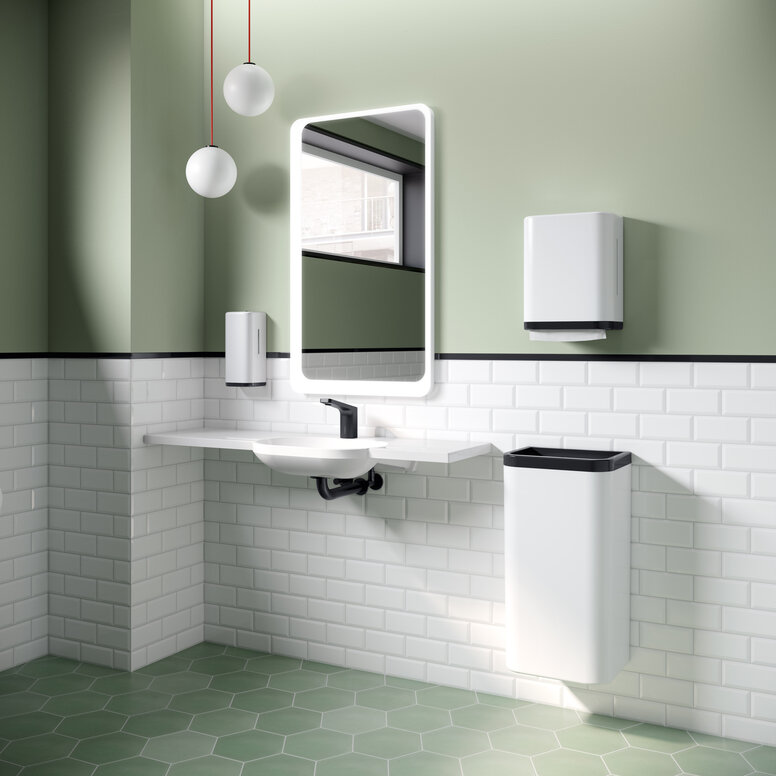 HEWI has reinterpreted the dispenser solutions of the Range. Clear geometries have been incorporated into the design language of the new dispensers. Rounded edges and coloured frame elements set accents in the professional care sector. The new dispenser systems are available in various models made of polyamide - with basic bodies in the colours pure or signal white. The dispenser systems are extremely robust and thus meet the requirements for dispenser products in schools or in care.
Hygiene in the entrance area
Disinfectant dispenser column
HEWI dispenser systems make an aesthetic implementation of hygiene measures in entrance areas and lobbies possible - thanks to the new disinfectant dispenser column. With surfaces in stainless steel or a powder coating with a deep matt finish in white, grey tones or black, the design line adapts perfectly to any environment.
The disinfectant dispenser column can be used without touching it. The mechanics and the drip tray are integrated in the column bodies. They are kept puristic and offer optimal stability for hand disinfection in the entrance area thanks to the reinforced foot.
Disinfection dispensers as floor-standing and wall-mounted models
Hygiene is not only essential in the entrance area. The new products from the System 900 enable hygiene measures to be implemented - on tables, in lifts or wherever they are needed.
Here too, the purist design ensures that the HEWI dispenser systems fit perfectly into room concepts.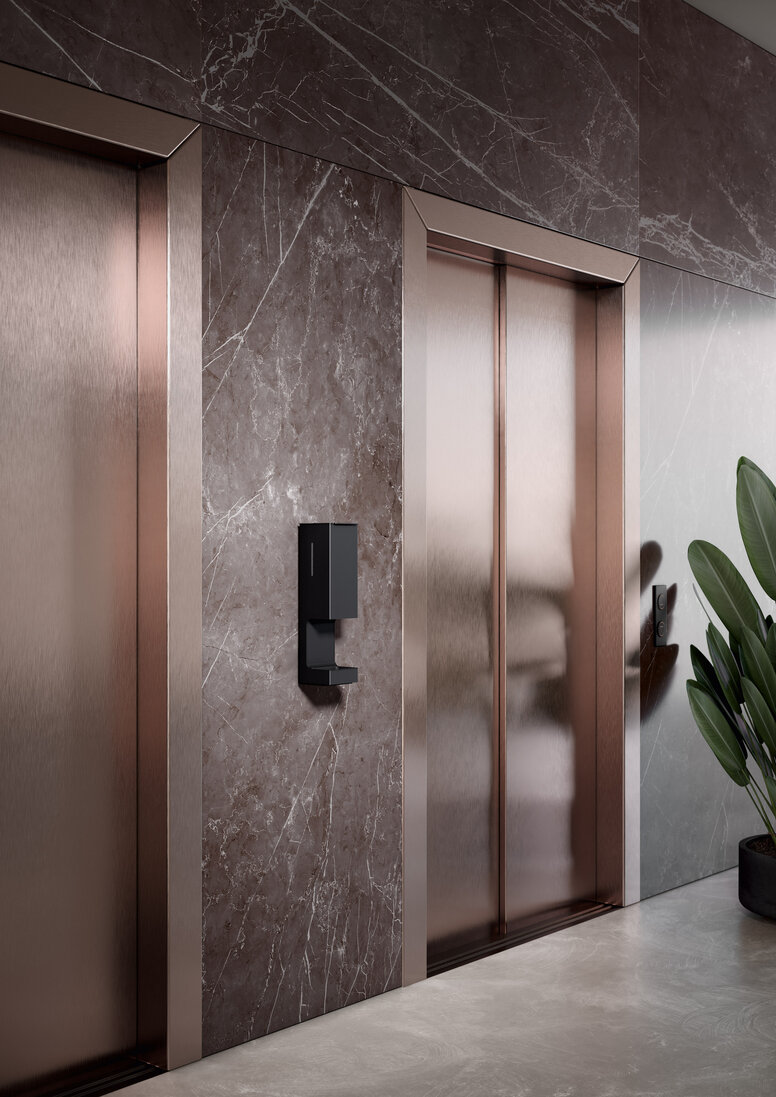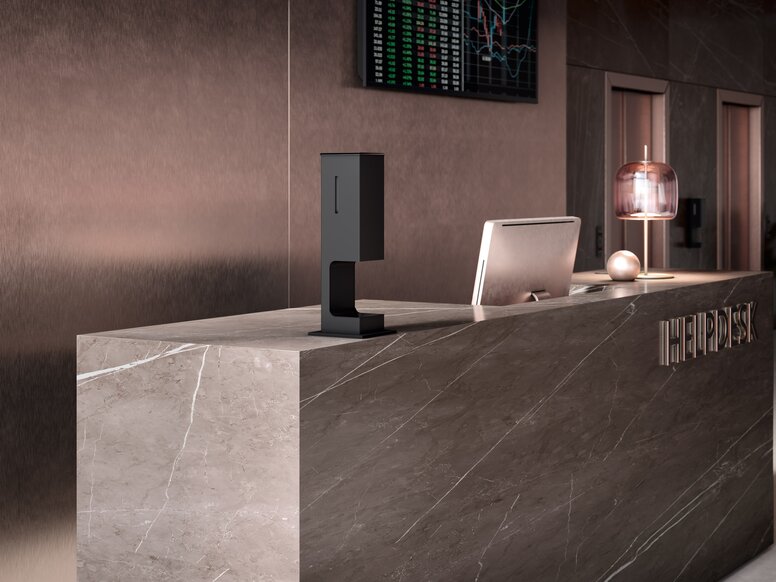 Modular systems
Well thought-out design of the dispenser systems
At HEWI, form and function come together in an inseparable unit. This leads to unique product designs. But this does not mean that functionality is limited as a result. Quite the opposite: The dispenser systems from HEWI impress with their high suitability for everyday use. HEWI systems and ranges are modular in design so that you can combine them or extend them at any time to suit your needs. Both the design of Sanitary facilities and bathrooms as well as hotels or public washrooms is thus possible without further ado.
HEWI dispenser systems are suitable for the following locations:
Offices

Communal facilities
Doctors' surgeries
Public facilities
Hotels
Lifts
For: Hand disinfection or hand washing is the be-all and end-all of ensuring hygiene in particularly busy places.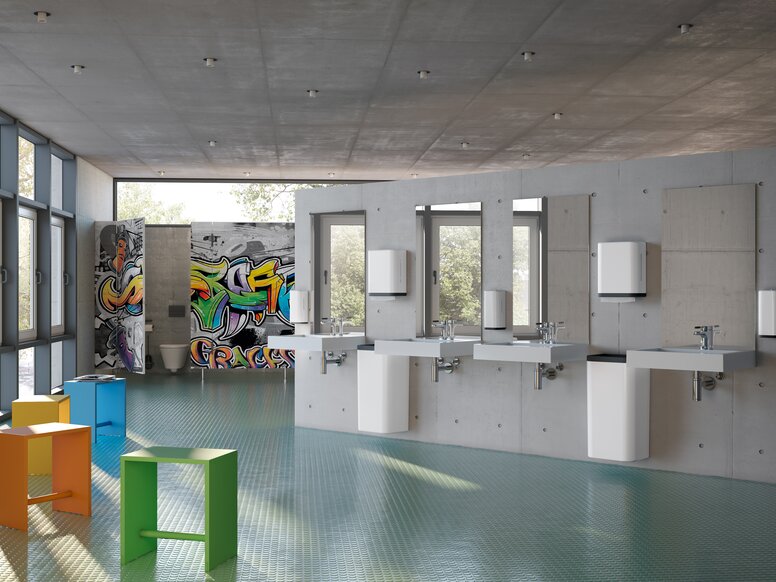 Variable use
How are the dispenser systems installed?
It's good for you - as a planner or sanitary fitter - to know: The installation of HEWI dispenser systems is extremely simple. Depending on the dispenser type, the products can be conveniently positioned on the wall at the desired height. HEWI products have proven themselves in practice and offer comfort and hygiene for all users. They are available as manual or in a contactless, automatic version. They are available in plastic, stainless steel or powder-coated. The latter convince with a particularly noble design. They are therefore very well suited for use in the hotel industry.
By the way: As an architect or planner, you can make use of our HEWI planning service free of charge. Find out more here.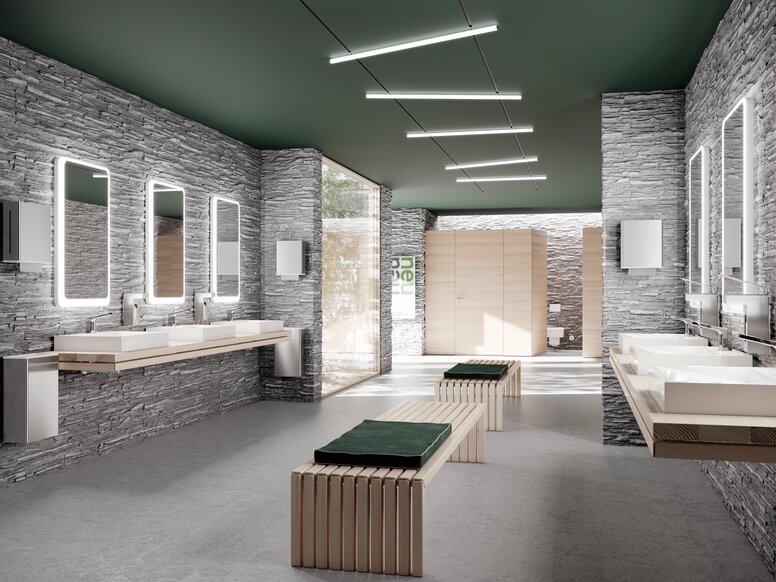 Hygienic and convenient
Dispenser systems - easy to clean & hygienic
The HEWI dispenser systems increase hygiene - whether in the washroom, in the office, in a doctor's practice or in a hotel. Sophisticated functions ensure that the products are safe - no matter where they are. A lock protects against theft or misuse.
HEWI dispenser products are maintenance-free, hard-wearing and particularly easy to clean. This benefits operators of public buildings, who are placing more and more value on high-quality, durable products when equipping their buildings.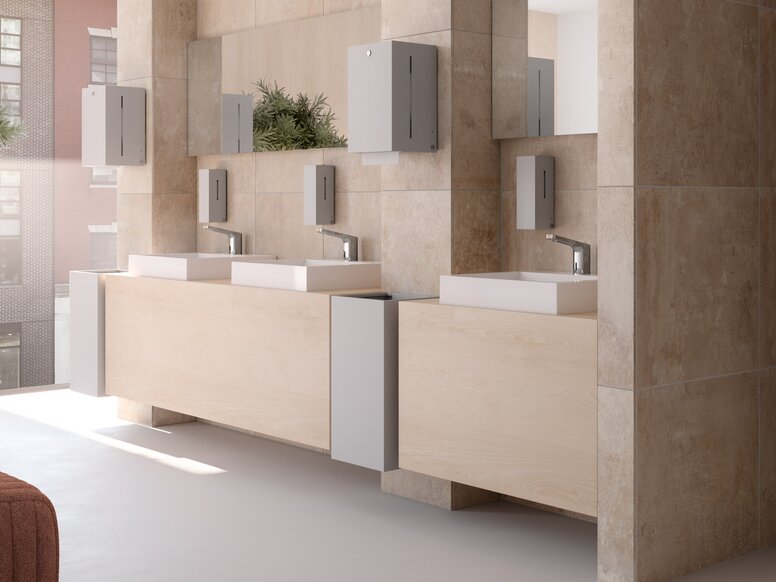 Convenient application
Dispensing the disinfectant
The use of a disinfectant dispenser is very simple. The disinfectant is dispensed as a spray. This makes it easy to spread on the skin. The HEWI system is ingenious - because the dispensing quantity can be preset that a saving of resources is possible. It also prevents users from using too much disinfectant, which is harmful to the skin. Of course, HEWI also offers soap dispensers Soap dispensers and soap trays that ensure which ensure hygienic hand washing.
The dispenser systems are designed for use in heavily frequented, public places. Thus, they meet the requirements for high performance through high stress.
Functional dispenser system
Dispenser systems - System 900
The System 900 dispenser systems complement the HEWI dispenser system family. These dispensers are also available in different models: With powder coating in black, grey tones and white as well as stainless steel variants. The dispensers are robust and perfect for use in busy sanitary rooms. The dispenser systems are also well protected against misuse thanks to a lock. In addition to a manual version, most of the dispenser systems are also available as HEWI SENSORIC. The System 900 dispenser systems include:
Soap and disinfectant dispensers
Paper towel dispenser
HEWI has thus created a consistent, functional range of dispenser systems that meets the highest design standards. You can find more information on HEWI's manual and electronic dispenser systems in the Video.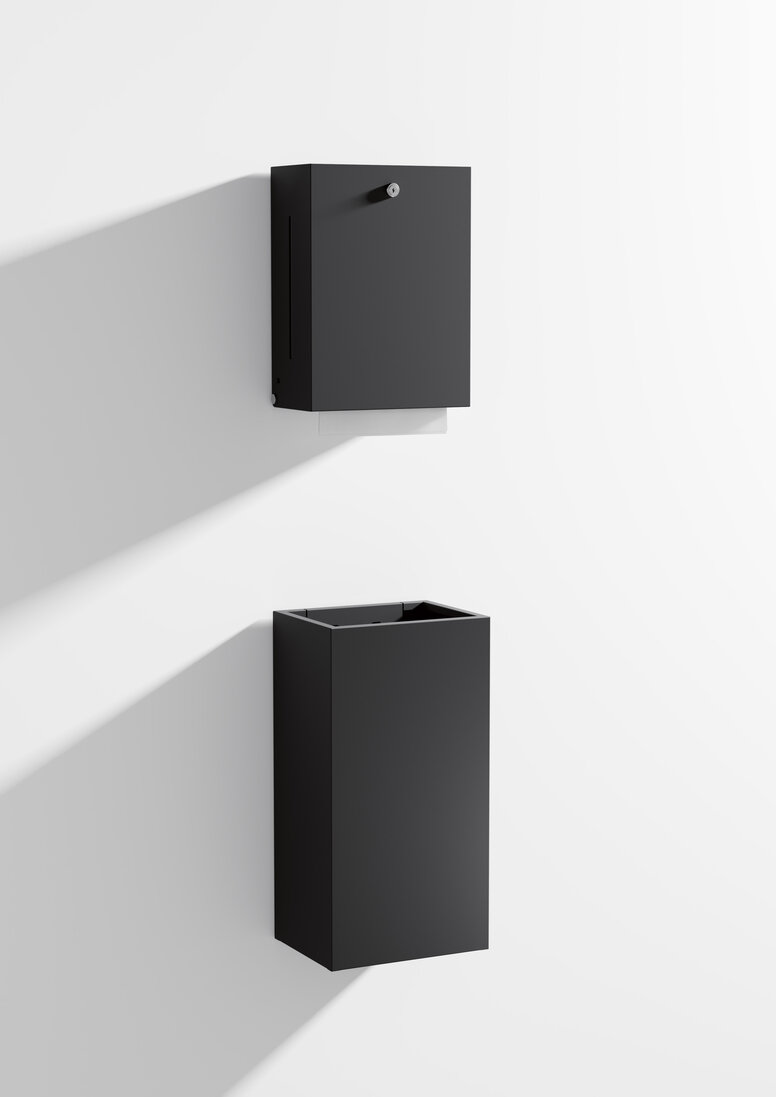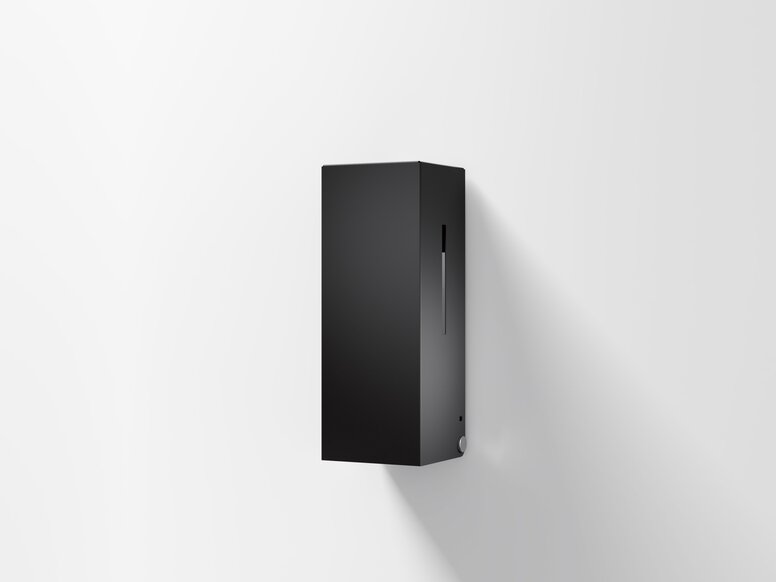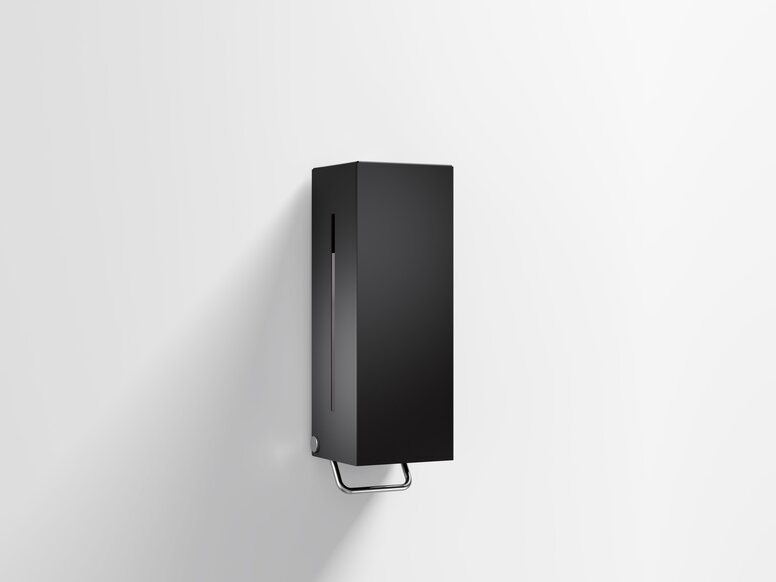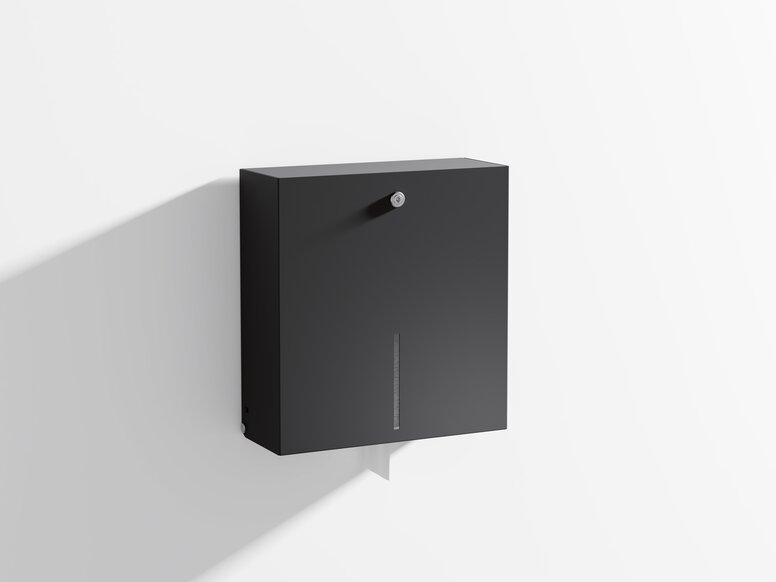 HEWI dispenser systems - with the plus of hygiene
The HEWI dispenser systems range also includes solutions that meet the highest hygiene requirements. Paper towel dispensers and soap dispensers are also available as HEWI series active+ available. These models have an antimicrobial effect. This provides extremely effective protection against bacteria, reducing the risk of infection - especially in sanitary areas. The excellent properties are due to the micro-silver that is incorporated into the surface of the HEWI dispenser systems. This has a high effectiveness against bacteria and fungi. Incorporated into the polyamide during the product, it unfolds its effect in use: The microsilver releases silver ions that inhibit the growth of germs and continuously reduce their number.
Would you like to experience HEWI products live? In our exhibition search you will find our partners in your vicinity.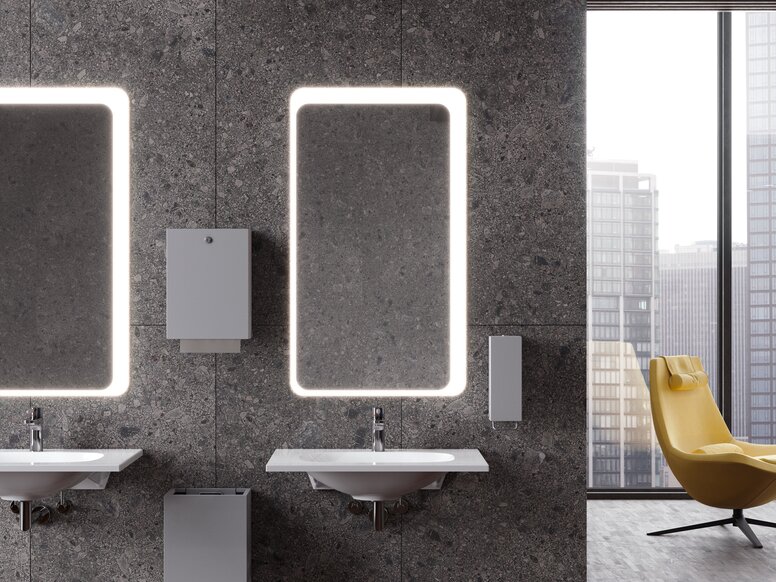 The HEWI catalogue
All product ranges and systems in one overview
From washbasins and accessories to fittings, folding support rails and seats
Download PDF
All information about dispenser systems
Products, photos, sizes and details
Various design options and colour combinations
Online catalogue
German Design Award Special Mention 2021

THIS MIGHT ALSO INTEREST YOU