be iconic. be colourful.
Accessible classic
Design icons leave an impression, remain desirable after decades and, with only a few modifications, look as young, fresh and innovative as they did on the very first day. It is not easy to create a design icon. With Series 477/801, HEWI created a true classic, which has since stood for made-in-Germany quality and has become the market leader in the accessible sanitary fittings segment. This icon is available in all HEWI colours and in three exciting Tricolour colour combinations, which give the range a distinct look that appeals to the senses.
Series 477/801 is available in all HEWI colours and in three exciting colour combinations and enables both discreet integration into the colour concept of any room and a high-contrast design that aids orientation. The solid-coloured plastic is particularly robust and resistant to cleaning agents and disinfectants.
COLOURS AND CONTRASTs
Design freedom
The polyamide series is characterised by its pleasant feel. And the cross-section of the round tube design is optimally adapted to suit the shape of the human hand.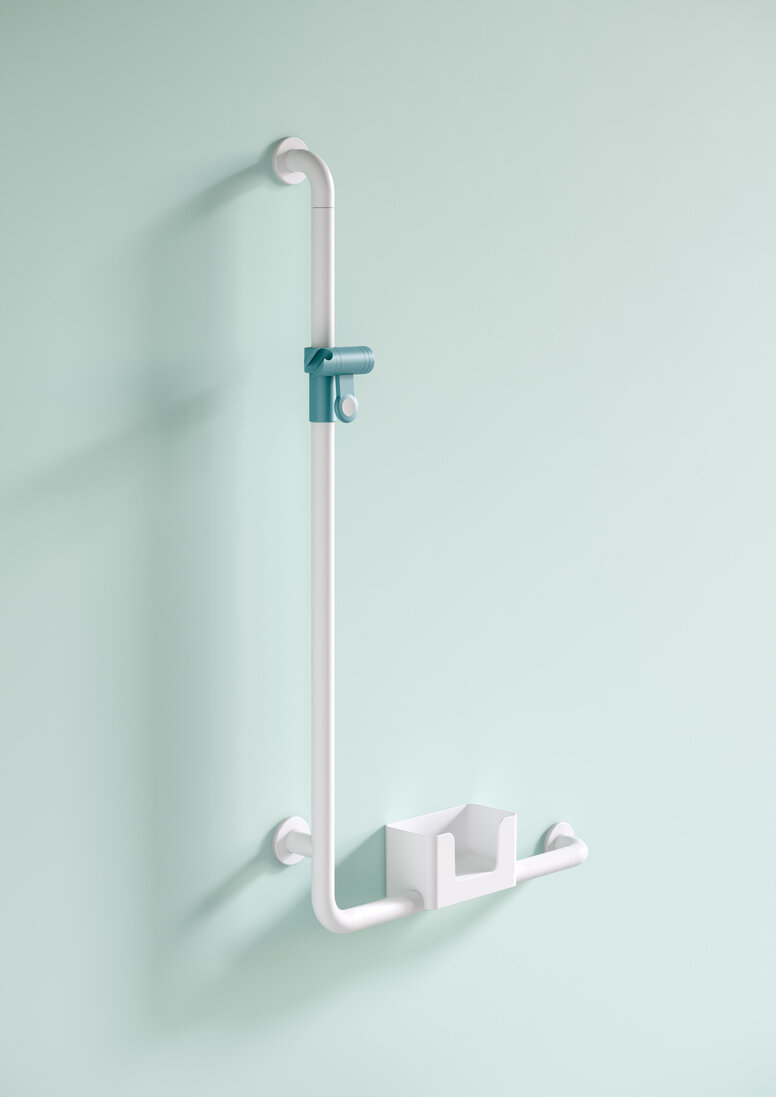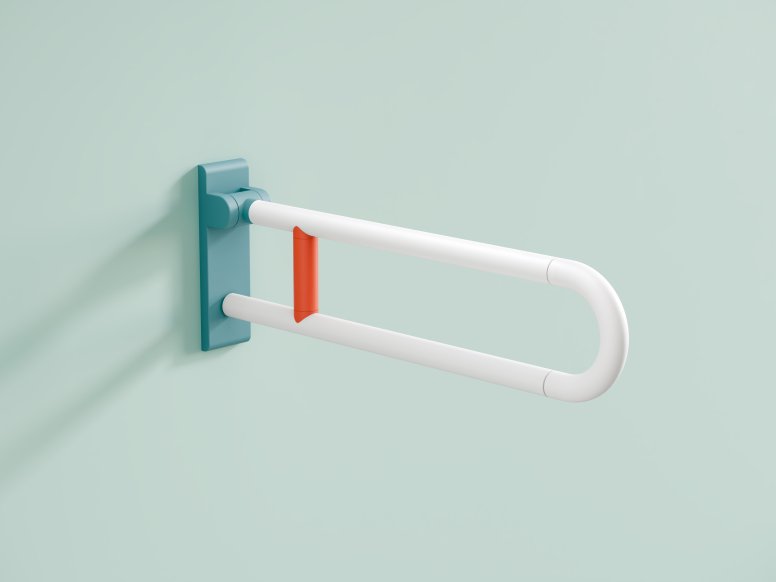 HOMELIKE DESIGN ALTERNATIVEs
Edition matt
Series 477/801 offers a design alternative in a matt edition. This matt look and feel gives sanitary rooms in hospitals, retirement homes or nursing homes a homelike design alternative. Outstanding aesthetics and unlimited functionality are of course not mutually exclusive. The matt edition Series 477/801 products are available in various shades of white and grey. The unique depth of the range, from sanitary accessories to comfort products and accessible elements to lever handles, enables consistent furnishing concepts. The velvety finish of the matt edition is achieved through a particular finishing process. The result is a unique, premium quality design made in Germany.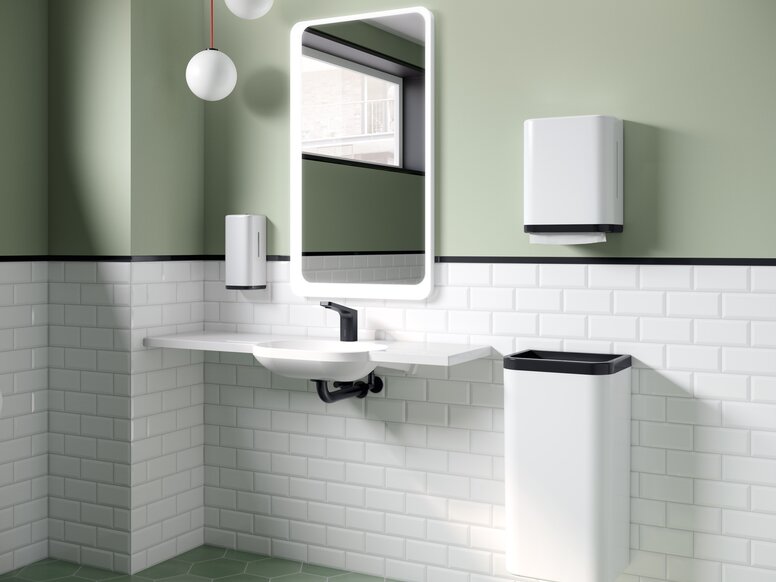 design reinterpreted
New dispensers
HEWI has reinterpreted the dispenser solutions of Range 477/801. Clear geometries have been incorporated into the design language. The design is accentuated by rounded edges and coloured frame elements. The new dispensers are available in various models made of polyamide, with the basic body in either pure or signal white. The products are extremely robust and thus meet the requirements for dispenser systems in schools or in care.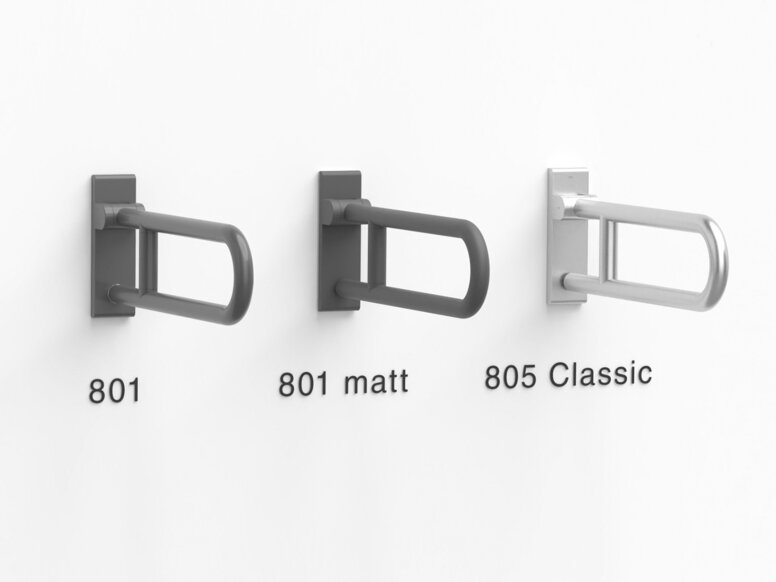 Assembly film
New mobile hinged support rails
HEWI's range of mobile hinged support rails has been extended by three more models of the series 801, 801 matt and 805 Classic. In the new assembly film you can see how easily a mobile hinged support rail locks into the permanently installed mounting plate.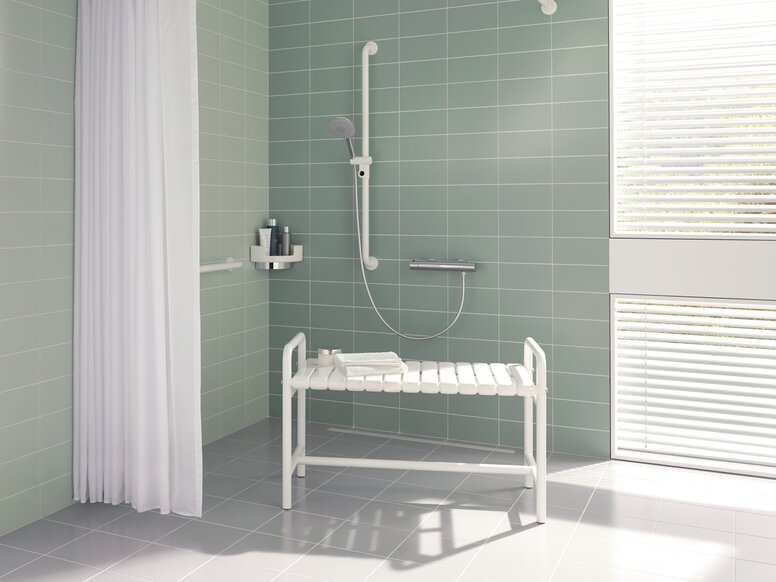 Special solutions
Particular requirements
HEWI also offers solutions for special hospital requirements. Range 477/801 is available in an antimicrobial version active+, as well as a portfolio of suicide-resistant products, and a selection of products with support loads of up to 300 kg to cater for obese patients. We also take country-specific features into account and adapt our portfolio to the respective circumstances of individual markets.
System design
System 111
HEWI's System 111 fittings complement Series 477/801 in both high-gloss versions and in the matt edition. Matching tilting mirrors and fittings with matt or high-gloss operating elements ensure consistent design right down to the smallest detail.
Series 477/801
By choosing HEWI's Series 477/801, you are deciding to specify a tried-and-tested classic when it comes to standards-compliant, accessible fittings for sanitary rooms. The comprehensive Series 477/801 range of products offers solutions for all requirements and provides a vast number of design options.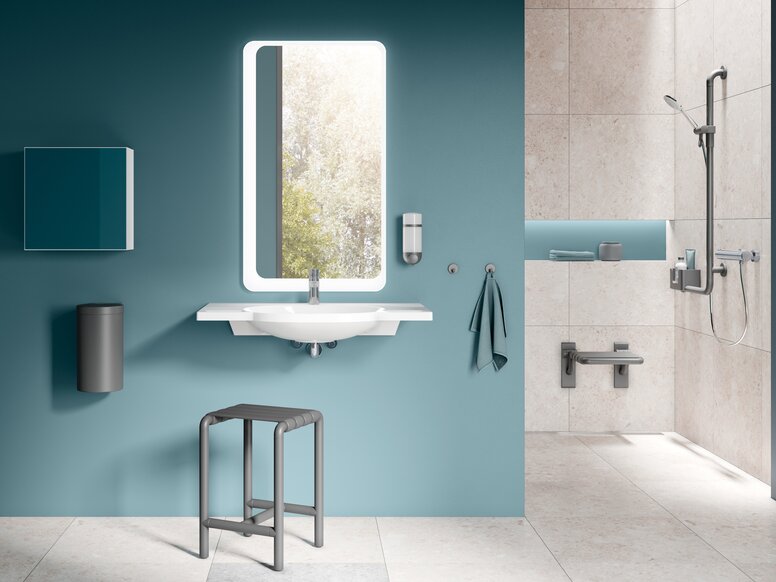 The HEWI catalogue
All product ranges and systems in one assortment
From washbasins and accessories to fittings, hinged support rails and seats
Download PDF
All information about the products
Products, photos, sizes and details
Various design options and colour combinations
Product Catalogue
Awards
Iconic Awards Innovative Material 2018 Winner
iF - product design award 1987
Universal Design Award - Special-Mention 2020
Best of Decade



This might also interest you