HEWI MAG / Knowledge
Implementing accessibility in the doctor's practice: This is what you need to bear in mind
Around two thirds of all medical practices in Germany are not barrier-free. This means that the surgeries and health centres are not designed to care for people with disabilities. In this article, we explain what needs to be considered when planning medical practices and healthcare buildings.
According to the Federal Medical Register, there are currently around 132,000 practice locations in Germany. Only 36.7 percent of the practices are barrier-free. This means that many people with impairments - including wheelchair users, for example - are excluded from medical treatment. In many places there is a lack of disabled parking spaces or a lift. Many practice rooms are also not wheelchair accessible and they do not have suitable furniture. The law stipulates a free choice of doctor - but this is not the case for people with impairments. The aim of barrier-free medical practices is to enable as many patients as possible to visit them without assistance or difficulty.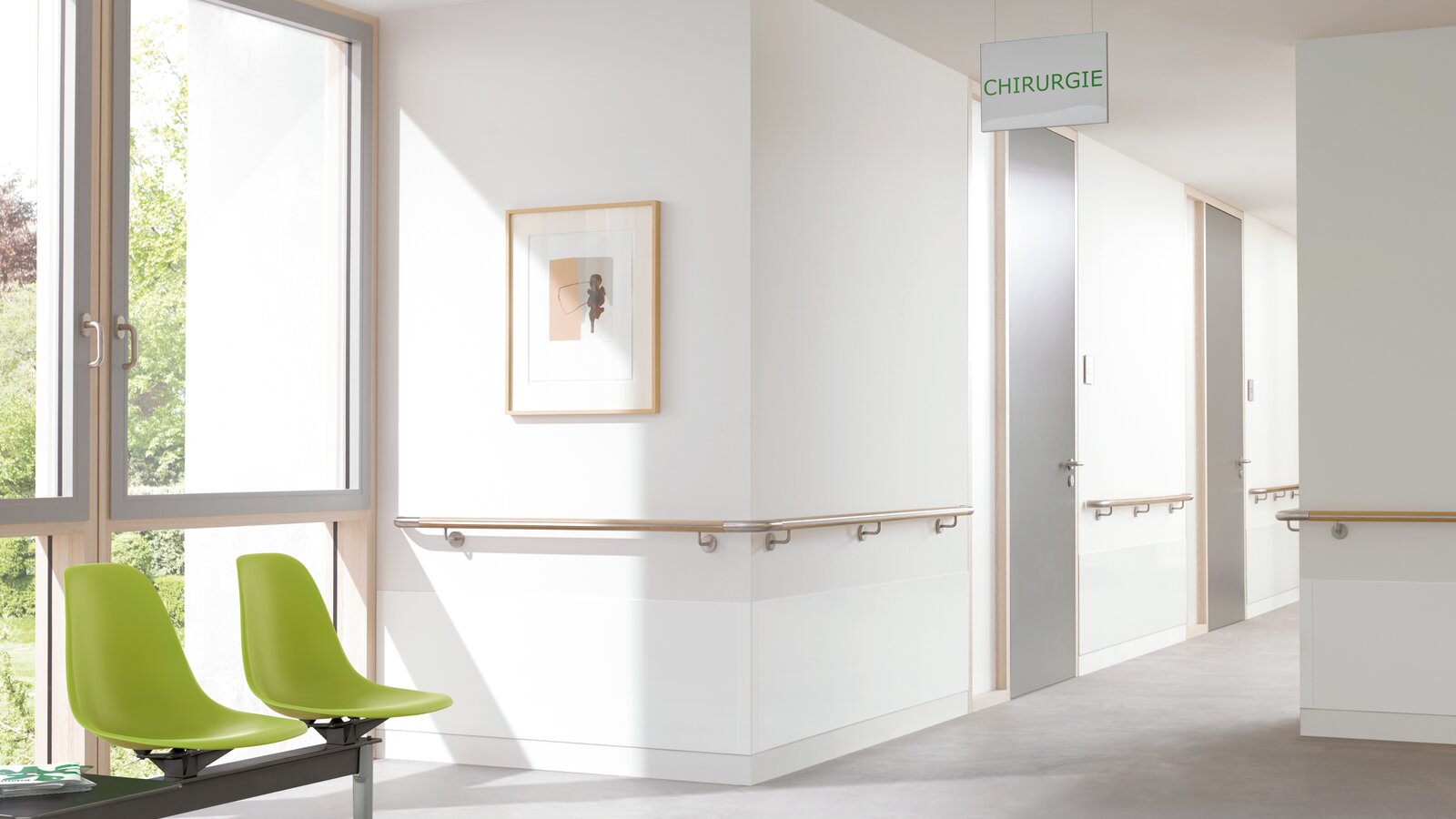 Does a practice have to be barrier-free?
Medical practices fall under buildings open to the public. Building regulations for medical practices with regard to accessibility can be found in the DIN 18040-1 Barrier-free construction. There, it is stipulated that new buildings must be planned barrier-free. DIN 18040 thus takes particular account of the requirements of people who have a visual impairment, who have motor impairments or who are dependent on mobility aids (wheelchairs, walking aids). New medical practices and health centres have to be built barrier-free since 2009. Making an existing medical practice barrier-free often involves a lot of effort and is not that easy to implement. Whether an existing doctor's practice must be barrier-free and whether this is a requirement is basically determined by the state building code. The National Association of Statutory Health Insurance Physicians has developed both patients as well as for medical practices helpful information on this topic for both patients and medical practices. There you will also find useful tips for you as a planner or architect.
Accessibility medical practice: This is what you should consider
Barriers appear everywhere in everyday life. Not only people with physical impairments are affected. Parents with a pram or people who have a foot injury are also restricted in their freedom of movement, even if only temporarily. But even in such cases, the way to a practice via many stairs without a lift becomes arduous.
You should consider the following aspects when planning an accessible practice:
Good signposting of the practice
Access to public transport
Handicapped accessible parking is desirable
Barrier-free access to the practice by means of a ground-level entrance, a ramp or a lift
Good lighting, no trip hazards
Placement of the doorbell must be designed so that people in wheelchairs can also reach it
Wide entrance door
Barrier-free, wheelchair-accessible lift
Doors can be opened easily, ideally by automatic door openers.
Height-adjustable, flexible furniture (also for examination)
Sign language or inductive hearing systems
Orientation aids for people with visual impairments
Barrier-free WC or barrier-free sanitary facilities
Practice owners can obtain information from the relevant building or building supervisory authority if they wish to modernise their premises. There, they receive clarity about what exactly has to be considered from the point of view of accessibility in the doctor's practice.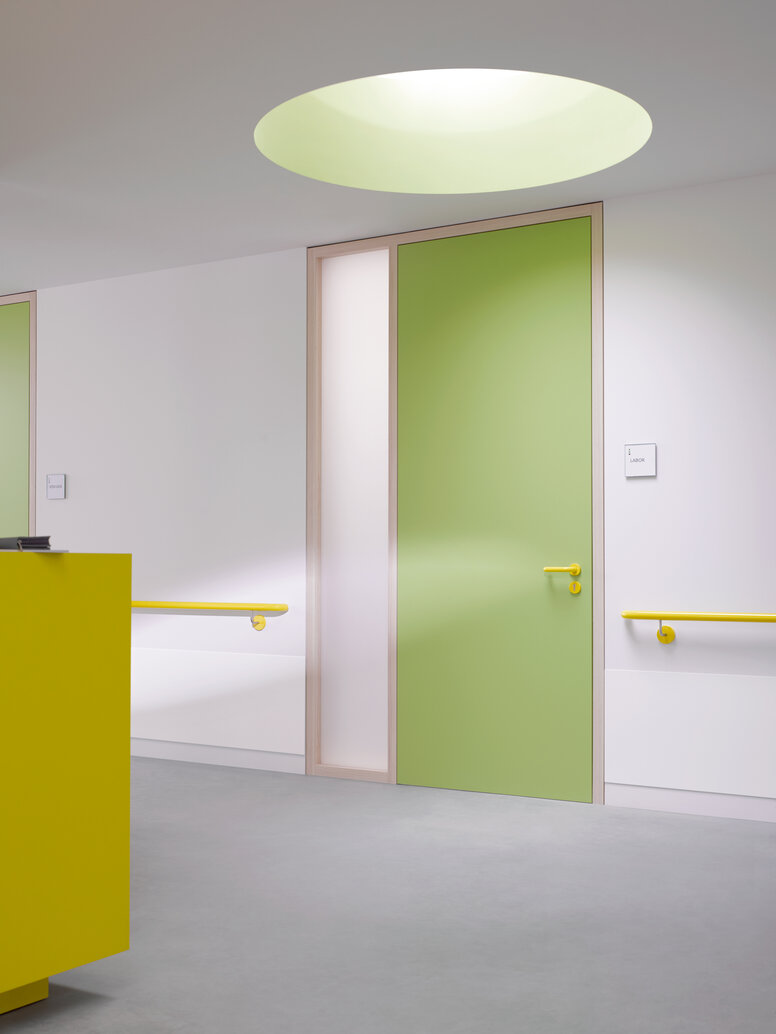 Barrier-free sanitary facilities in the medical practice
The sanitary room plays a special role in the planning of health centres and medical practices. The design of the bathroom is challenging as it has to be designed in a way that all patients can use it. These include wheelchair users, rollator users, blind or visually impaired people and people with cognitive impairments.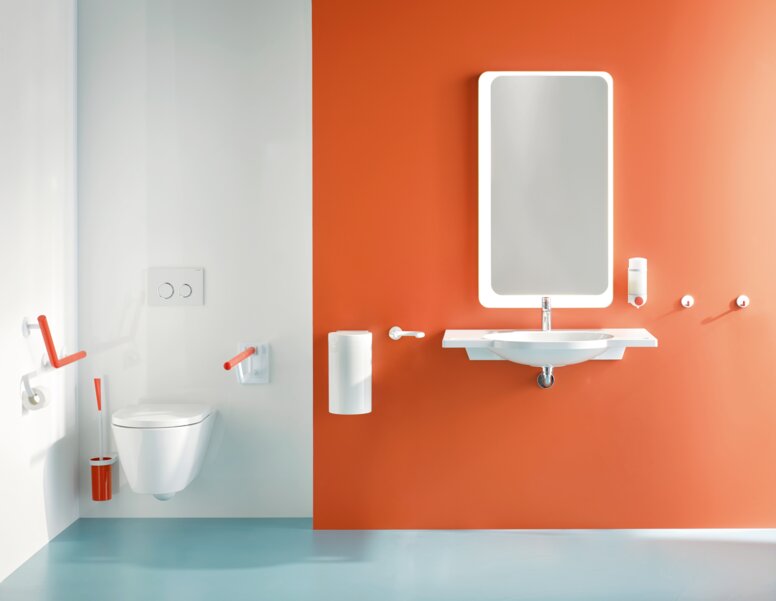 High-contrast design of the barrier-free medical practice
In general, it can be said that a high-contrast design is recommended. Not only in the sanitary area, but in the entire medical practice. This makes it much easier for people to find their way around. Functional elements - for example at the washbasin - are thus much easier to recognise. Good design options are also available with our System 900. The sanitary series includes not only hinged support handles and grab rails, but also practical accessories for the doctor's office. These include, for example, soap or disinfectant dispensers, which are important for hygiene.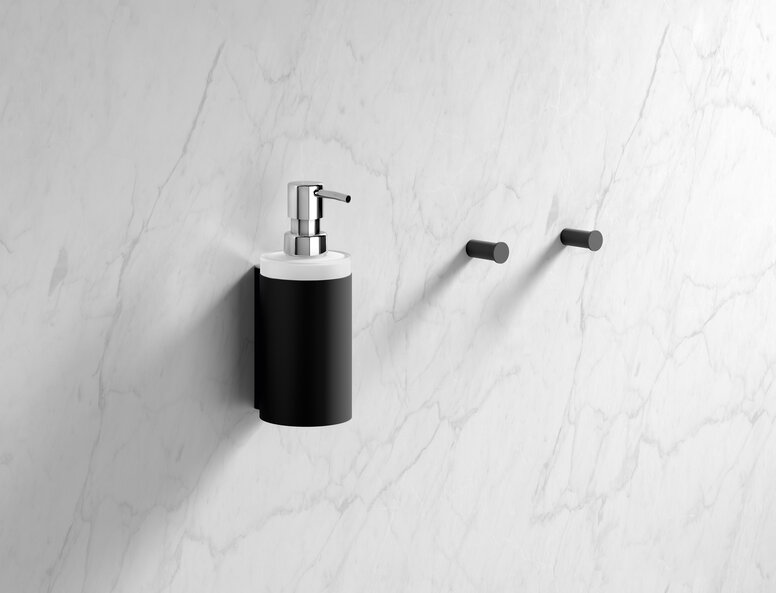 Representative buildings, which also include health centres and doctors' surgeries, place special demands on the design. HEWI offers a free planning service for you as a planner or architect. Please feel free to contact us if you have any questions.