HEWI MAG / Knowledge
The right architectural hardware
How to equip doors in day care centres, kindergartens and schools
The perception of security in society is changing. This is particularly evident in the field of education. Standards are bringing the issue more into focus. When it comes to child safety, different standards apply today than 30 years ago. As a planner or architect, you should take this into account when fitting out kindergartens, day care centres and schools. Especially when it comes to the topic of architectural hardware.
Finding the right fittings in terms of doors for kindergarten, day care and so on is not that easy. For example, the door handle must meet special requirements, especially in the day care entrance area. Things can get hectic there. Children are running around, parents drop off or pick up their children. Service providers also congregate in this area. However, only authorised persons should be allowed to enter the building. At the same time, the kindergarten must continue to run smoothly, even when things get hectic.
Legal requirements and standards in day care centres
As a rule, the main entrance of a kindergarten is considered an escape and rescue route. Each person must be able to leave the building independently if necessary. This means that the fixing height of 900 to 1,100 millimetres is prescribed for emergency exit or panic route fittings. This is specified in the EN1125 standards. HEWI offers a comprehensive range of hardware solutions for educational buildings, including panic bars. These are even available in a fluorescent version. The panic bar "glow" indicates a safe way out even in the dark.
Austria and Switzerland even allow electric door locks in the entrance area. However, these must meet technical requirements, including a closed-circuit principle and immediate unlocking after the emergency button is pressed. The emergency button must be clearly visible and marked accordingly. If present, the door must also be connected to an alarm system. Further information on the marking of escape routes by means of fittings can be found in our article.
Minimising accident risks with suitable fittings solutions
The German Social Accident Insurance (DGUV) publishes DGUV Regulation 82, the accident prevention regulation for child day care facilities. The specifications for doors and windows are set out in Section 13. Doors to rooms, for example, must be arranged in such a way that children are not endangered by doors swinging open. In general, doors must be easy to open and close. In the planning stage, you should avoid shearing points on secondary closing edges of doors. Windows must also be designed in such a way that they do not pose a hazard when being opened or closed or while in the open position. Handles, levers and locks must be designed and arranged in such a way that hazards are excluded by proper use.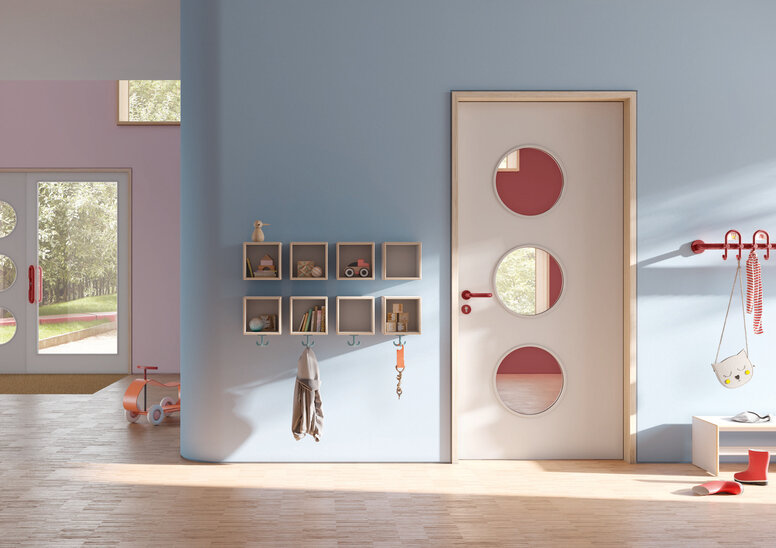 A classic that is used in many schools, day care centres, etc. is System 111 from HEWI. The door lever handle impresses with its contemporary, timeless design that will look good in any nursery. Made of high-quality polyamide, the lever handle is extremely robust. Its round shape ensures that children do not bump against it. The risk of injury is thus significantly minimised. The Model 111 with R-technology also meets DIN 18255 and DIN EN 1906 requirements and is available in 16 HEWI colours, including cheerful colours such as aqua blue or apple green.
Are you interested in the topic of architectural hardware? We keep you up to date in our HEWI newsletter. Register now free of charge.