HEWI MAG / schule und kindergarten
Six tips: Designing day-care bathrooms
Safety and hygiene are top priorities in the bathrooms of child day-care facilities. At the same time, the playful elements for children in these topics should not be neglected. We give you six tips on what matters when designing bathrooms for children.
Making the washroom in daycare centers child-friendly is of great importance. A clean, appealing bathroom helps increase children's well-being and motivation. The following tips should be considered when planning the bathroom:
1. Tip: Select suitable mounting height for washbasin and mirror
According to the Raumprogramm der Landesjugendämter , you should plan at least one washstand or one washing place for ten children per sanitary room. Washbasin and mirror shall be placed at the appropriate height so that children can easily reach them. Specifications for this can be found in VDI 6000 sheet 6. For children up to six years, the ideal height of the sink in daycare centers is 55 cm to 65 cm. For smaller children up to the age of three, an even lower height of 50 cm is suitable, according to Unfallkasse NRW. Ideally, washbasins for smaller children should be between 10 and 15 cm deep. For vanities, choose a model that has built-in height and depth grading. This sort of basin is ideal for adapting to the children's various ages and heights. You can find more information about this in our article
Also, make sure that the height of the mirrors is suitable for children. Ideally, these will reach down to the height of the washbasin or will be tilted so that even smaller children can see themselves in the mirror.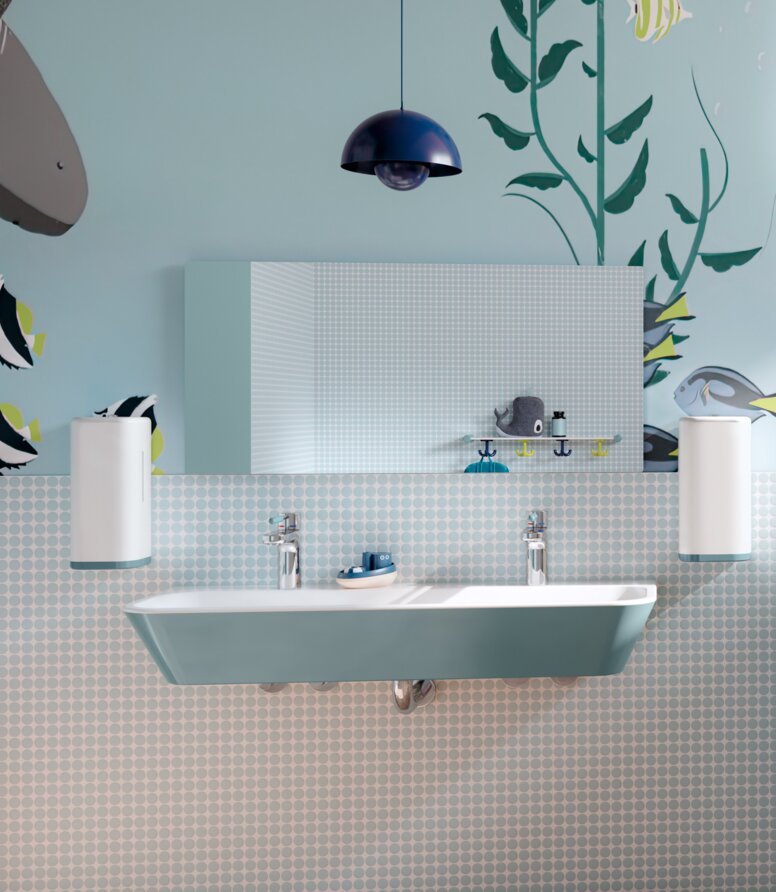 2. Tip: Select fittings that children operate independently
For the child-friendly design of the washing place is important to choose faucets . Children must be able to reach and operate them by themselves. Different types of taps, such as fixed or movable taps, single-lever mixer taps or two-handle taps, promote motor skills. Children can use single-lever mixer taps with just one hand. By turning the lever, they can set the water temperature and pressure. These taps also broaden children's experience. Washbasins in the day-care centre must have a cold as well as hot water connection. Care must be taken to ensure that children cannot scald themselves. The water temperature must therefore not exceed 43 degrees.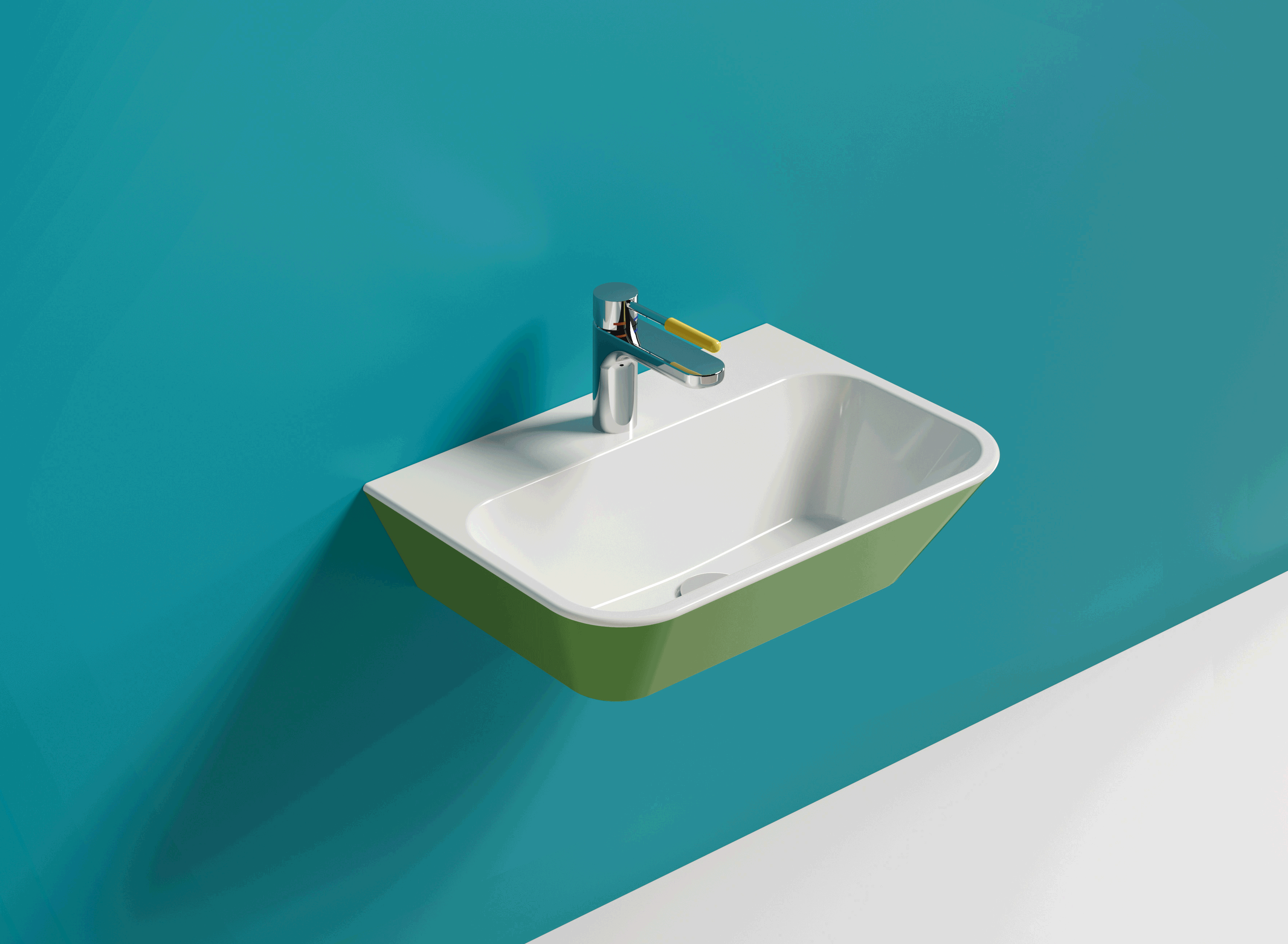 3. Tip: Day-care toilets: Select suitable mounting height
The toilets in the daycare center should be adapted to the size of the children so that they can safely and comfortably use the toilet independently. For ages of three to five years, the appropriate height is about 25 to 30 cm. It is important to place the toilet low enough so that children can rest their feet on the floor. As barrier-free products are ideal at the toilet for children with physical limitations support folding handles or L-angle handles. Plan in hinged support rails at a height of about 60 to 80 cm.
4. Tip: Use robust materials
Designing a washroom in a kindergarten or daycare center also means choosing the appropriate materials and products. This is particularly important for washbasin, toilet, soap dispenser and paper towel dispenser. Sturdy materials are essential to ensure that children are protected in the bathroom. Children often react unpredictably and tend to knock over or throw objects. If the products in the bathroom are not suitably robust, damage can easily occur, which in the worst case scenario can then result in injury. Suitable products help to ensure that the bathroom is durable. This will also mean that fewer repair costs are incurred, which is a factor of particular relevance in the case of capped budgets.
5. Tip: Give hygiene high priority
Hygiene is a must when designing the washroom of daycare centers. It is especially important in the bathroom, as it is a place where diseases can spread easily. To ensure good hygiene, it is therefore important to use materials that are easy to clean. Products that have a non-porous surface are well suited for this purpose. In addition, washbasins or other bathroom products should be resistant against disinfectants and detergents. Soap dispensers and paper towel holders placed at child-friendly heights also ensure that children can wash very easily and thoroughly.
6. Tip: Consider color design of the nursery
When it comes to the color design of the washroom in daycare centers, bright as well as friendly colors are ideal. These have a motivating effect and radiate a positive atmosphere. In addition, accentuated areas in the day-care bathroom send clear signals as to how products should be used: coloured marking on the taps, for instance. Children find shades of blue and green particularly pleasant, for example. Green is often associated with nature, growth and peace – or as the colour of happiness. It has a particularly calming effect. Similar feelings are also associated with blue. This colour is very popular when it comes to the design of bathrooms in day-care centres. It promotes children's creativity and imagination. A bathroom's child-friendly, appealing design – for example with murals or stickers – will enhance it and invite children to discover and learn.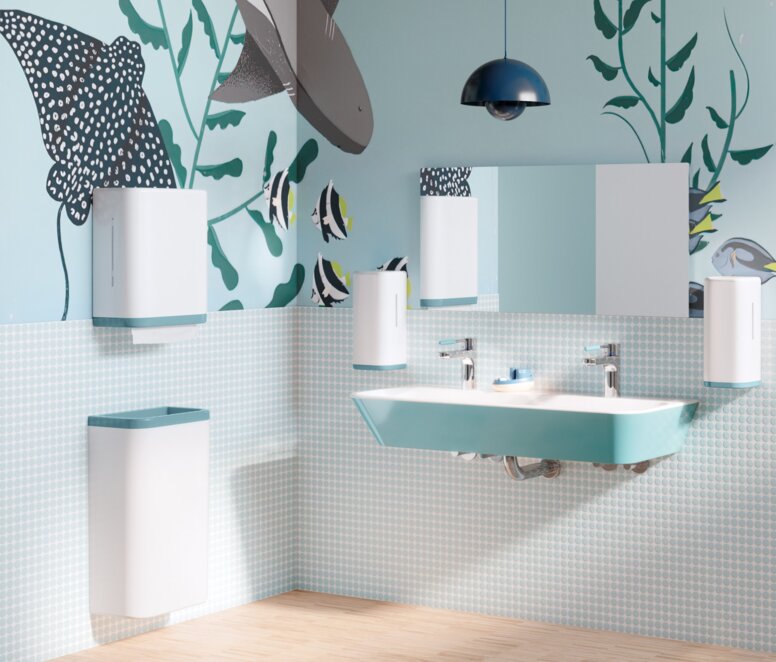 Designing day-care bathrooms: Hygiene and health are particularly important
The design of the bathroom in day-care centres is an important factor in ensuring the health and hygiene of the children. With a child-friendly, appealing design and playful elements, the bathroom becomes a place where children enjoy washing their hands and learning other important hygienic habits.
In our HEWI newsletter we inform you regularly about exciting new products and news from the sanitary sector - also for the kids segment. Feel free to register for free.