HEWI MAG / Knowledge
7 tips for planning bathrooms without windows
Contrary to preconceptions, a bathroom without windows is not necessarily dark and squat. Even individual features turn a windowless bathroom into a place of time-out and relaxation. Discover our 7 tips for planning interior bathrooms.
Windowless bathrooms present architects with various challenges. Whether it's darkness, dampness, smells or crowdedness: If you take certain aspects into account when planning and designing interior bathrooms, you can turn a windowless room into an appealing place to feel good.
1. Tip: Bring light into the bathroom without windows
Without daylight, a windowless bathroom needs other light sources. Lamps are therefore absolutely necessary to illuminate the room. A single lamp is not sufficient for good illumination. Recessed lamps in the wall, ceiling or floor can be used as a supplement. Spotlights or indirect lighting, e.g. in the mirror create an atmospheric ambience in an interior bathroom. When choosing light sources, it is advantageous not to use too bright a light. Cold, bright lamps give a room a sterile look. Warm lighting, on the other hand, promotes a sense of well-being. If your customers do not want to do without daylight in the bathroom, skylights or windows to adjoining rooms may be the solution. In the barrier-free bathroom, it is recommended to use a tilting mirror with LED lighting. The mirror can be tilted by up to 28 degrees with a crank and cable - and can therefore be used easily while standing or sitting.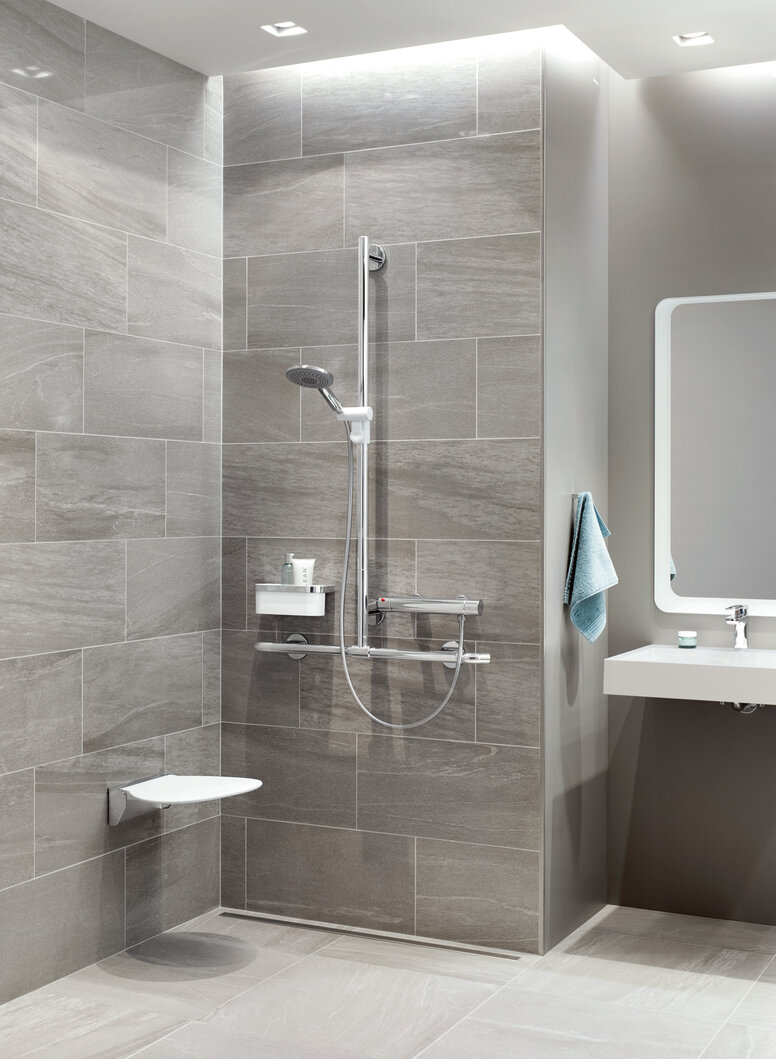 2. Tip: Bright colours illuminate the room
In bathrooms without windows, it is advantageous to avoid dark tiles and bathroom furniture. These colours swallow brightness. To illuminate the room, it then needs even more light. Bright colours reflect light better and brighten up the bathroom visually. In addition, friendly colours visually enlarge rooms. This benefits bathrooms without windows. An example of very light colours can be found in the HEWI sanitary series System 162, which in the colour white matt represents a particularly elegant design variant. System 162 comprises coordinated accessories for washbasin, shower and WC.
3. Tip: Mirrors support brightness in windowless bathrooms
Mirrors make interior bathrooms appear brighter and larger and spread the artificial light. That's why the motto for windowless bathrooms is: The bigger the mirror, the better. To further compensate for the missing window, the following are available Mirrors with lighting are a good choice. Ideally, the mirror illuminates one's face evenly and does not dazzle. If the illuminated mirrors diffuse the light well and spread it throughout the bathroom, they create a pleasant atmosphere. HEWI offers various mirror models with or without lighting.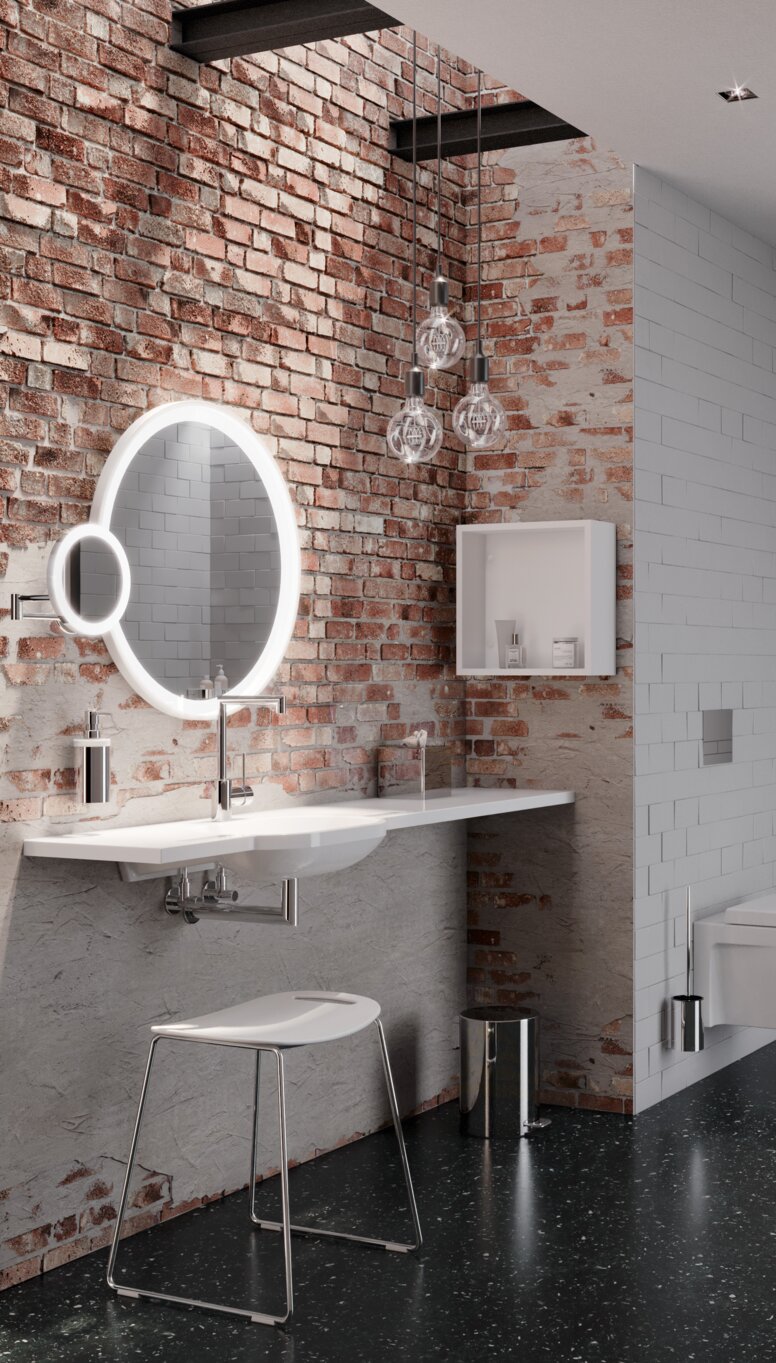 4. Tip: Preventing dampness in the bathroom
One challenge with interior bathrooms is moisture development. You should take this into account accordingly when planning. In the worst case scenario, mould will develop from the moisture. To prevent this, it is important to warm and ventilate the room sufficiently - this prevents the moisture from spreading. A central ventilation system is ideal for this purpose, as it ensures a constant air exchange. Additional ventilation that switches on when needed is also an advantage. This serves to draw off the water vapour and prevent condensation. This helps to prevent problems such as dampness, mould and odours.
5. Tip: Use the right material in the interior bathroom
Moisture spreads more easily in interior bathrooms. Therefore, materials that are not so sensitive to high humidity are advantageous. For example, non-porous washbasins are more hygienic and easier to clean. The sealed surface prevents moisture from penetrating and water residues can be quickly removed with a cloth. The HEWI range offers a wide selection of different washbasin models.
6. Tip: Use filigree furnishings
When furnishing an interior bathroom, filigree bathroom furniture and ceramics are the obvious choice. They lend lightness to the room and do not make it look squat. When furnishing, it is best to avoid high cupboards or light-absorbing shelves.
With the modular washbasin concept HEWI offers the option of individually extending the washbasin area with adaptive additional options - such as a grab rail.
7. Tip: Integrate a floor-level shower
Floor-level showers visually open up windowless bathrooms and make them appear larger. Combined with a glass shower enclosure, the artificially generated light illuminates the entire room. This ensures sufficient brightness even when showering.
However, if only one shower curtain is possible, then it is advantageous to choose a light-coloured curtain. This does not absorb the light. If the shower is not being used, the shower curtain can be closed. This lets in light and makes the room seem larger. HEWI offers made-to-measure ceiling suspensions as well as made-to-measure shower curtains. This means that the curtain and its fastening can be adapted to any structural condition.
Planning bathrooms without windows
Even though bathrooms with windows are clearly more popular, bathrooms without windows can also be attractively planned. With a few tips, these too become a place of relaxation. Artificial and redirected daylight, light colours, mirrors, delicate furniture and suitable materials are just some of the keywords that are important when furnishing interior wet rooms.
You don't want to miss any more tips on the subject of sanitary equipment and planning? Then subscribe to our newsletter now.