HEWI MAG / sanitary
Height-adjustable WC: Feel good in the bathroom
Adjusting the washbasin and WC to the user's individual height is not only an advantage in rehabilitation clinics or nursing homes - this functionality also offers added comfort at home. In this article, we will introduce the advantages of a height-adjustable washbasin.
While a height-adjustable WC facilitates a more independent trip to the toilet, a height-adjustable washbasin is also an enormous advantage in the bathroom. A height-adjustable washbasin is a combination of washbasin and washbasin lifter. It facilitates cohabitation - for example in a multi-generational bathroom. However, it is not only suitable for people with physical limitations, but also provides support for older people. Living in one's own home remains possible for longer and with greater independence. This is because people can use a height-adjustable washbasin both standing and sitting. Together with a height-adjustable WC and a shower that is flush with the floor, such a washbasin offers enormous convenience for cleaning oneself on a daily basis.
The advantages of a height-adjustable washbasin
The advantages of such a washbasin are obvious: The individually adjustable height allows a variety of people with differing body heights to use the washbasin. The washbasin can be adjusted to an individual height by remote control within a few seconds, allowing even sitting people or people in wheelchairs to take care of themselves. The S 50 module from HEWI can be adjusted by 30 cm, for example. An advantage of the S 50 is that the entire module can be moved. The washbasin doesn't cover the mirror, which is available either unlit or with LED lighting. Accessible comfort is possible at the touch of a button: Both the WC and the washbasin module are driven by a motor that allows infinitely variable height adjustment. The washbasin module can support loads of up to 150 kg.
What to look for in a height-adjustable washbasin
When choosing a module with height adjustment, bear in mind that it can be combined with many washbasin models. With S50 from HEWI, all HEWI washbasin models can be combined - apart from row or variable length washbasins. You should also bear in mind that the height-adjustable washbasin can be adjusted in a flash. Therefore, the system must be able to be operated electronically or by gas pressure. Manual lift systems are often rather impractical.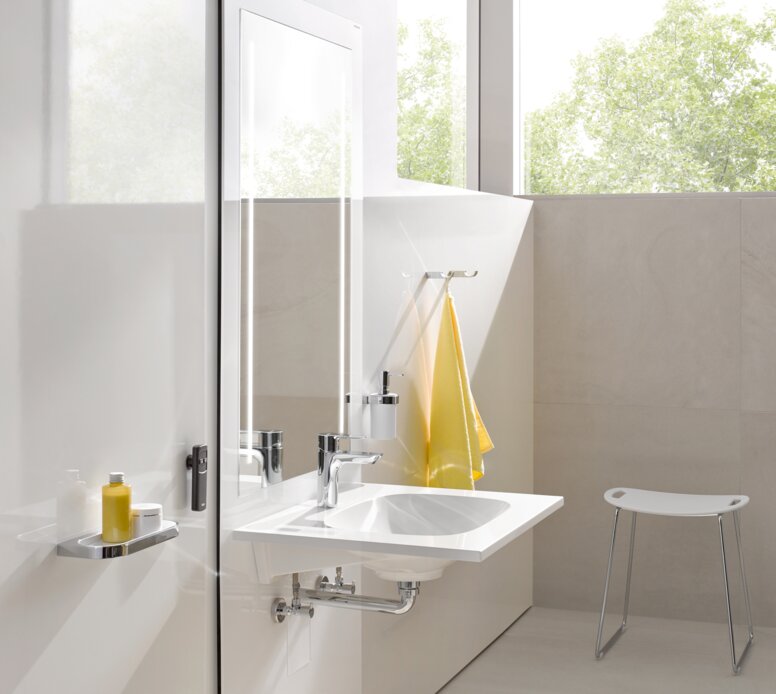 Height-adjustable washbasin: A sensible investment
Even if a height-adjustable washbasin means higher costs for bathroom renovation or new bathroom construction: The focus is clearly on comfort for the users. A height-adjustable washbasin offers enormous advantages, especially for multi-generational or age-appropriate bathrooms - and it makes personal hygiene much easier.
We will keep you informed
Would you like to keep up to date with innovative products from HEWI? We will be happy to provide information about our latest product developments or trends in the sanitary sector. Register now for our free newsletter.