HEWI MAG / NEWS
7 Examples of hygiene concepts in different areas
The Corona pandemic has sensitised architects, planners and sanitary installers to the topic of hygiene to an unprecedented degree - because hygiene is protection against infection. We show you seven examples of hygiene concepts in which hygiene on the one hand and design on the other are not mutually exclusive. Discover our functional and aesthetic solutions for more hygiene in various application areas.
Disinfection dispensers in entrance areas of public buildings are a conspicuous expression of the increased hygiene requirements. Special attention should also be paid to door handles, touchless fittings, washrooms and sanitary facilities, patient rooms in hospitals and the large area of kindergartens and schools as further areas of hygiene.
Highly frequented spaces that are subject to special hygiene requirements also include all other types of public buildings, such as institutions, offices, health and shopping centres, and sports facilities.
7 Examples of hygiene concepts in different areas of application
Entrance Area
Door
System-fittings and Washbasins
Washroom
Public sanitary rooms
Patient bathrooms
Kindergartens and schools
1. hand disinfection in the entrance area
Whether in shops, doctors' surgeries, companies, institutions or hotels: disinfectant dispensers in the entrance area have become an expected and necessary standard since the Corona pandemic. HEWI offers mobile disinfectant dispensers that can be used without touching them and therefore meet the requirements of busy entrance areas in particular.
The disinfectant dispensers in design lines made of stainless steel or powder coating with a deep matt surface in white, grey tones or black blend excellently into elegant interiors.
More about hand disinfection in the entrance area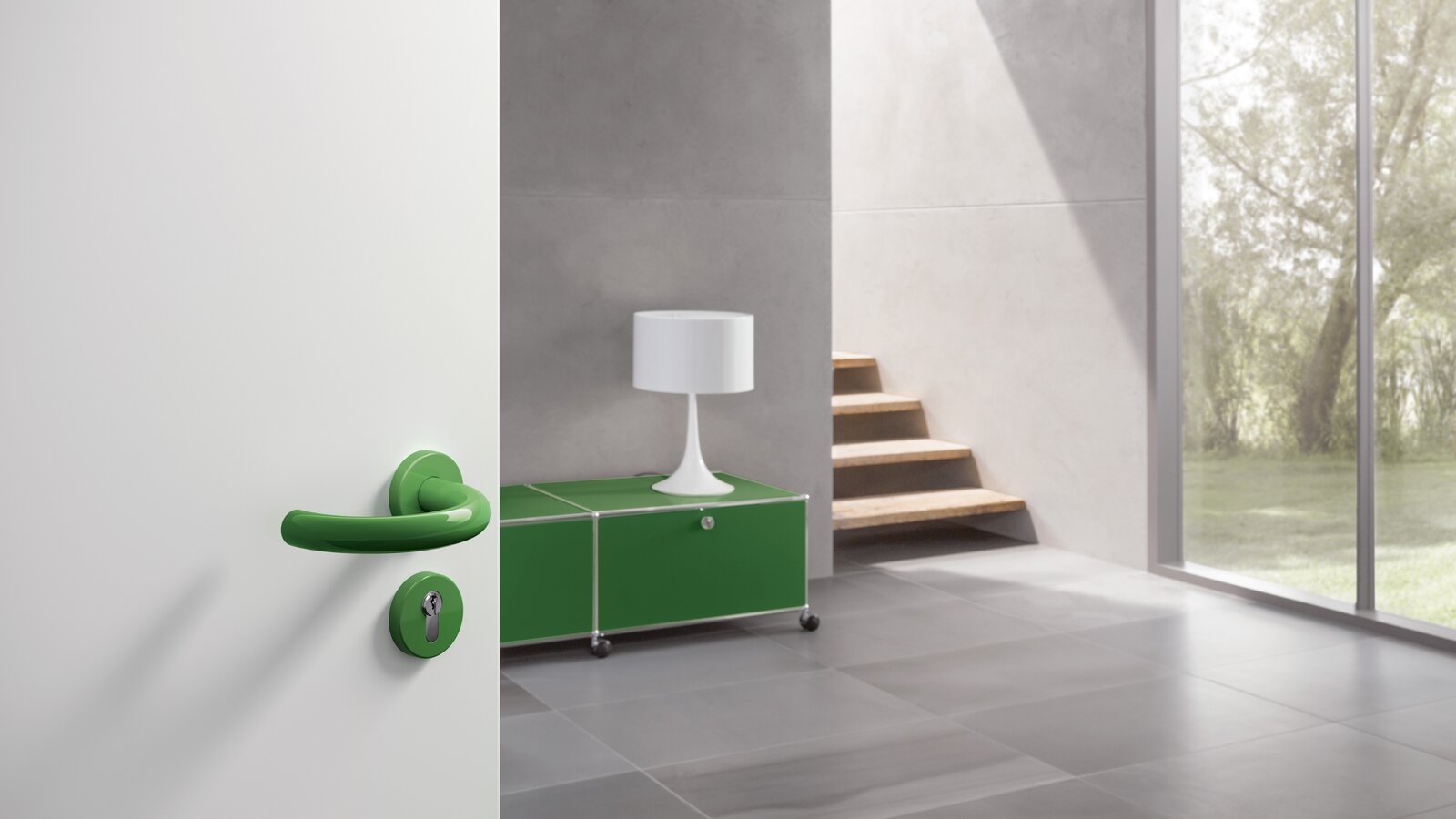 Door handles can be veritable virus and bacteria havens. When people operate a door handle after sneezing or coughing into their hand, potentially infectious germs can be transferred to others. This is particularly relevant in areas where many people meet, such as offices, healthcare facilities, shopping centres and sports venues.
We have developed an innovative solution for active infection protection: the HEWI door handle 115, which opens doors without touching them. The cleverly thought-out, ergonomic design intuitively invites use with the elbow. The door handle can of course also be operated by hand. To effectively protect against infections in this case as well, the active+ version of door handle 115 has an antimicrobial surface.
More about hygiene at the door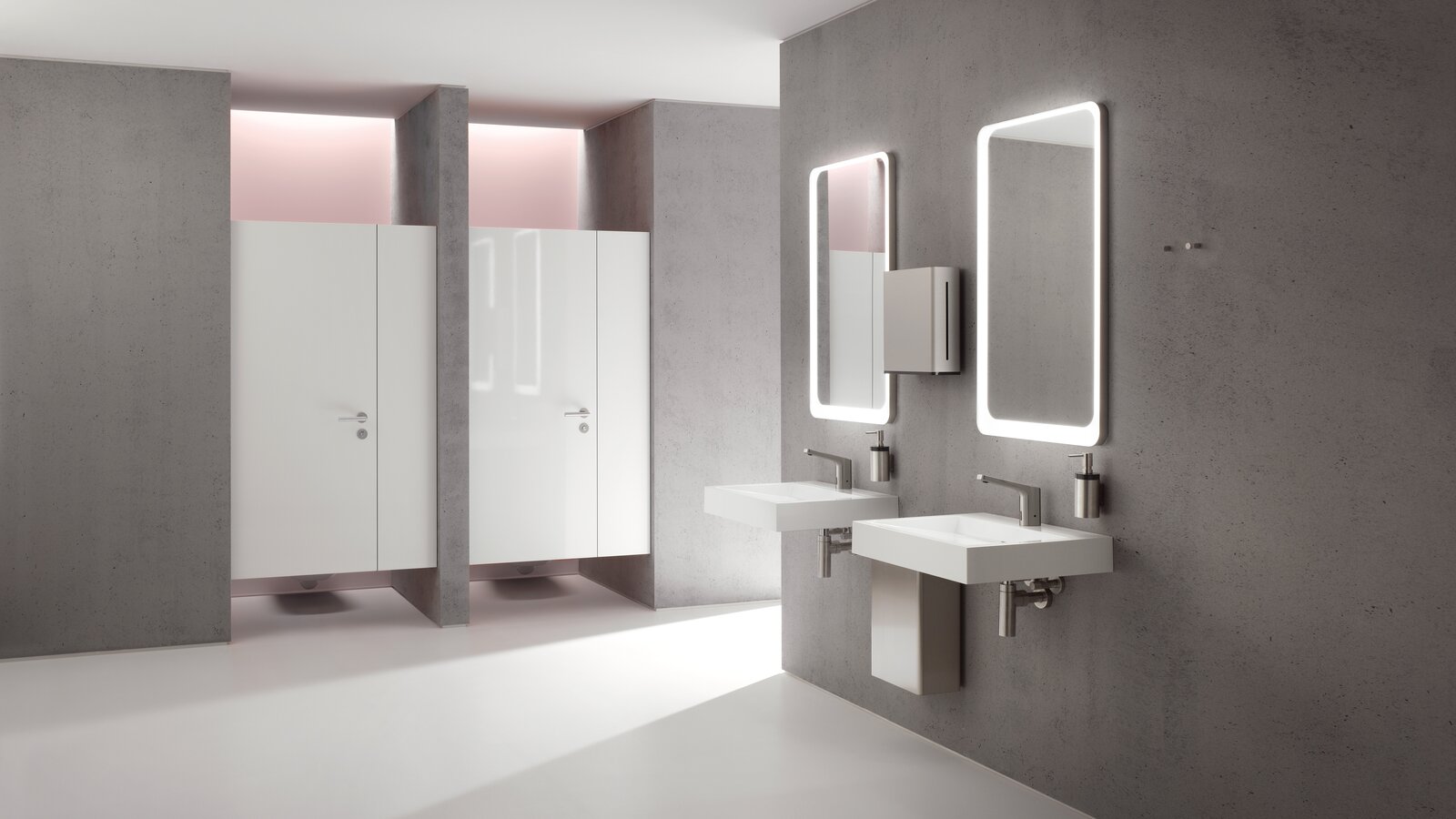 Hand washing as a simple but effective hygiene measure has gained in importance in the wake of the Corona pandemic. This is also reflected in the increased water consumption. With the help of touchless fittings, the consumption of the valuable resource water can be significantly reduced.
However, touchless fittings with intelligent sensor technology not only save water in public buildings, but also increase the standard of hygiene: since the taps are not touched, no germs can adhere that the next user might pick up.
Moreover, automatic hygiene flushes prevent germs from settling inside the taps. The hygiene flushes can be controlled via an app. This increases hygiene and reduces the cleaning effort.
The preset water temperature of 30-36 °C can be changed individually and thus adapted to the respective user needs.
More about hygiene through touchless fittings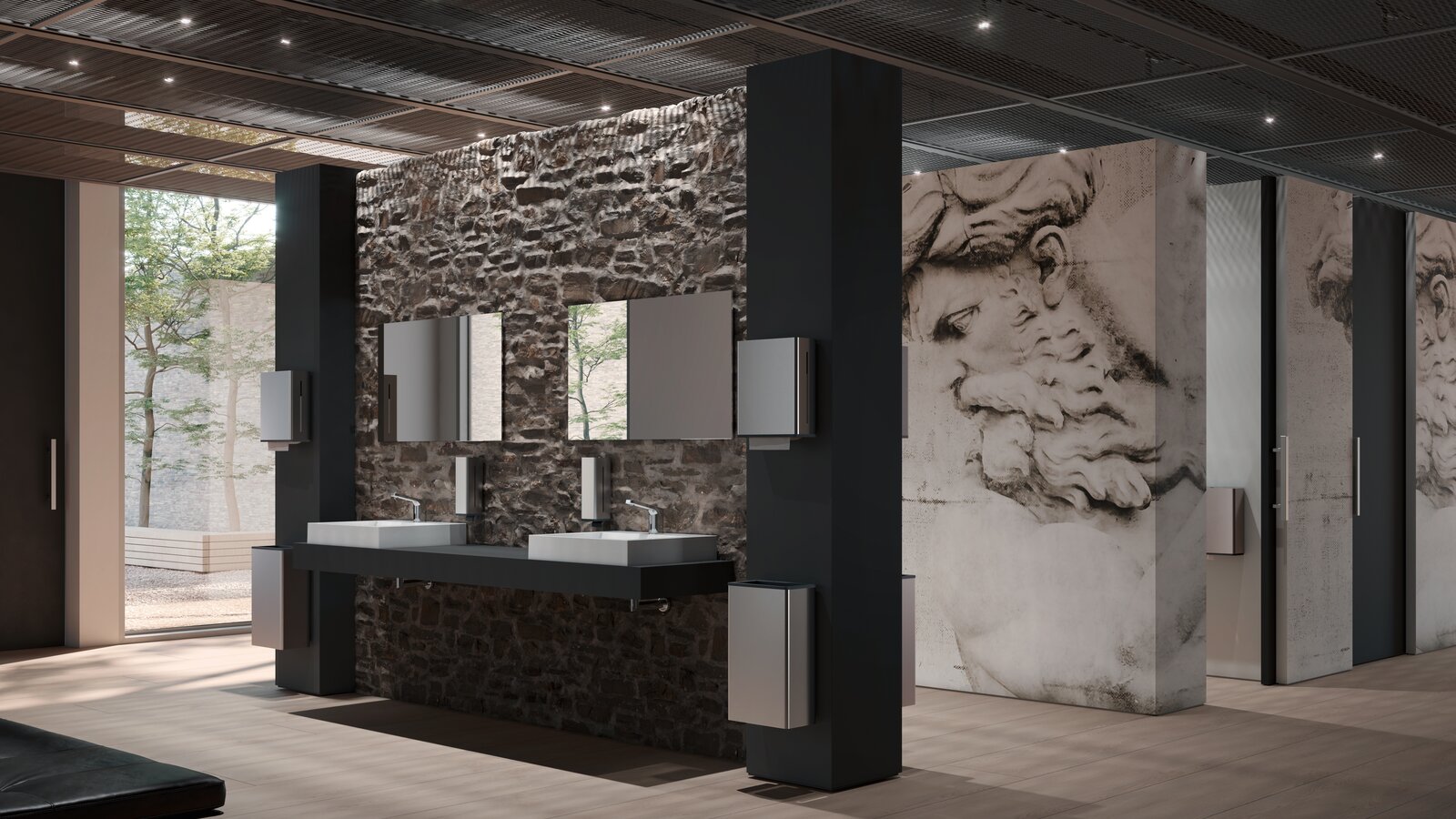 Washrooms are a place of hygiene and should themselves be as hygienic as possible. Clever equipment of busy washrooms in public buildings can effectively contribute to infection control.
Studies have shown, for example, that paper towel dispensers significantly improve hygiene in washrooms compared to hand drying fans. Touchless dispenser systems with waste containers and hygiene combinations in various sizes enable integration into washrooms with high demands on design and aesthetics.
Our versatile range of dispenser systems includes different versions, e.g. made of polyamide, antimicrobial polyamide, models with powder coating in black, grey tones and white as well as stainless steel variants.
More about hygiene in the washroom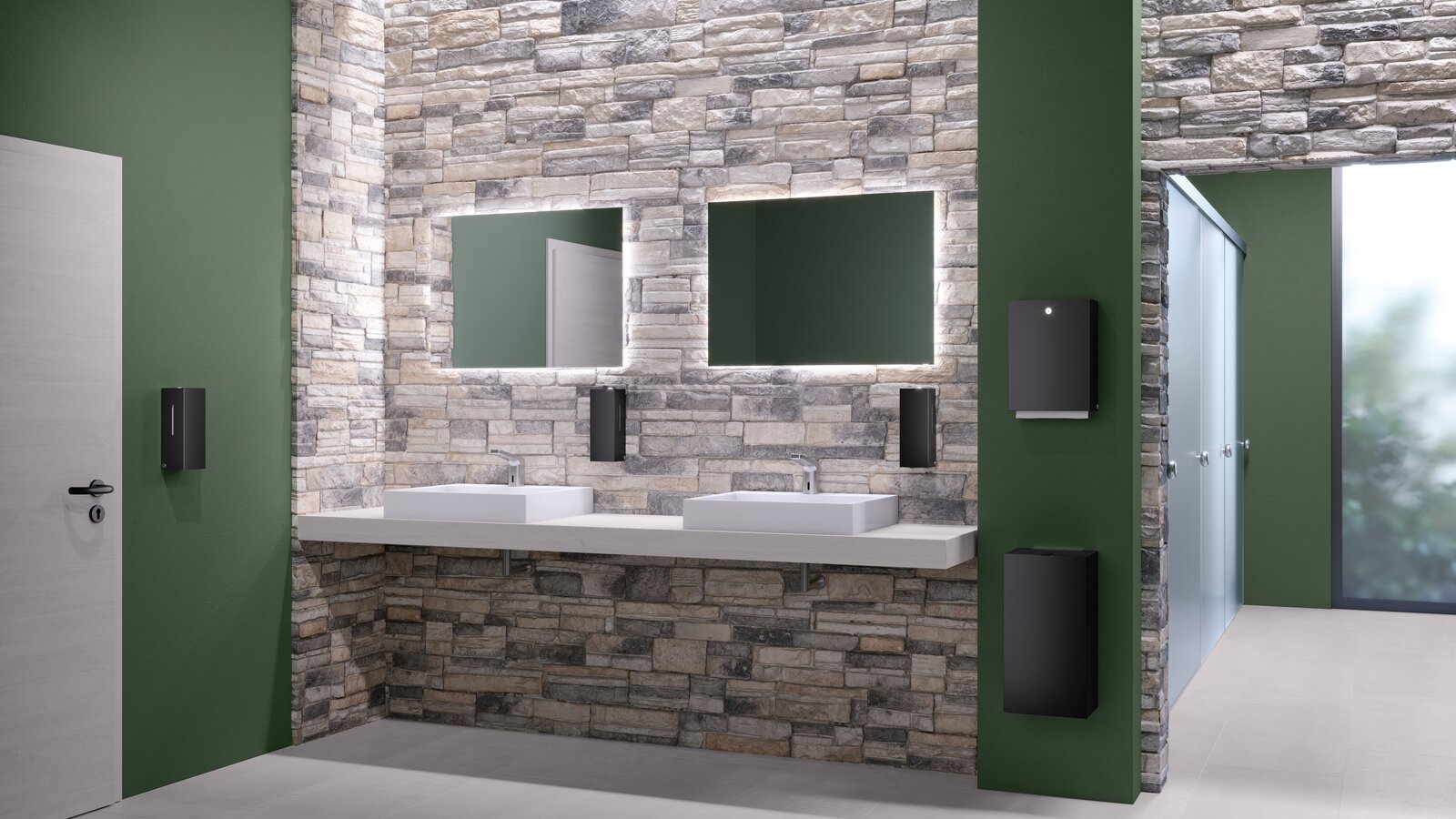 5. Hygiene in public sanitary facilities
The Corona pandemic is changing the way public sanitary spaces are designed and equipped. Standards, trends and quality are no longer the only decisive factors. The sanitary room of the future must always take infection control into account.
We have solutions that meet all these requirements: Touchless fittings, soap and disinfectant dispensers effectively reduce the risk of infection. Paper towel dispensers reduce the germ load compared to hand dryers.
Products where contact cannot be avoided offer antimicrobial protection with integrated microsilver in the active+ variant. Door handles from System 115 are designed so that they can be opened with the elbow - this effectively reduces the risk of smear infection.
more about hygiene in public sanitary rooms
6. Design of patient rooms increases hygiene
Architects, molecular biologists and physicians have jointly researched how the design of patient rooms increases infection protection. In a demonstrator, the research team incorporated the results from the investigations and created a good example of a hygiene concept.
The researchers found out that especially handrails, door handles and sanitary facilities are breeding grounds for pathogens even with good cleaning intervals. This can be counteracted with high-quality materials, hygienic processing techniques and innovative functions.
That is why our solutions have as few connecting and joining points as possible. This reduces the accumulation of dirt and water. Washbasins have a surge edge that prevents water from standing on the silicone joint to the wall.
Product surfaces with few joints facilitate cleaning and increase hygiene. For example, the flush release and function button are flush-mounted on the hinged support rail. The components are joined in such a way that the surface is as smooth and hygienic as possible.
For components such as the toilet brush set and the toilet paper holder, stainless steel with its non-porous and thus particularly hygienic surface has proven itself.
More about hygiene in patient rooms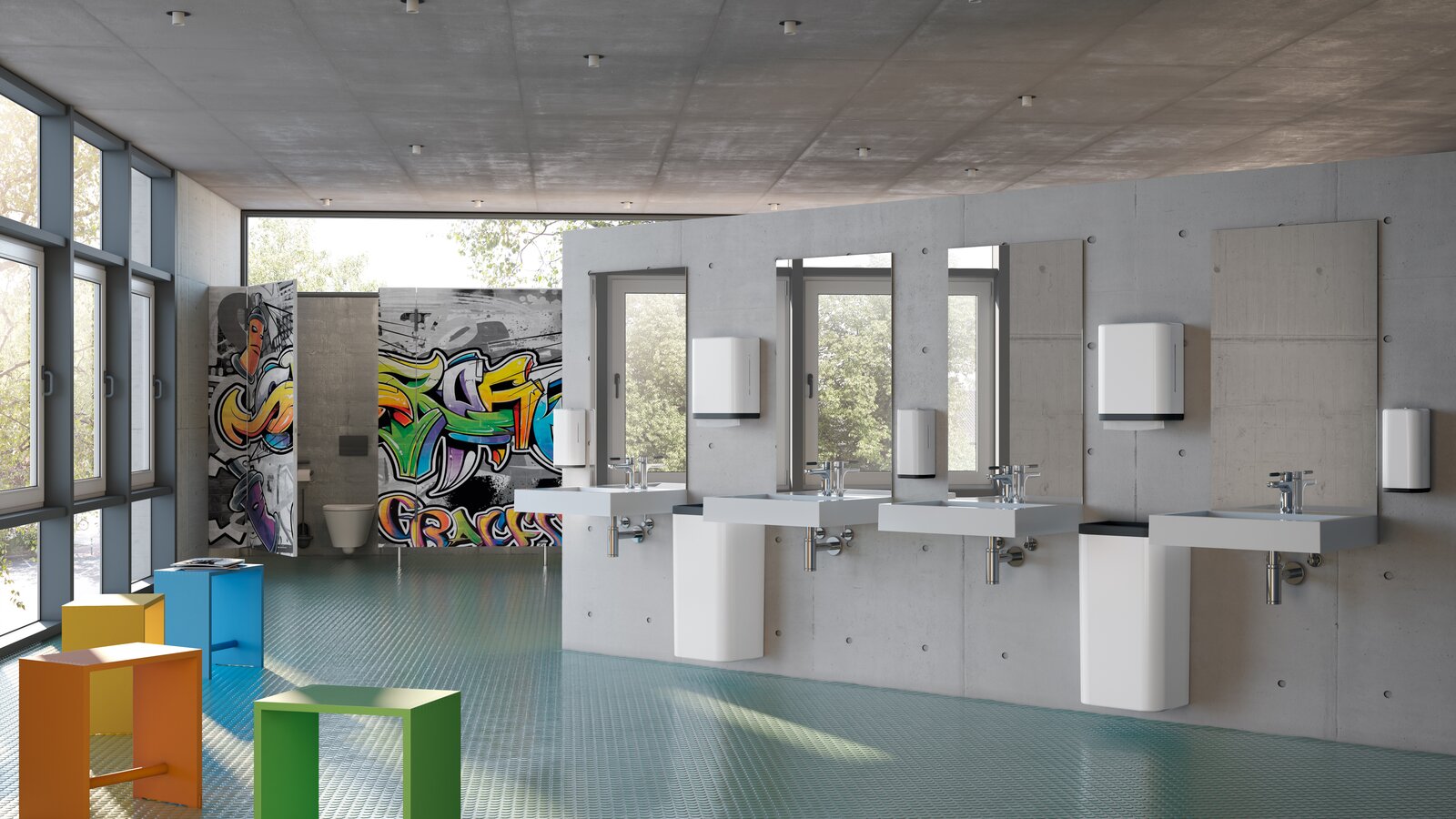 7. Hygiene in kindergartens and schools
Stay informed and discover more examples of hygiene concepts in our regular newsletter