HEWI MAG / NEWS
Barrier-free doors - The most important planning tips at a glance
Accessibility starts at the door. To be able to enter a room, a flat or a barrier-free house, precise planning of the barrier-free doors is required. In this article, we clarify the most important questions concerning financing, legal requirements and design aspects that architects and planners must consider when constructing barrier-free doors.
Accessibility is becoming increasingly important
Accessibility is becoming more and more important to people. The aim is to enable access to spaces and facilities for all people equally - regardless of their physical and cognitive prerequisites. Doors in particular play a special role here. They are the gateway to buildings and spaces and thus to participation in public life. In order to make them usable and accessible for everyone, a number of barrier-free standards and regulations must be observed: starting with the door width, through the movement area in front of the door, to the mounting height of the door handle. We clarify the most frequently asked questions below.
How wide are barrier-free doors?
In public rooms and in private rooms with wheelchair use, barrier-free doors must have a clear width of at least 90 cm, a clear height of 205 cm and a clear reveal of 26 cm. Thresholds are not permitted. However, if these are technically indispensable, they must not exceed a height of 2 cm.
What movement areas do you need to consider?
Movement areas in front of, behind and to the side of doors are crucial for good door operability. An area of at least 150 cm wide and 120 cm deep is required on both sides of sliding doors and behind swing doors. For opposing components, the movement depth must be at least 150 cm (instead of 120 cm) to enable changes of direction for wheelchair users. While opening the door from the wheelchair, this area is restricted by the swing-open door. For this reason, the wheelchair user must be able to move back into the corridor while the door is opening.
Which doors are not barrier-free?
Revolving doors and swing doors are difficult to pass for people with limited mobility and are therefore fundamentally unsuitable for a barrier-free environment.
What is an accessible door handle?
According to DIN 18040, a accessible door handle is a lever handle in a U-shape that prevents involuntary threading with clothing. A rounded, ergonomic shape also prevents injuries.
At what height should accessible door handles be installed?
To ensure wheelchair users can also open and close heavy doors, such as entrance doors or sectional doors, DIN 18040 prescribes an operating height of 85 cm. Unfortunately, this makes operating the door handle uncomfortable for tall people, people with visual impairments and Rollator users. A good solution would be push handles. These enable accessible operating comfort at variable handle heights. Push handles are particularly suitable for heavy doors, as only a small amount of force is required to open and close them.
How should an accessible door in wash rooms be planned?
Doors in an accessible bathroom must not swing open inwards and should be able to be unlocked from the outside in an emergency. This is important so that people can be rescued quickly and easily and they do not block the door if they are lying on the floor. If there is sufficient space for movement, a swing door that opens outwards should always be installed. If space is tight, consider the installation of a space-saving or sliding door.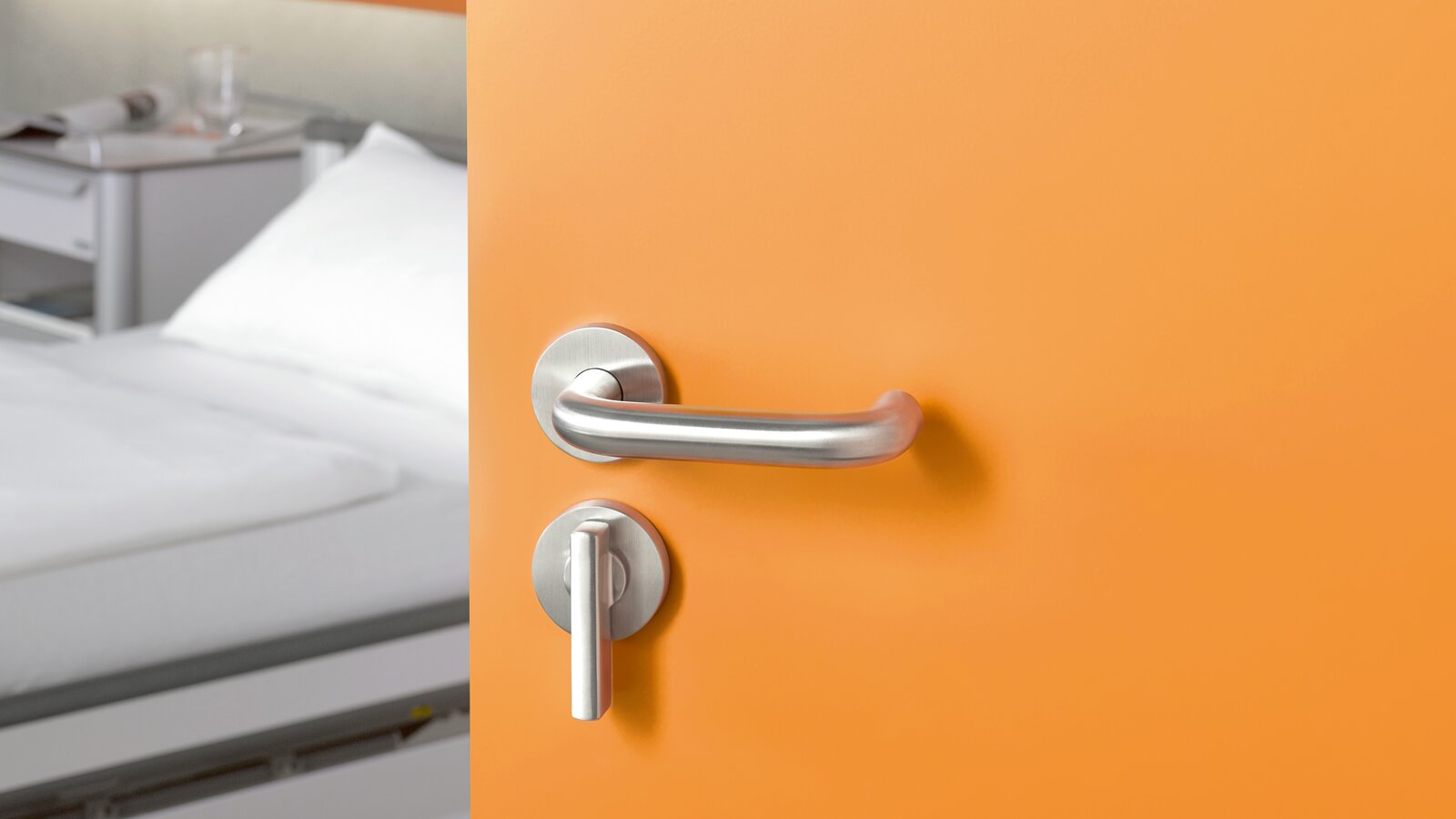 How do you design doors to be detectable for people with impaired vision?
For doors to be detectable by people with impaired vision, they need to be designed to be clearly perceptible. This can be achieved by a high-contrast design of the door area, for example by having a light coloured wall and a dark coloured door frame and/or door leaf. Glass doors need to be marked by safety markings that extend across the entire width of the accessible door and are visually highly contrasting. These marking strips also need to contain light and dark portions to take into account changing light conditions in the background.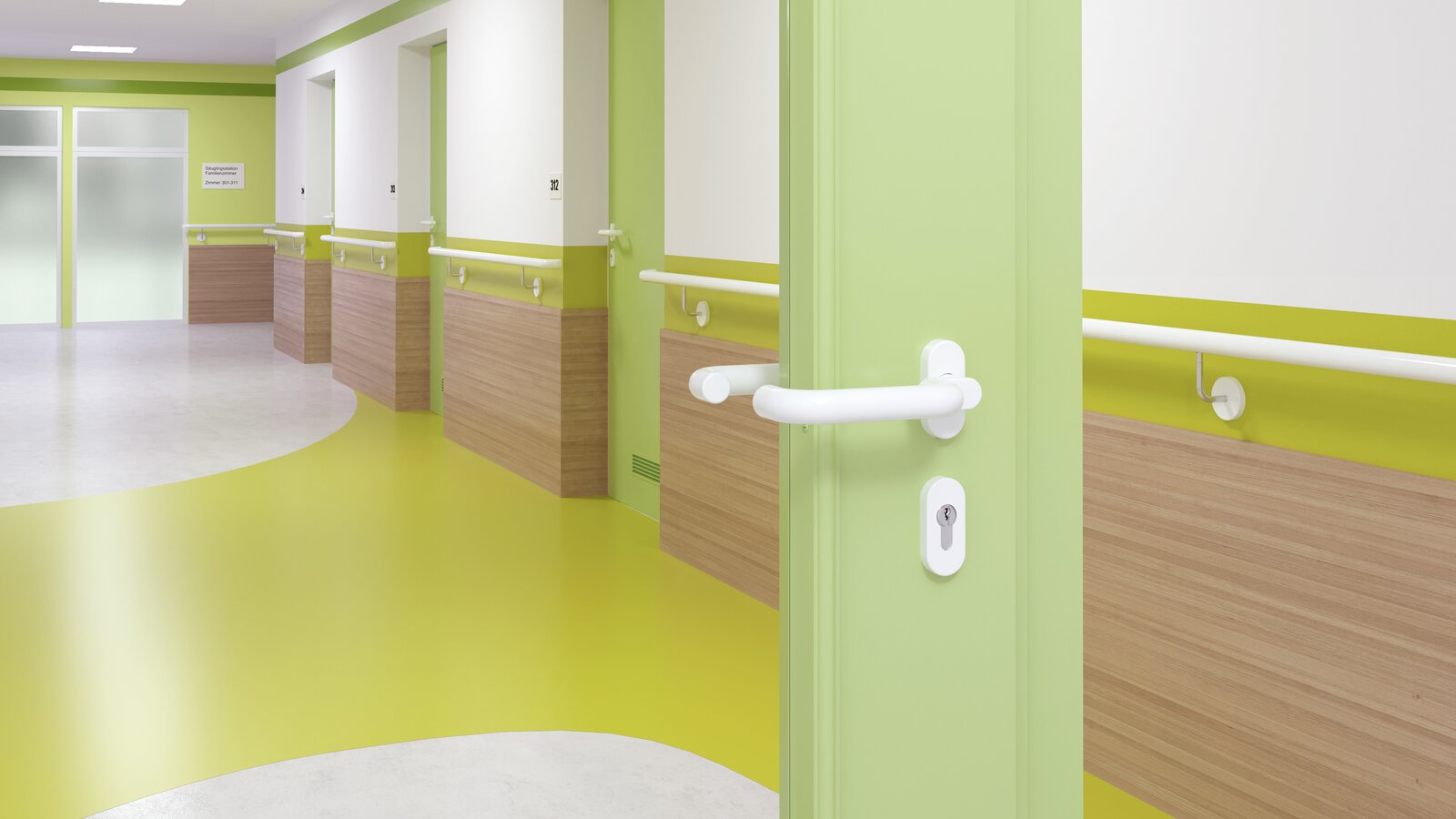 At what height do you need to install door signs for accessible doors?
A signage system should be installed at a height of 120 to 140 cm next to the door so that it is clearly visible to wheelchair users. The information also needs to be both tactile and visual, so people with impaired vision can see it. According to DIN 32976 the information must be presented both in raised capital letters and in Braille.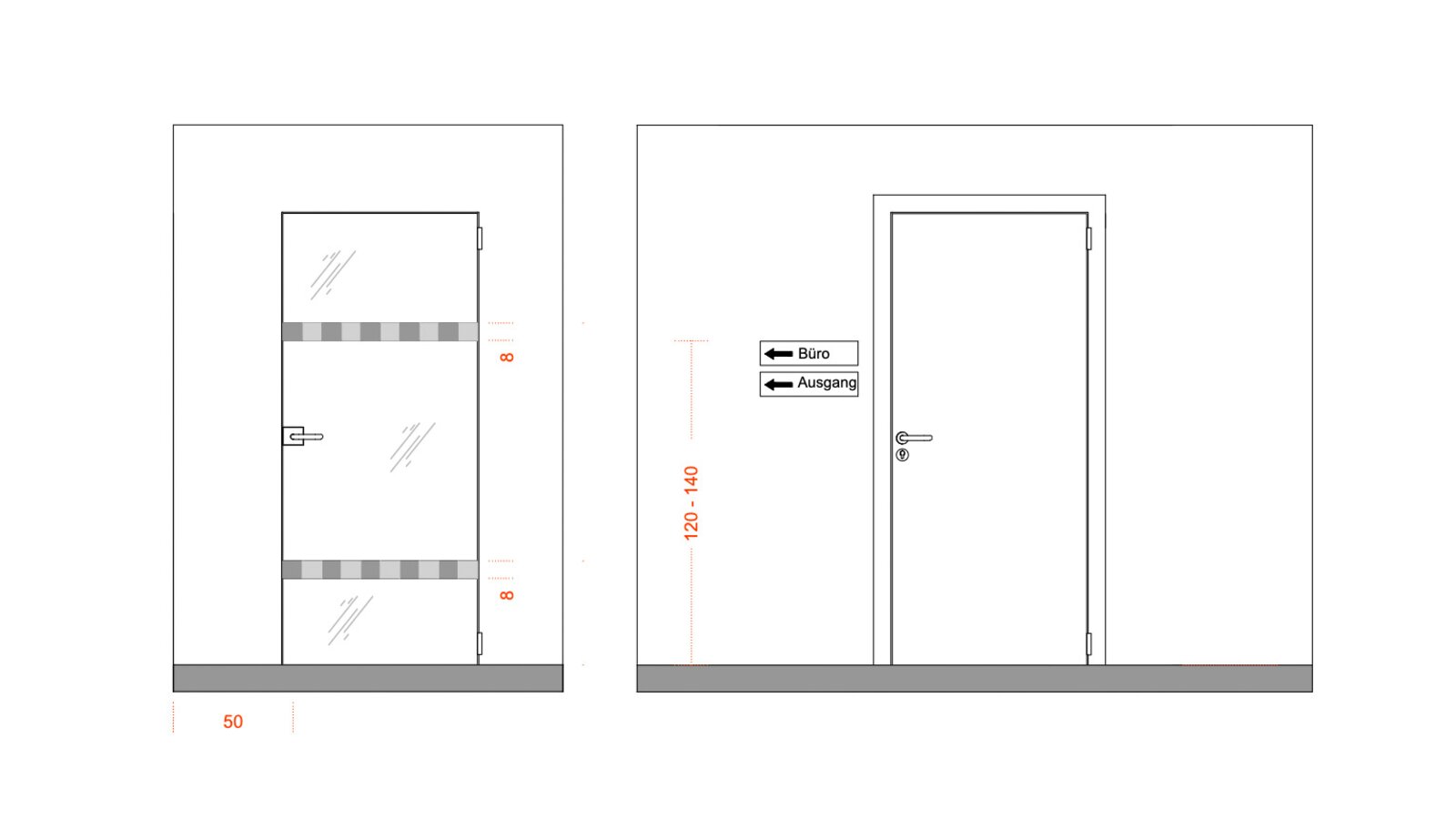 Are the costs subsidised?
In Germany, the costs for the conversion of an accessible entrance area can be subsidised. It is often easier than you might think. Depending on the federal state, various funding options are available. KfW supports builders and modernisers across a wide variety of projects. These include measures for age-appropriate conversions. KfW grants a subsidy of up to 6,250 € for renovation to reduce barriers and improve accessibility. This funding is independent of the age of your customers.
Accessible doors are important and should be carefully considered. This starts with the financing, through to the size to the door handle. Every detail is important to ensure the end result is an accessible door that meets the needs of all users.
Want to know more about our products? Subscribe to our newsletter now. Each month, we'll let you know about exciting new products and other interesting news from HEWI.