HEWI MAG / References
Tiny house for wheelchair users
With his carpentry workshop, Christian Bock has specialised in the construction of tiny houses - and brings compact lifestyle dreams to life for his customers. Together with Jens Conrad, he has created a tiny house for wheelchair users. Installed in the small bathroom: S 900 from HEWI. He reveals how this came about in the interview.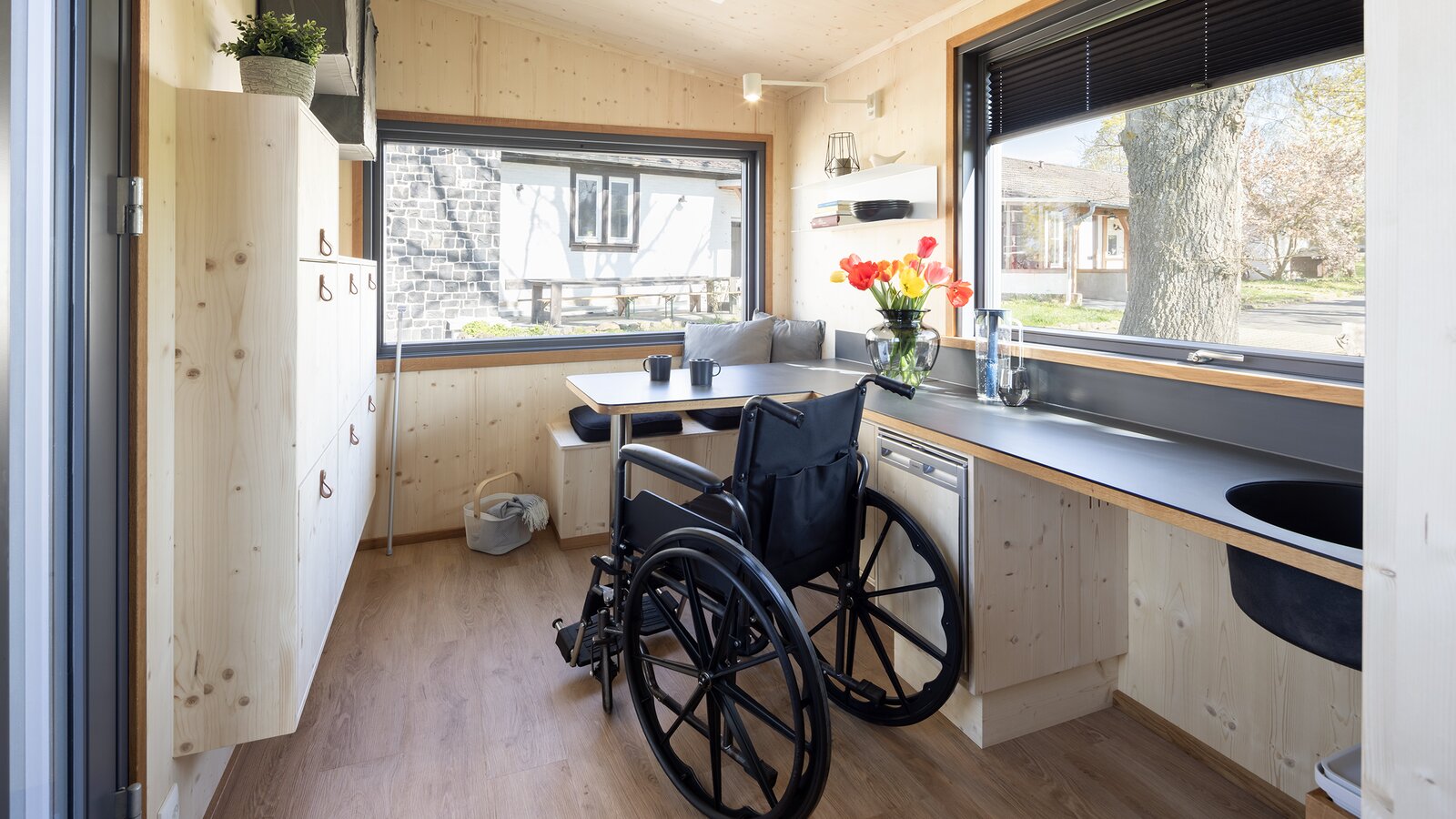 HEWI: Dear Mr Bock, thank you very much for taking the time for an interview with us. Could you please introduce yourself to our readers first?
Christian Bock: With pleasure! My name is Christian Bock and I can now look back on almost 30 years of experience in the carpentry trade. My own workshop is located in Bad Wildungen-Braunau in northern Hesse. A total of 15 employees work in my company. Our services include furniture construction, interior fittings, windows as well as doors, flooring, wall panelling, stairs and kitchens. We have also been building tiny houses for a good ten years. I think we were even one of the first companies in Germany to implement tiny houses.
HEWI: How did you come up with the idea of building tiny houses?
Christian Bock: Initially, it was my interest in the "tiny house" concept. In the beginning, I did not suspect there would be a large market behind this. However, the response to the first projects was so huge that we were able to steadily expand the segment. It's important to know that we always build our tiny houses individually. This means that we have not developed a model that serves as a blueprint. It is important to us to design a tiny house specifically to meet the needs of our customers. That's what drives us. It should work well for the future residents.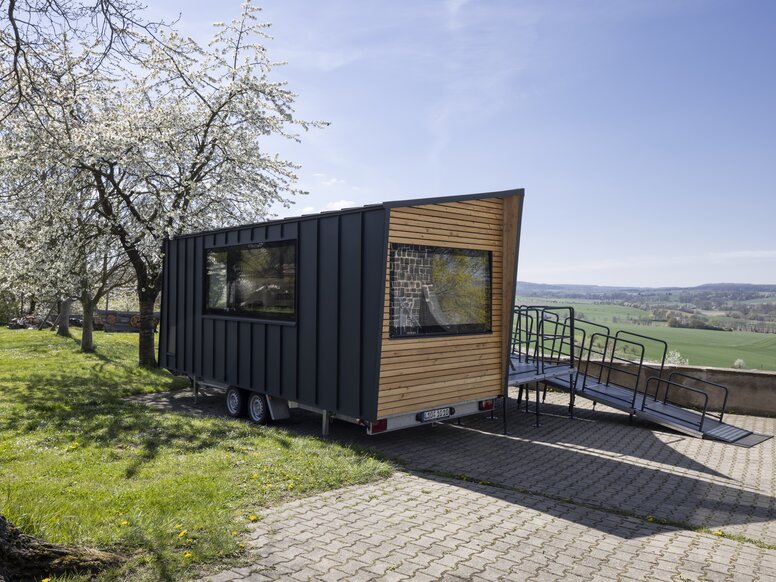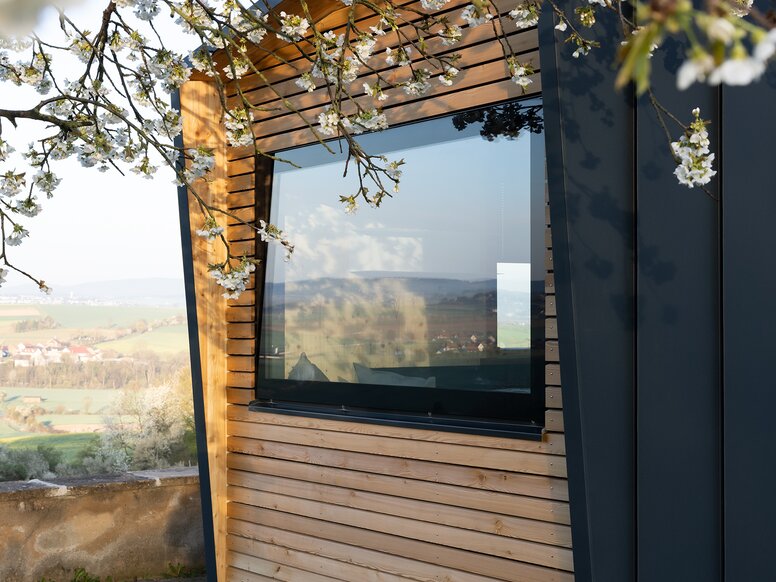 HEWI: What do you place particular emphasis on when it comes to tiny houses?
Christian Bock: With our tiny houses, the focus is clearly on the quality of living. The properties of the materials plays a big role for us. We mainly use natural as well as sustainable materials for our mini-homes, including wood or sheep's wool. We also make sure to work as sustainably and ecologically as possible. Some of our tiny houses are also mobile and transportable to a limited extent. But they cannot be compared with motor-homes. A different living climate prevails in a tiny house. Nevertheless, you only have a limited amount of space available, which must be used in the best possible way.
HEWI: And how exactly did the idea of the "Tiny Rolli House" come about?
Christian Bock: Our customer Jens Conrad approached us. He is wheelchair-dependent himself and wanted to build a wheelchair accessible house with us. For him, it was particularly important to live independently in the tiny house – especially when he goes on holiday. His experiences in hotels at the holiday destination were rather negative. Although the hotel was described as being barrier-free, the dimensions on site weren't what they were meant to be, the door opened the wrong way, there was not enough space, etc. His wish was to be able to have a relaxed holiday with the new accommodation.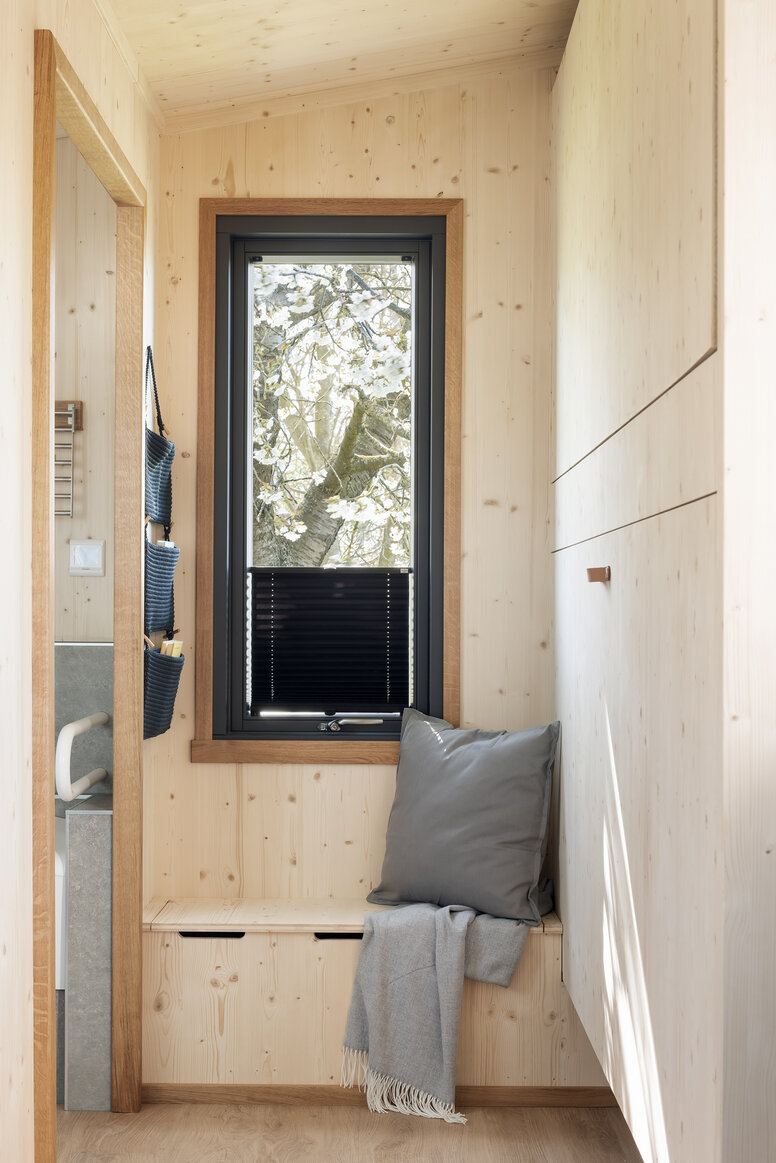 HEWI: How did you go about the planning and implementation in concrete terms?
Christian Bock: For us, the Tiny Rolli House was a pilot project in which we had to experiment a lot. We have done different test runs. For example, we stuck the floor plan on the floor to get an exact idea of the dimensions. We had to think about how much space was needed for movement. How can you optimise cupboards to gain as much storage space as possible and still have enough room for the wheelchair? To test this, we first implemented the shell of the tiny house. However, we did not build the interior directly with the materials we had in mind, but first used dummies made of plywood. Together with Mr Conrad, we tested to see what he can easily reach from his wheelchair, which drawers he can reach without problems, whether he can open the windows, etc. However, it is important to know that Mr Conrad has the ability to get up and sit down on his own. That is why the tiny house is not completely barrier-free in the sense of the DIN standard. For people with other disabilities, other plans are certainly necessary. Through this intensive, joint exchange, we found out, among other things, that the cupboards must not reach all the way down to the floor, as Mr Conrad needs space for his feet there. Concrete implementation began only after this test phase. Our trainee at the time, Jonas Leson, who worked with us on this project as part of his design studies, also played a big part in this.
HEWI: How long did it take you to implement the Tiny Rolli House?
Christian Bock: All in all, it took us a year of planning and preliminary discussions. But we have deliberately taken our time with it. There was little time pressure. Ultimately, our participation in the IRMA International Rehabilitation, Care and Mobility Fair for All gave the project a boost, as we were keen to present the Tiny Rolli House there. However, this only came about in the final construction phase.
HEWI: How much time do you usually need for a tiny house?
Christian Bock: That depends on various factors. For example, how concrete the ideas of the future residents already are. Sometimes planning takes only one to two months, sometimes a year or longer. But at the moment we generally have a lead time of about a year. Changes, initiated by both our customers as well as our employees, often occur during the planning phase. It is a creative process, and one carried out in close collaboration. It is often the case that ideas are incorporated that had not yet been thought of during the planning stage.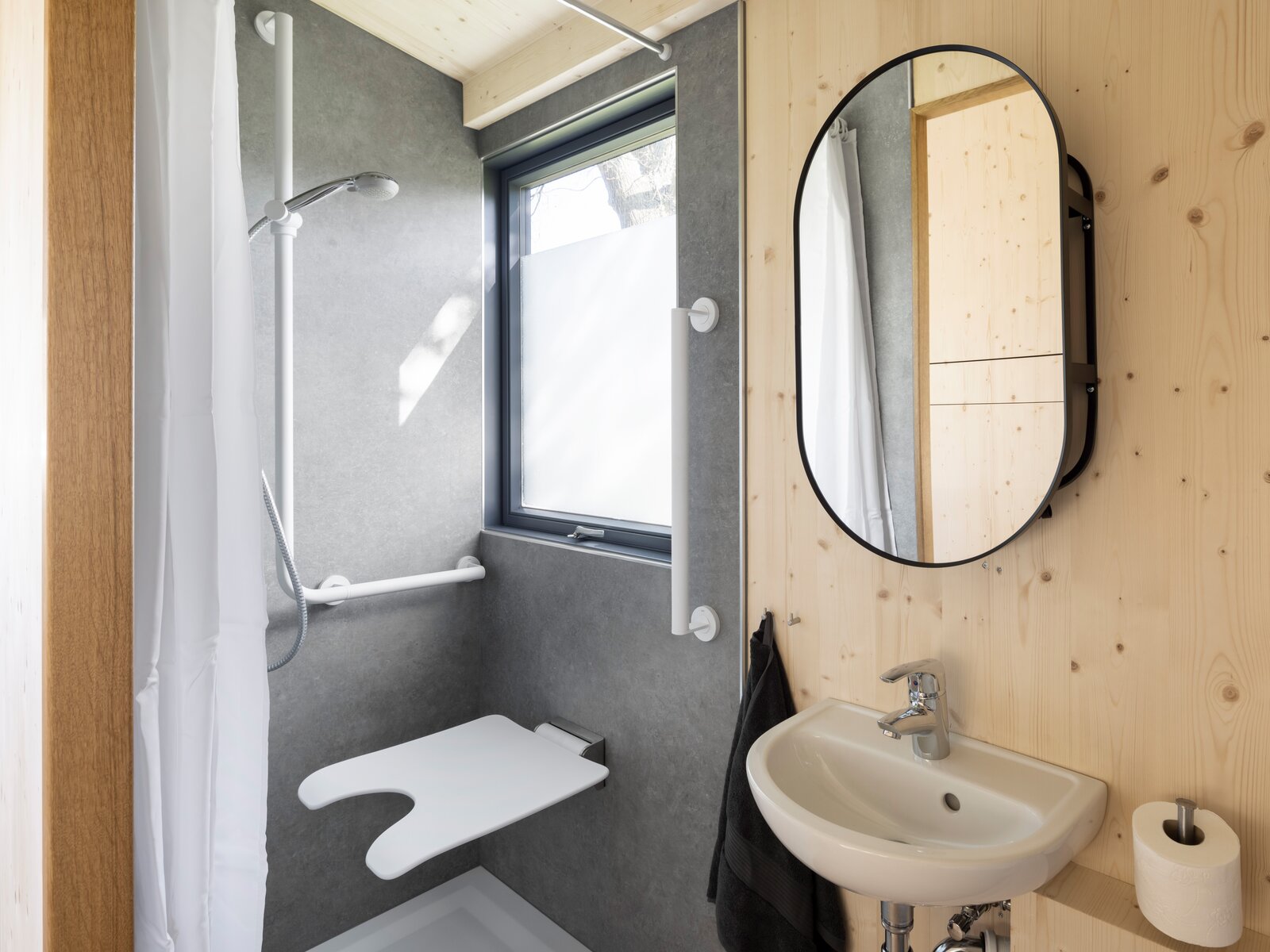 HEWI: Were there any special requirements when implementing the Tiny Rolli House?
Christian Bock: It was particularly important to us that the Tiny Rolli House is wheelchair accessible but still retains the charm of a tiny house. It should in no way have a "nursing home" or "hospital" feel. At the same time, there should be important functions so that Mr Conrad can move around the tiny house independently. These include, for example, grab rails or a shower seat in the bathroom. However, we did not want to focus on his deficits, but rather to support him in the best possible way. The Tiny Rolli House should have a positive influence on its residents. The appearance and the design language should not be neglected. A special feature of the house is certainly the ramp that allows wheelchair users to access the tiny house comfortably. For a good tyre grip, we have laid a designer floor. A pull-out refrigerator, a wheelchair accessible heated table and a sink and stove-top within easy reach provide the desired living comfort. The small area has even proved to be an advantage for Mr Conrad: he has all the most important things in a small space and just has to turn around. From his bed, he can pull himself straight to the toilet without using his wheelchair.
HEWI: How did you become aware of HEWI?
Christian Bock: We looked around the market and checked what options we had for fitting out the bathroom. The products should match the look of the rest of the house. As a joinery in north Hesse, we are of course familiar with HEWI. We were looking for something simple and modern and found it in HEWI's System 900. In the end, the choice fell on the colour white matt, which fits perfectly with the rest of the interior of the tiny house. The most important thing in the selection process was that Mr Conrad is satisfied with the products. And that is definitely the case.
HEWI: Do you have more tiny houses of this kind planned?
Christian Bock: The Tiny Rolli Haus concept is now in the hands of Mr Conrad, who with his company proVice GmbH specialises in making life easier for wheelchair users. But we know that he has already received a lot of enquiries about the Tiny Rolli House. There was also a lot of positive feedback at the IRMA fair. Interested parties can rent the Tiny Rolli House themselves through Mr Conrad to test whether it is suitable for their own needs. Further information can be found on the website of Mr Conrad.
HEWI: Thank you very much for the interview, Mr Bock!
You can find more information about Mr Bock and his joinery at:
www.bock-tiny-house.de
Don't want to miss any more interesting publications from HEWI? Then subscribe to our newsletter now and become inspired.
Photos
fotografische Werkstatt, Katharina Jaeger