HEWI MAG / Knowledge
Is a barrier-free tiny house possible?
Tiny houses offer numerous advantages
Building plots are scarce and in a lot of places have become unaffordable for many people. The strained situation in the construction industry due to a shortage of skilled workers and resources further exacerbates the situation. The trend is therefore towards the mini-house. Be it in the case of physical limitations or in old age – accessibility would be a great advantage in a tiny house, too. But is it feasible to make a tiny house barrier-free?
Tiny houses combine many advantages: Not only do they fulfil the desire for more sustainability, since they take up little space. They also leave plenty of space for green areas and seal little of the ground surface. Many tiny houses are even designed so that their owners can stow them on trailers. This makes them particularly attractive for young people and digital nomads.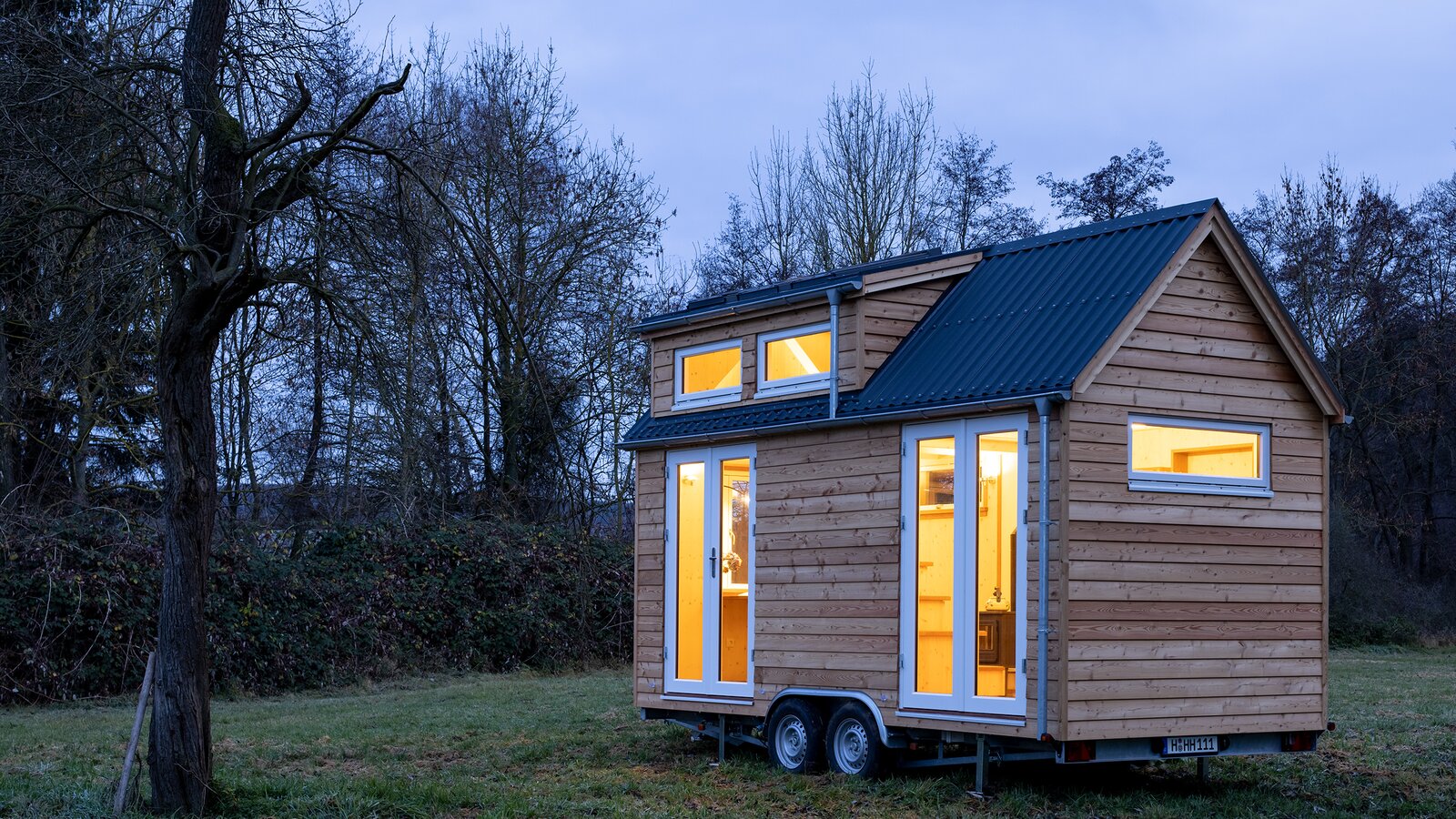 Where did the idea of the tiny house come from?
Tiny houses originated from what was known as the Tiny House Movement or Small House Movement. This is a social movement in the USA which propagates living in small houses, for instance out of an environmental consciousness. At the same time, tiny houses are aimed at people with a low income. Tiny houses basically comprise a living space of up to 110 m2 and usually have between 15 and 45 m2 of utility space. The layout is quite sparse: A tiny house has a kitchen or kitchenette, a bathroom and a sleeping area. They therefore also need a connection to the supply and disposal systems, such as electricity, water and sewage. Originally originating in the USA, the tiny house movement has arrived in Germany. In Germany, the forerunner is considered to be the converted construction trailer – known to many, no doubt, in connection with Peter Lustig in the Löwenzahn TV show.
Tiny houses: coveted by old and young
According to a study, it is not only young people who are interested in tiny houses. Quite the opposite: The study shows that 58 percent of the customers of tiny-house manufacturers are 56 years of age or older. This is not surprising, as tiny houses have advantages for this age group. Unlike a property with a large house or flat, mini-homes are much easier to keep clean and maintain. Mini-homes are also cheaper than detached houses. Older people in particular find it difficult to get loans to fulfil their dream of owning their own home. Owning your own property often comes with advantages. Once paid off, owners save themselves the high cost of rent. Tiny houses can be easily placed on an existing plot of land, to live closer to the family, for example. The seniors remain independent while the children are close enough to support them. Senior citizens often make their former home available to the children, then occupying their new tiny house on the property. Tiny houses are flexible in use. They can be moved to another location at any time or rented out as a holiday home if a move to a nursing home becomes necessary.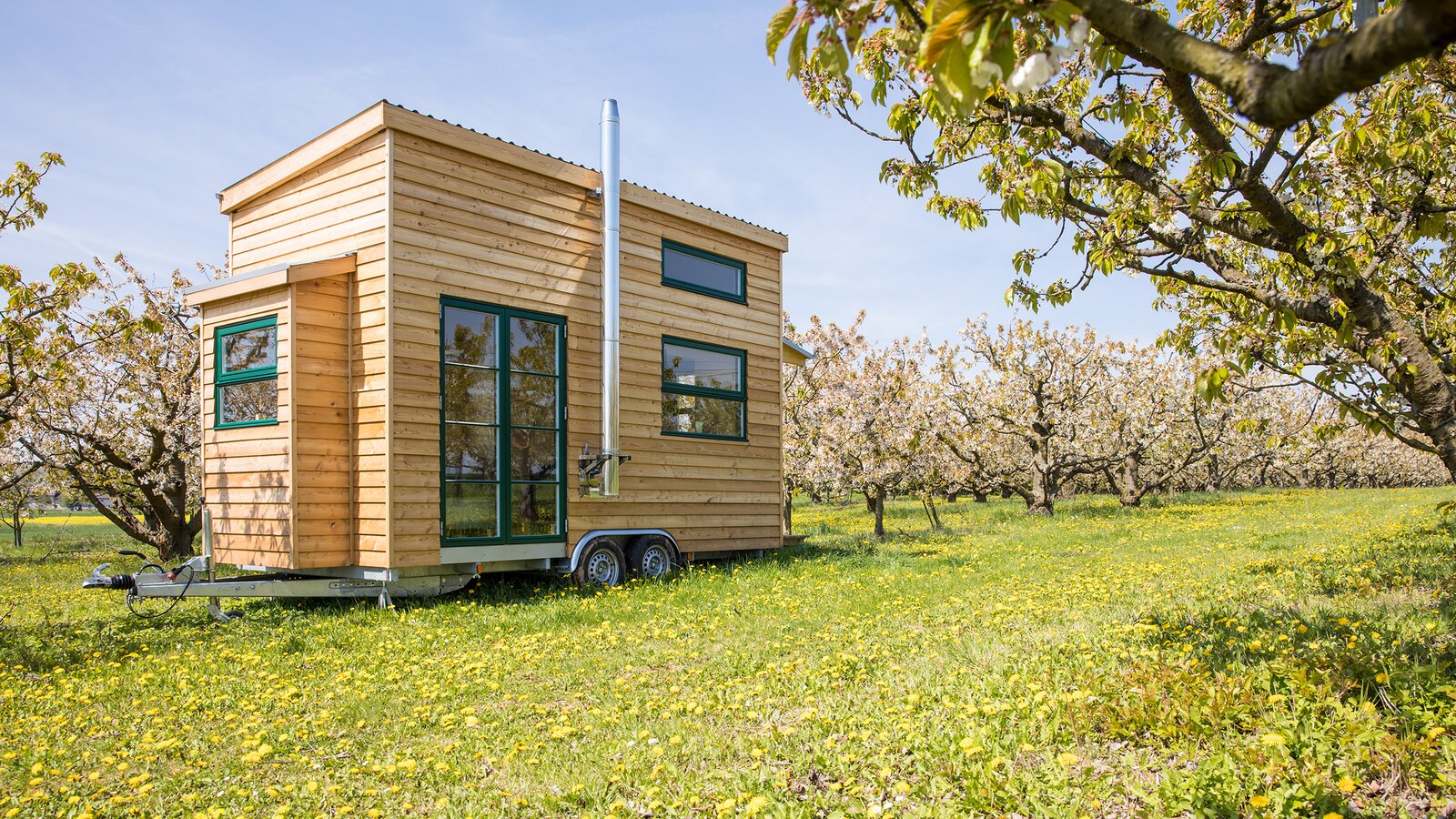 Designing a barrier-free tiny house – with a larger floor area
It is important to consider barrier-free aspects in a home, not only with old-age in mind. In one's younger years, too, it makes sense to give some thought to the matter, especially if long-term use of the tiny house is envisaged. To gain additional space, some tiny houses have a second level. For a barrier-free tiny house, however, this variant is out of the question. All rooms have to be on just one level – and with as large a floor area as possible. Very small tiny houses of 15 to 20 square metres fall outside the grid for barrier-free design.
Is a barrier-free tiny house feasible?
The accessibility of a tiny house depends on various aspects. If the residents want to be mobile, the footprint of the tiny house should have a compact design to allow mobility on a trailer. However, if the tiny house is planned for a plot of land, barrier-free aspects can be taken into account. Accessibility in domestic spaces is regulated by DIN 18040-2. This applies to houses and flats. If you only consider individual aspects of the DIN standard when planning a tiny house, it is referred to as a senior-friendly or low-barrier tiny house. DIN 18040 places a number of additional requirements on a fully barrier-free house. For example, rooms must be accessible without thresholds. In addition, wheelchair users need sufficiently large movement areas to turn around. Also very important is the accessibility at the door. Barrier-free doors are at least 90 cm wide and 205 cm high. They must also have a reveal of 26 cm. If thresholds cannot be avoided, they must not be higher than 2 cm. The grip height is also important: door handles should be fitted at a height of 85 cm above the top edge of the floor.
A fee-good bathroom – even with limited space
Certainly one of the most important areas, in terms of accessibility in the tiny house, is the bathroom. Even if it seems difficult to implement a bathroom that is as senior-friendly as possible in a small area, there are some tips and tricks for planning. It is important that the tiny house residents feel comfortable in it. With a few tricks, this is also possible in a small bathroom. Thus, a uniform grout pattern can be achieved with large-format tiles, making the bathroom appear calmer and larger. Transparent glass partitions or mirrors provide brightness and airiness.
What you need to consider when planning an accessible bathroom
A bathroom needs various products to make its users feel comfortable. Bathroom accessories not only enhance the look of the bathroom, but also help with cleaning. These include toilet brushes, which must be placed on the wall. This makes the room appear larger and also increases the area of movement.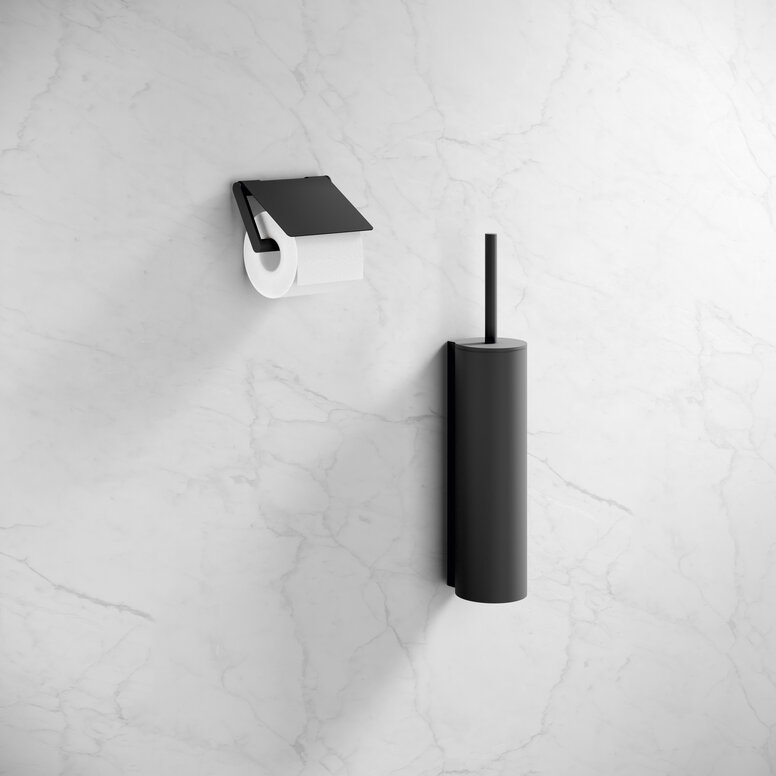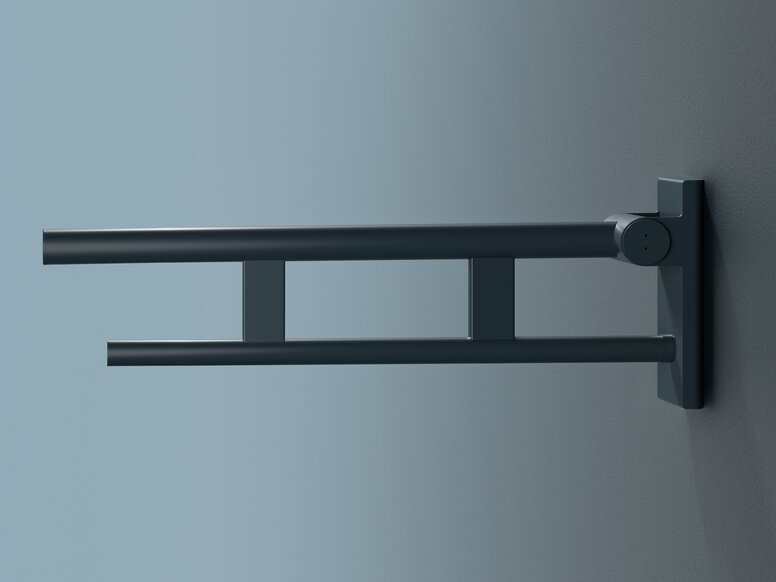 System 900 from HEWI, for example, offers a wide range of design options for equipping a tiny house to meet the needs of persons with disabilities. The shower must be planned with a flat surface of at least 120 x 120 cm. Elements such as shower seats, grab rails or folding support rails should already be taken into account during the planning stage, even if they are not yet needed. This way, the tiny house residents can retrofit them according to their needs. You can also find further tips on designing a barrier-free shower in our Planning Tips.
Barrier-free tiny house: a new living trend?
Planning a tiny house that is completely barrier-free is often difficult. This is because large areas of movement are often required, which a tiny house does not always have. However, it is definitely possible to make a tiny house barrier-free. In many cases, this is more than sufficient to live comfortably in old age, for example. If, on the other hand, you want to implement a mini-home for wheelchair users, it should be installed on a permanent site. It is then possible to plan for the appropriate areas of movement. Be it a larger or a very compact tiny house: HEWI offers the perfect solutions with its comprehensive product range in the sanitary sector.
Would you like to be regularly informed about trends and developments in the architecture and construction industry? Please register for our free newsletter. In it, we inform you about exciting topics around architecture, planning, design & co.