HEWI MAG / wissen
Accessible shower: 8 Innovative sanitary solutions
Showers that are flush with the floor are the standard in accessible bathrooms. It's hard to find a new building that doesn't have them. But do they provide enough support for users? We provide sanitary solutions that make your customers' showers truly accessible.
THE CHALLENGE OF AN ACCESSIBLE SHOWER
1. SHOWER SEATS - COMFORT AND SAFETY IN ACCESSIBLE SHOWERS
High-quality shower seats offer versatile seating and storage options in accessible washrooms. This not only increases comfort, but also safety for the users. HEWI shower seats can support loads of up to 150 kg. They feature a hygienic, easy-to-clean surface. The surface of the seat is also designed to prevent slipping in wet conditions and provide reliable support. HEWI offers matching shower seats for different washrooms. Different sizes and shapes guarantee that our shower seats fit into virtually any shower.
Permanently installed shower seats have a foldable seating surface When it is not needed, more space can be created in the shower simply by folding it away. This means that the shower can be adapted to the individual needs of the user and is therefore accessible for everyone. If required, the permanently installed shower seats can be equipped with a backrest, which further increases comfort.
In addition to fixed or height-adjustable shower seats and suspended seats, the HEWI range also includes mobile models.
You can find more information about our shower seat models in this article.
2. STOOLS - MOBILE SEATING
Stools help people to sit safely in the bathroom and shower. As a mobile product, they are flexible and can be used wherever they are needed. Whether in the shower, at the washbasin or as a storage surface, the stool is an accessible sanitary solution that has many uses. HEWI stools are available with integrated recessed grips and support rails to facilitate sitting down and standing up.
HEWI has developed accessible sanitary solutions, especially for patients with more weight, which encourage the mobility and independence of patients whilst providing safe support. One of these products is the HEWI shower bench. It can support up to 300 kg and provides safe seating in the shower. The handles on the side provide additional support.
3. SUPPORT RAILS - SAFETY AND SUPPORT IN ACCESSIBLE SHOWERS
Support rails can be installed in various places in the bathroom - such as the washbasin, the toilet or the shower. Sie bieten Sicherheit und Unterstützung im Bad, indem sie unter anderem die Standfestigkeit sichern. Grippable surfaces and profiles that are adapted to the hand allow them to be gripped dynamically and to transfer force effectively. HEWI support rails for the bathroom and shower allow simple, comfortable and above all flexible use.. Intricate supports and flat roses emphasise the streamlined design. A wide range of materials provides creative design options.
Fixing roses for support rails are often not completely flush with the wall due to unevenness of the wall and the joints. The HEWI sealing element provides a fast and reliable seal. It can be fitted to the fixing roses of the System 900 support rails and rail systems. The products are designed so that water does not collect on the surfaces and is able to run off. This enables custom installation in an accessible shower without having to take any uneven walls into account.
Support rails that can also be used as shower head rails are particularly convenient. You can read more about this in the next section.
4. SHOWER HEAD HOLDER SYSTEMS - CUSTOM DESIGN
Shower heads and shower head rails are essential components for any shower. The HEWI system design enables you to create a consistent design from the door to the washroom. HEWI shower head rails are also available in various designs and materials to match any sanitary system. There is a choice of versions in satin stainless steel, high-gloss chrome or colourful polyamide..
The HEWI WARM TOUCH shower head rail combines the optical properties of high-gloss chrome surfaces with the tactile properties of polyamide. The products feel pleasantly warm and help to promote a sense of well-being. WARM TOUCH products are therefore particularly suitable for patients with increased sensitivity to cold, as is the case with rheumatic diseases.
Shower rails that can also be used as a holding and support rail are particularly innovative accessibility systems. The HEWI rail with shower head holder can therefore be extended with our shower handrails and provide users with more stability and support options in the shower.
The new magnetic shower head holder from HEWI increases your customers' sense of comfort when using their accessible shower. Adjusting the height of this model is particularly easy, thanks to the magnetic mechanism that allows the shower head holder to slide. It also promotes intuitive one-handed operation and can be rotated to any position. The absence of push buttons and knobs means that the shower head holder can be used without any physical effort and by people with limited motor skills. The innovative magnetic concept, which replaces the traditional clamping mechanism, means that wet hands are no longer a problem during use. The magnetic shower head holder is available in stainless steel, chrome and powder-coated in white, black and grey. Its minimalist, timeless design harmonises with the other collections from HEWI and creates yet another component in the diverse range of accessible solutions.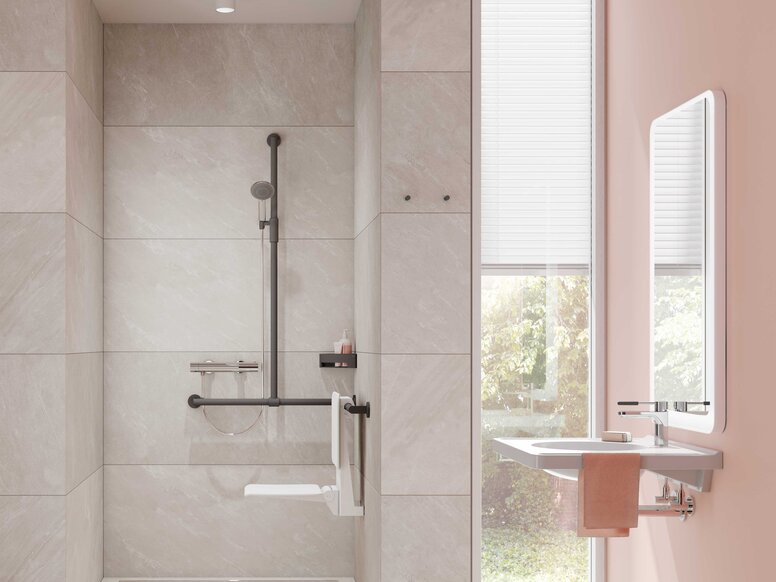 5. SHOWER CURTAINS - SPACE FOR UNRESTRICTED MOVEMENT
Showers that are flush with the floor not only promote accessibility, but also provide more room to move around in the washroom. Hinged shower partitions or shower curtains reinforce this freedom of movement. Curtains can be pulled to the side when the shower is not in use and offer more room to move, especially in small bathrooms. HEWI shower curtains are available in various designs. Some of them have a finish to protect against mould and mildew stains, are washable or flame retardant according to DIN 4102/B1. They are available in many standard sizes and can be made to measure on request.
The HEWI range also includes different models of curtain rails , to ensure you always find the right solution for your interior design concept.
6. SHOWER SHELVES AND BOXES - PERSONALISED PLACEMENT
Shelves create space in the bathroom. A wide range of shower shelves is available to complement the HEWI sanitary systems and ranges. Different sizes allow shelves to be placed at any height within the shower and provide flexibility to suit the needs of the user. This creates storage space and shelves, and important accessories can be placed within easy reach. The inserts of the shelves are removable for easier cleaning.
Attachable storage boxes from HEWI provide another innovative accessible sanitary solution. They are compatible with our rail systems and eliminate the need for additional drilling holes due to their clip-on design.
7. HOOKS - EVERYDAY LITTLE HELPERS
Hooks make it easy to place washing accessories and items of clothing within easy reach of the shower or directly inside the shower. They are particularly practical in small bathrooms where bulky towel rails take up too much space. If the user has limited strength and mobility, the hooks can be installed wherever assistance is needed. The. HEWI range includes single or double hooks. The chrome look gives the hooks a particularly elegant appearance.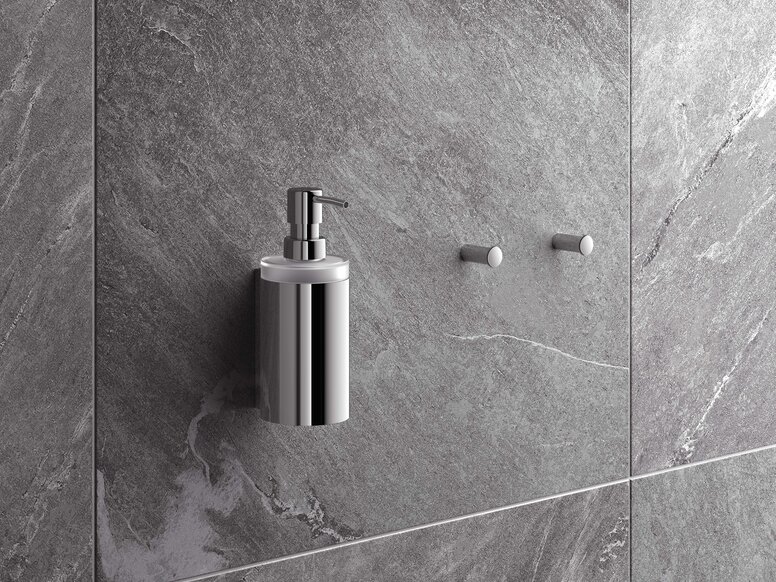 8. THERMOSTATS - SAFETY IN THE SHOWER
When showering, it is easy for users to touch the hot tap fitting and get scalded. When users have limited strength and need to support themselves in the shower, injuries can quickly occur. The HEWI SAFE TOUCH shower thermostat protects against this hazard. . The technology built into the thermostat cools the tap fitting from the inside. This prevents the surface from becoming dangerously hot. The thermostat also has a hot water lock that prevents scalding and therefore promotes accessibility in the shower.
INNOVATIVE ACCESSIBLE SANITARY SOLUTIONS FOR THE SHOWER
Innovative accessible sanitary solutions for the shower are used on a daily basis. With shower seats, stools, support rails, hooks or shower holder systems, thermostats, shower curtains and shower shelves, you can design accessible showers and provide your customers with a comfortable showering experience.
We regularly introduce innovative accessible sanitary solutions for washrooms. Stay up to date and subscribe to our newsletter.