HEWI MAG / NEWs
Planning small bathrooms
If the layout of small bathrooms does not leave much room for planning, just a few visual and space-saving measures can really help. Discover solutions for small bathrooms here.
SOLUTIONS FOR SMALL BATHROOMS
It does not take much space to create small dream bathrooms. When renovating or constructing a new building, it is worthwhile to consider accessible or obstacle-free solutions for small bathrooms right from the start. In this article you will therefore find suggestions for accessible design.
OPTICAL SOLUTIONS FOR SMALL BATHROOMS
It is important to select suitable materials and products for the aesthetic appearance of a room. By designing the floor and wall with similar materials and colours, you can make a small bathroom look larger. This can also be ensured by large-format tiles, which should have a uniform grout pattern. Elements such as transparent glass partitions or illuminated mirrors create brightness and space in the room.
Unlike a bathtub, a shower requires much less floor space. Floor-level showers and glass shower enclosures are suitable solutions for small bathrooms. This makes it seem as if the room continues on. Unobtrusive shower seats can be placed on the wall to save space. When not in use, users simply fold them away to create more space. If the floor plan of a small bathroom does allow for a bathtub, a corner bathtub is a great alternative. Alternatively, you can mount the bathtub directly on a wall so that it doubles as a shower.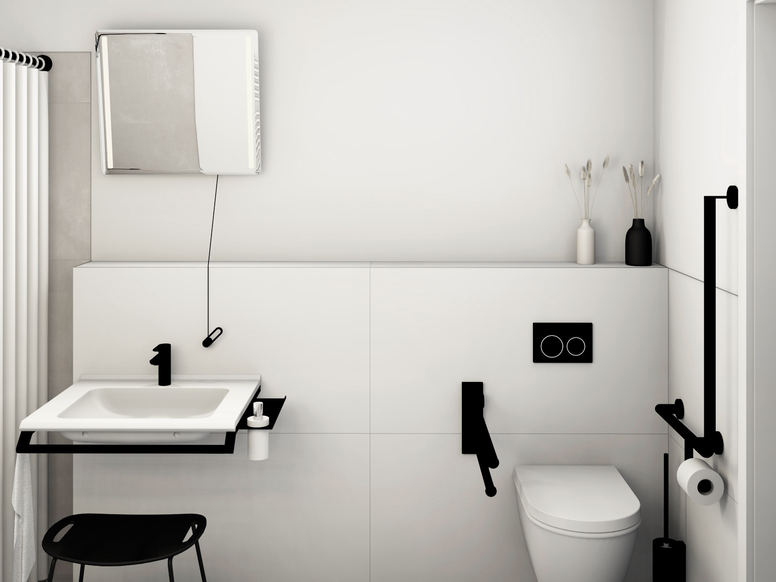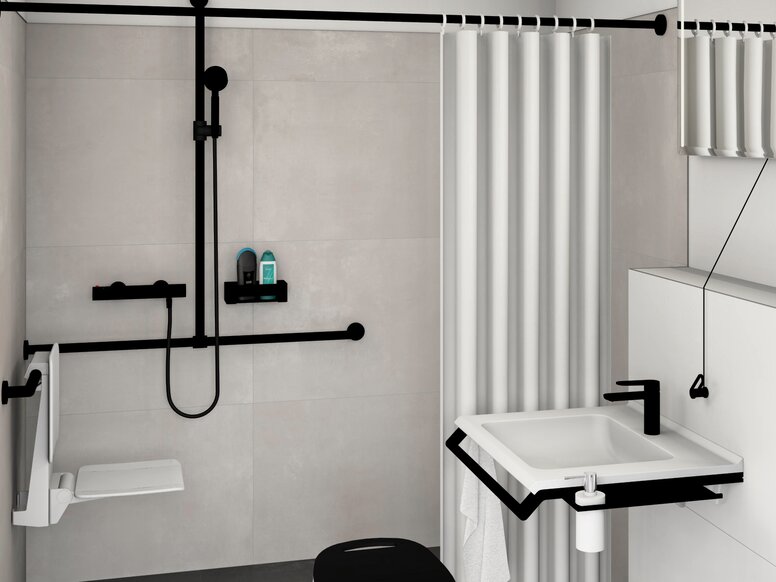 Naturally, a small bathroom needs a washbasin. The maximum depth of the space available has to be determined. In addition to washbasins with a shallow depth, washbasins with clever additional features are also recommended. A modular washbasin system can be used both standing and sitting. This system includes a handle, which also serves as a towel rack, as well as hooks and various storage options. Such handrails provide safety and support for users. They don't stand out as accessibility products due to their minimalist design. This gives a small bathroom a homely, cosy character.
PLANNING SMALL BATHROOMS MEANS MAKING GOOD USE OF STORAGE SPACE
For small bathrooms, a straightforward, uncluttered interior style is recommended. This makes the room look even larger. If the space under the washbasin is not needed - for example, because users do not want to wash there - a vanity unit helps to keep things tidy and provide storage space. Another solution for small bathrooms is a mirror cabinet above the washbasin. Shelves mounted above the toilet are also possible. If the small bathroom has a wall-mounted unit, this space is ideal for guest towels, soaps or smaller decorative elements. Customised recesses - in the shower, for example - leave room for shampoo and shower gel.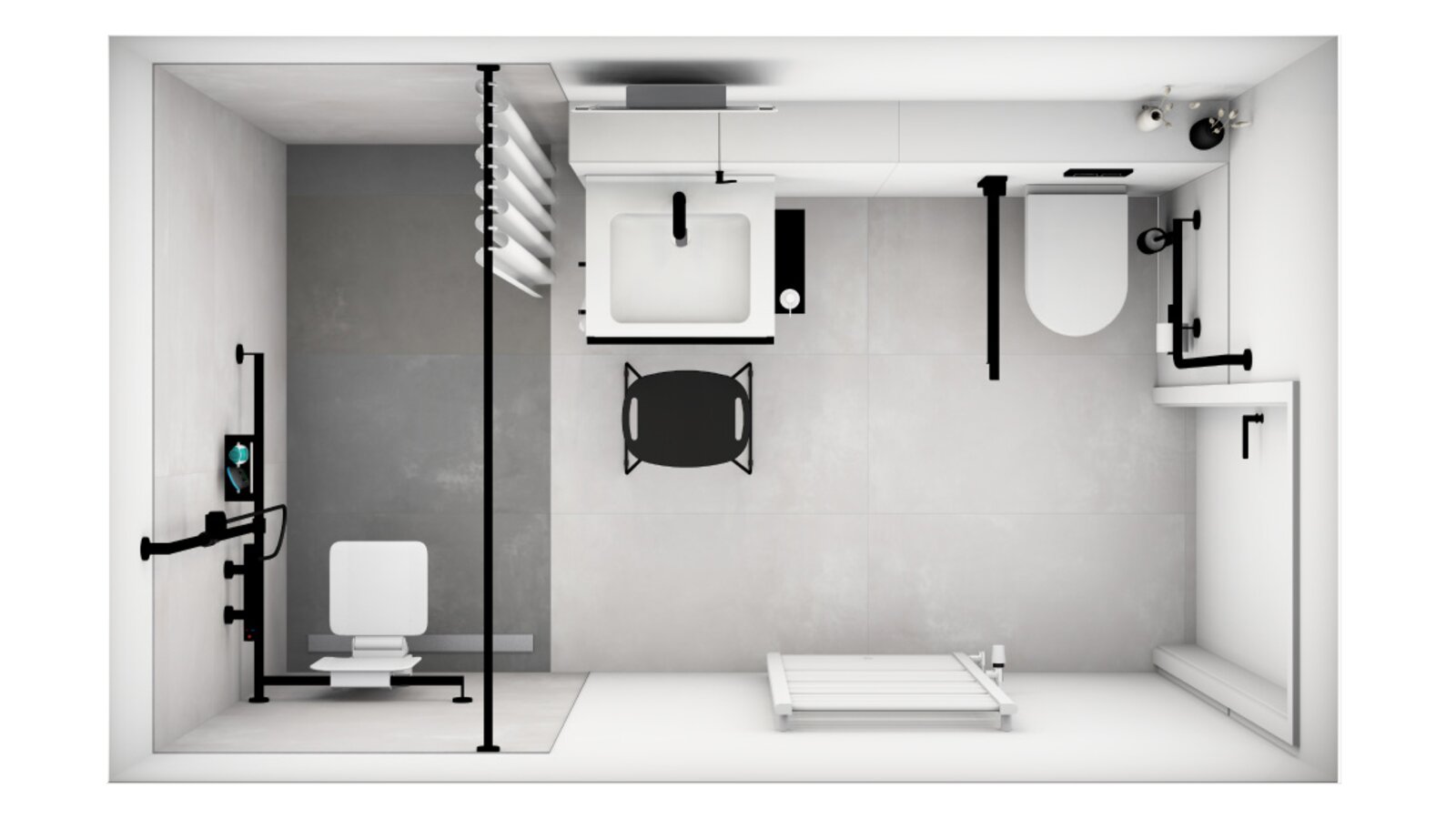 WALL BRACKETS FOR BATHROOM FURNITURE AND ACCESSORIES
Another alternative to save space is to mount smaller bathroom furniture or accessories on the wall. This lends itself to toothbrush cups, hair dryer holders and toilet brushes. This type of mounting has several advantages: It facilitates cleaning and makes the small bathroom look larger. Another advantage is that the products can be removed from the wall without leaving any residue. This is particularly beneficial in rental properties, as it eliminates the need to drill holes in joints or tiles.
More and more customers are looking for accessible or obstacle-free bathroom solutions for small bathrooms. A lack of space in existing buildings is a particular challenge for owners and tenants. Are you planning small bathrooms and need support? Get in touch with our free planning service. We are happy to help you with this.
By the way: KfW Bank grants its customers attractive promotional loans for age-appropriate bathroom renovations. Learn more in our MAG article on KfW funding.